Written by News Feature Team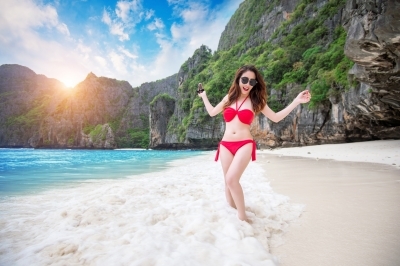 Ok, when winter evaporates and spring comes into the air, the sun is high and warm, blossoms bloom and summer approaches. Once in summer, things get really heated and clothes fade away. Besides beautiful different flavored icecreams and sundowners at the local bar summer brings to mind beautiful tanned bodies soaking up the sun's rays and surfing through the ocean's trickling blue waves. It also means being healthy. The healthier you are the better in shape you will be and the more radiant your skin will shine, especially on the beach. Research Verified reviews will tell you more! It also means getting your body bikini beach ready! So let's get ready:


Get Smooth
The last thing you want or need in your life is hair sticking out from places you are unaware of whilst washing up in the waves. It's embarrassing and leaves you feeling uncomfortable. The first thing you should do, as summer knocks on the door, is book an all-over wax that removes all unnecessary hair - yes, all. It may be painful. Take a painkiller or two before going through it, they actually do help and just go for it. You will feel so smooth and sexy afterwards and will leave your body ready for the next important step:


Shopping For The Perfect Bikini

When it comes to the bikini, anyone can wear one - it just has to be the right fit.


If you have a slender body it's best to:
*  Shop for bikinis that have cut out designs that connect the top to the bottom to create more shape to your waist.

*  Stay away from solid colors that match and go for interesting designs.
Celebrity Example: Gwyneth Paltrow
This desirable body shape gives a lot of focus to the curvy bottom. If this is you:
* Solid colors work well with bikinis that you can tie on the side of your thighs.

* Look for bikinis that put attention on your bust that make it look curvier than it seems.
Celebrity Example: Jennifer Lopez
Athletic shapes are very muscular. If this is you:
* You want to create curves wherever you can and should buy bikinis where it accentuates the bust and has good coverage on the bottom.

* Should avoid very sporty designs that make your shoulders appear wider than it needs to.
Celebrity Example: Venus Williams
If you have a curvy body, you have a Jessica Rabbit hourglass figure. You should:
* Choose bikinis with solid colors and simple lines. If your bikini is too busy it only confuses the eye and gives the body unnecessary dimension.

* Boy shorts work well provided they are not completely full (to the thighs). They should still accentuate and show off your butt cheeks. These will naturally give your butt an instant lift.
Celebrity Example: Beyoncé Knowles
You may want to get a professional spray tan but this is unnecessary for most. All you need is a really good sunscreen oil that contains a mild SPF 15 and spend time absorbing the sun's rays and gaining natural Vitamin D. Your body will love it. After a few sessions in the sun and your body is nice and tanned start applying water resistant sun lotions with a minimum of SPF 50 to your body and SPF 100 to your face. If you have very fair skin and don't tan easily, a professional spray tan is your best bet or natural tanning creams. Whatever you do in the sun - be safe and enjoy your glow!
There you have it. No matter what your body looks like at the end of winter these tips will help you look perfect on the beach. Two last tips: If you are concerned about your stretch marks there are creams, gels and oils that can be applied that will help with their appearance. Lastly, if you want your hair to grow through summer start the summer off with a professional trim and spend time in the sun as it helps your hair grow. Natural lemon juice also helps your hair grow as well as lightening it at the same time. Just remember to apply a gorgeous mask that will condition it when you get home. By the time summer ends you will have thick, gorgeous, enviable hair. Hit the beach today and be the beach goddess you were meant to be!