Many people choose fishing as their go-to recreational activity. It could be rewarding but sometimes, boring, to certain people. Well, here's something new, SUP fishing. It's a new trend among fishing enthusiasts. You do fishing on a stand up paddle board. It allows you to fish in places you've never gone before. It's a decent alternative to traditional fishing.
To have a nice SUP fishing experience, a suitable fishing SUP is essential. Here are some excellent choices of fishing SUPs that we've rounded up for your reference.
Goosehill Latest SCE Technology Inflatable Stand Up Paddle Board Rainbow R Energy In 2019
This all-around Goosehill stand up paddle board is a fantastic choice for a fishing SUP for all levels of SUP fishing enthusiasts. When It is built, the first priority is to provide safety, durability, and smooth sailing are of top level. The utilization of the company's latest Super Construction Enhancement Technology make for a sturdy sup that's lightweight enough to make transport it a piece of cake for you and rigid enough for exceptional performance. It also comes complete with a carbon fiber paddle, an air pump, a leash, and an attached bungee.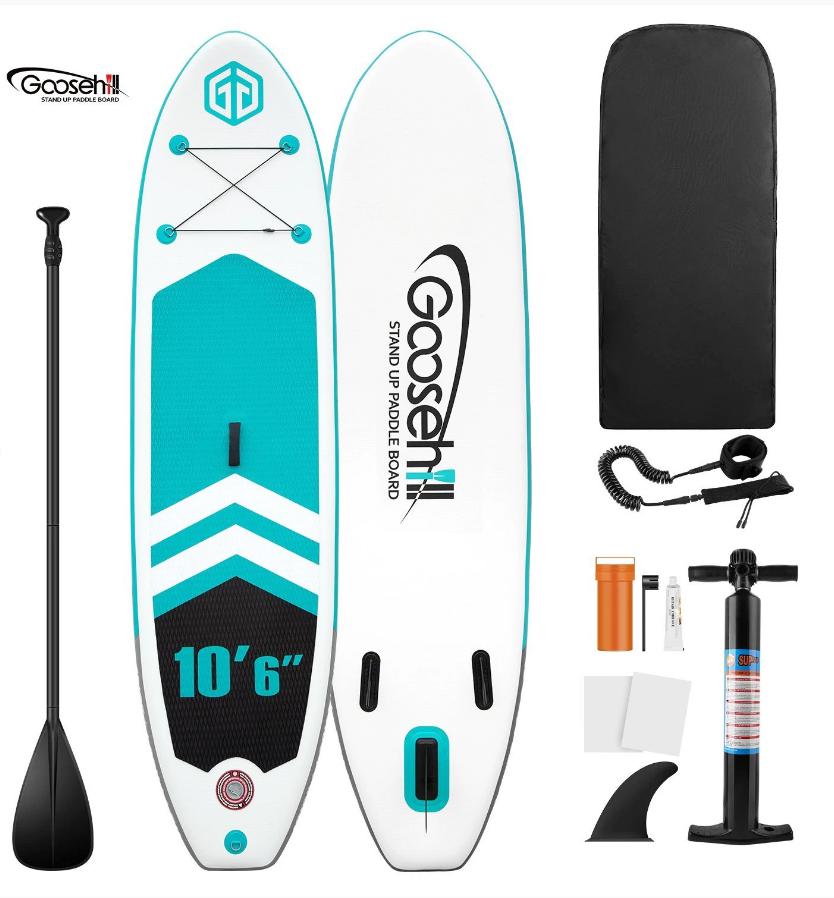 This fishing SUP weighs about 20 pounds and can support up to 550 pounds of cargo and passengers. The top surface is made with traction padding for better comfort and balance on-board. It's designed for a single fisher to fish with all his equipment for fishing with no problem. It sports a v-hull nose for speed and materials that's durable enough for you to ride on it to go fishing for as many times as you want. Space is optimized by the bungee cords attached to the front and the rear end, giving you space to bring along all the stuff you need.
Aqua Marina Drift Fishing Inflatable Stand-up Paddle Board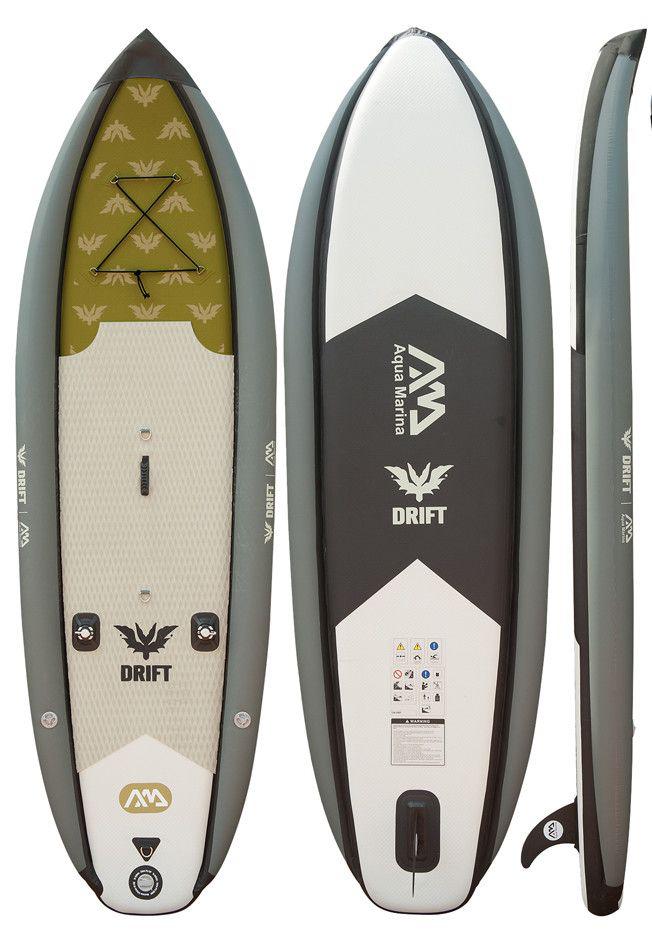 Aqua Marina's products are well known by SUP lovers for their exceptional quality. The 10 ft 10-inch-long and 38inch wide Drift Fishing iSUP is no exception regarding quality. It delivers stability, lots of places for storing your stuff, and safety features that ensure you can enjoy your time on the SUP safely. With double-sided railing design and an entire deck covered with a traction pad, the board is extremely stable, further allowing you to bring your belongings on board. There are also space for up to two fishing rods and a removable cooler box allowing you to manage all your stuff in the small space. If you're going on a long tour, the board is able to carry up to 290 pounds of extra items if you need.
Although this SUP is inflatable, it does not feel like it when fully pumped. In fact, it's very sturdy and able to provide optimal stability. It features military grade materials and a careful double wall drop stitch core.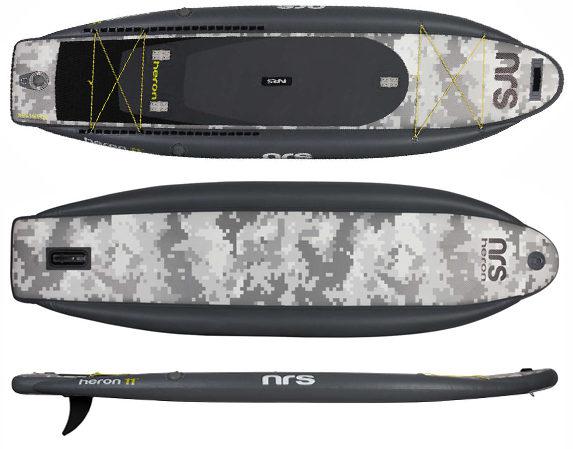 NRS Heron Inflatable Stand-Up Paddle Board


Constructed with top-notch drop-stitch technique, double sidewall, and high-quality PVC, this board is tough. Being an inflatable SUP, it's well constructed to make it tough to take you through the roughest of waters. Added to the removable fins, you can customize this board to suit different water and weather condition. Stability is further enhanced with the in-built 7-inch thick dual outriggers. For storage, this board offers six d-rings to attach a string and create space for your gear, three accessory mounts, and two carry handles.
Since it can be deflated, transportation can't not be easier. Deflating and inflating it is fast, thanks to the pump that comes with the board, and the board can easily fit in your car for long drives to where you'd like to go fishing.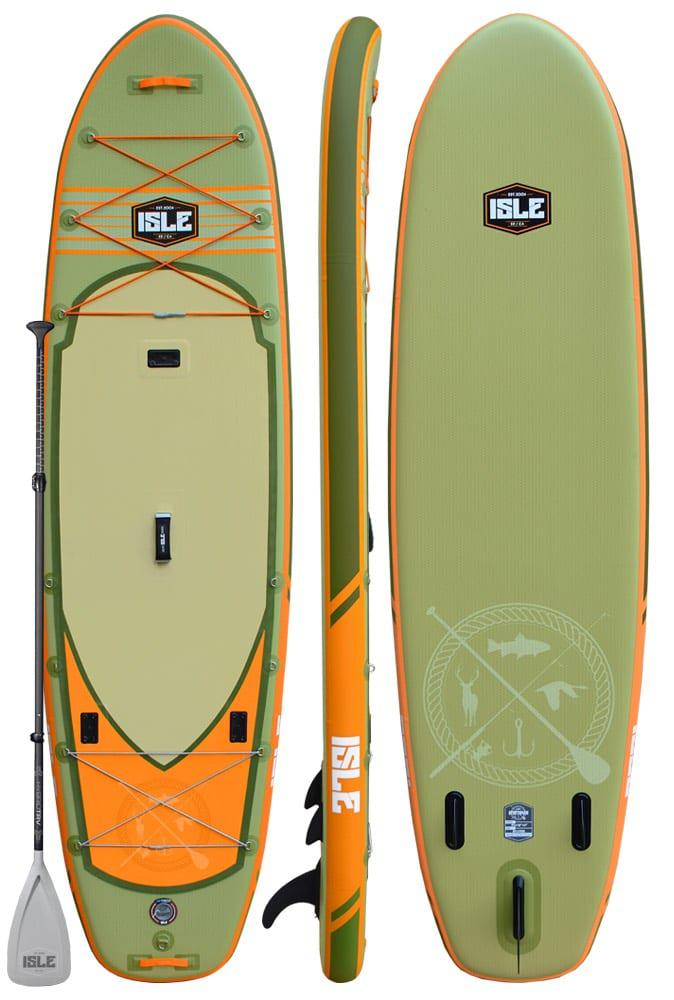 ISLE Sportsman Inflatable Fishing Paddle Board


This fishing SUP from ISLE is a solid choice for beginners. It features an 11 ft 6-inch-long by 36 inches wide surface area and a capacity to carry up to 320 pounds of people and cargo. It is made with the patented Airtech Fusion Lite technique unique to the ISLE brand to give extra support to core which is constructed with drop-stich technology. This technology also makes the board weigh only 27 pounds, a whole 30% lighter than similar boards without compromising the durability or stiffness.
Storage wise, you have the dedicated bungee storage systems and elastic straps to tuck away paddles, fishing rods, etc. You can also utilize the cooler box to stow away the catch of the day.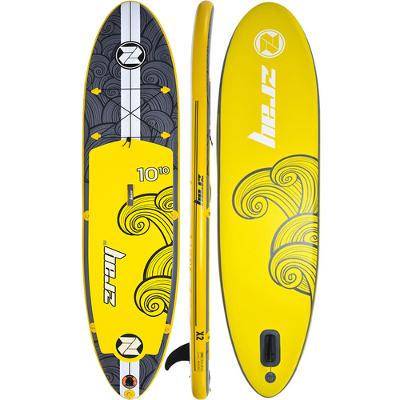 Z-Ray Inflatable Paddle Board


The Z-Ray SUP is one of the most versatile SUP boards you can find. It meets all the requirements of being a suitable fishing SUP. It offers exceptional durability and stability for safety and easy gliding as well as grommets to optimize storage. It is light-weight, portable, and can carry up to 330 pounds. You also get a backpack, a water-resistant case, and an adjustable paddle to maneuver whether standing or in a seated position. With 11 feet by 32 inches of surface area, there's room for a cooler and a seat to rest on when waiting for a catch.
SUP fishing is a new way to make fishing more interesting. And a suitable fishing SUP plays an important role in having a pleasant SUP fishing experience.