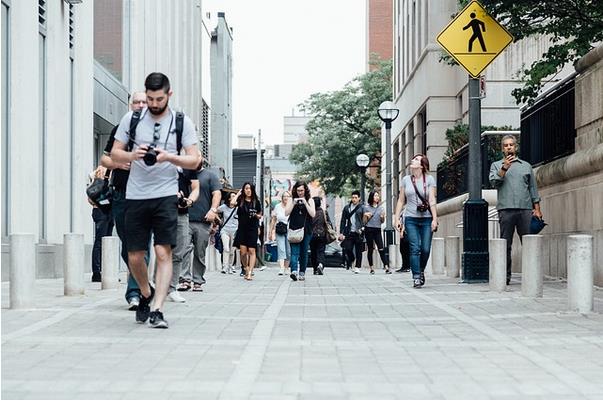 If you own any type of brick-and-mortar business - be it a restaurant, a retail store, a hairdressing salon, or anything else besides - then foot traffic is an incredibly important consideration. However, as digital marketing has risen in prominence, making the most from foot traffic has fallen down the priority list for entrepreneurs - which can mean the business misses a potentially valuable source of new customers.
Why is making the most of your foot traffic important?
We humans are
curious creatures
. If we pass by a store or restaurant while walking, we'll naturally turn and look, even if we're not looking to buy something or grab a bite to eat. We'll read a sign, glance inside the interior - potentially without even noticing we're doing it.
As a business owner, your goal is to turn this natural instinct to your advantage. Every single time a person passes by your establishment, you have a chance to turn their casual interest into an opportunity to win a customer.
What's more, making the most of foot traffic could also be considered to be a passive form of marketing your business. After an initial investment, the methods you can use to make the most of foot traffic will mostly manage themselves outside of routine maintenance. If you're always short on time, then passive marketing is a great way to reduce your workload while still ensuring your business can capture new customers.
What should you be doing to make the most of foot traffic?
The first - and arguably most important - consideration is signage. If a passerby glances at your business' frontage, you need to capture their attention instantly; if you don't, they will just glance elsewhere, as there's no reason for them to pause. It's therefore crucial that you use signage effectively. This means ensuring that your establishment's main sign is easy to read, understandable, and conveys a sense of what your business is. In addition, it's also worth considering using
premium metal-faced A-Frames for signage by Eurotech
in order to display posters detailing any deals or specials you have available; most of us are natural bargain-hunters, so we're more likely to keeping looking if we spot the potential to save money.
Secondly, you also need to think about the overall appearance of your business' frontage. Your signage should be tidy, your windows should be spotlessly
clean
, and if you have any decorative items - such as pot plants or seating - then these should always be well-maintained. If your business frontage is dirty or seems uncared-for, then there's always a risk that even intrigued customers will choose not to investigate further.
Finally, you also need to ensure that whenever your business is open, it looks open, so any curious potential customer can immediately venture inside if they wish to. You can just achieve this goal using a standard "open/closed" sign, but there are other ways you can tell customers your business is open at a glance: leave the door of the business open in summer, and use exterior lighting displays after dark.
In conclusion
Hopefully, the tips above will help you to make the most of your business' foot traffic in future. Good luck!