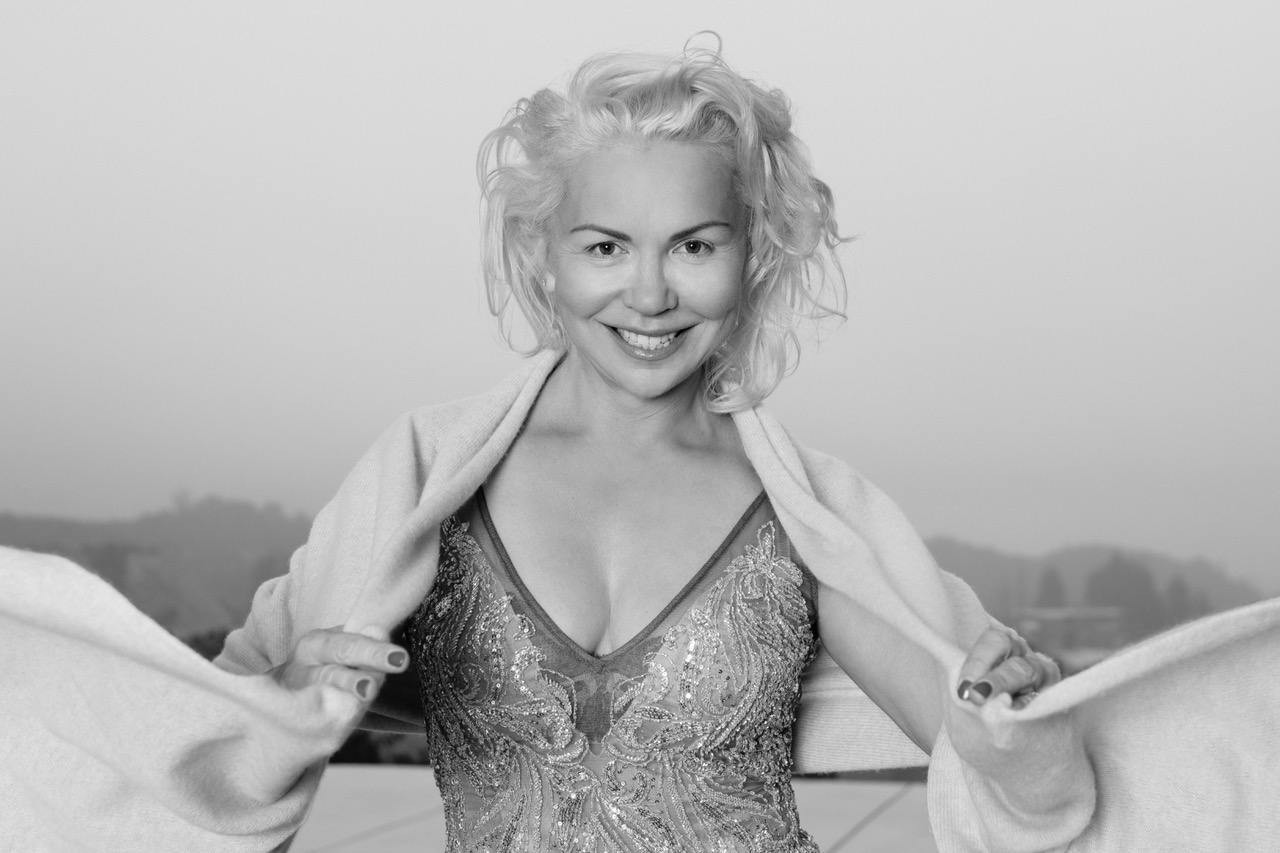 In the Middle of a Painful Divorce, the Billboard Charting Jazz Artist Re-Invented Herself at 45 to Become An Inspirational Renaissance Woman of Our Time 
Twelve years after Justin Timberlake made it a thing, recording artist Anna Danes is truly bringing sexy back to jazz. Continuing the ongoing celebration of her critically acclaimed album Find Your Wings – which debuted at #1 on the iTunes jazz chart and hit the Billboard Traditional Jazz and Jazz Albums chart simultaneously – she artfully and exquisitely blends her love for music and the passionate pursuit of her creative dreams with a soulful yet provocative look and style that harkens back to the classic Hollywood mystique. 
Her latest photo shoot, created not far from the watchful eye of the iconic Hollywood sign, brings us back to an era where curves were in, glamour was everything and legends like Marilyn Monroe held court being provocative to the eyes while leaving more than little something to our collective sexual imagination. The portfolio, a mix of vibrant color and stark black and white images, finds Anna looking gorgeous but unadorned and make-up free, rejoicing poolside in the sun and rain, sharing the magic of shiny red and sultry black and silver, then relaxing later in a warm robe. Even in the silence of still photographs, she invites us to love, to dream, to aspire the way she does when she's in the studio recording and commanding stages everywhere from L.A. to New York. 
Since its emergence in the 20's, jazz's unique approach of harmonic and rhythmic tension followed by release has made it one of America's sexiest art forms. Much like Astrud Gilberto did with Stan Getz in the bossa nova craze of the 60's, Anna wants to make sure we never forget that foundation. "Why am I here, trying to make jazz sexy again?" she says. "Because it's time again for elegance and playfulness, blended with intimacy and mystery. Sex in music today is often too straightforward, but true sexiness comes from those gentle tensions that tickle the ear and eye. Jazz is sexy because it it's not just visceral but also intellectual, subtle and elegant that moves from our brains to other parts of the body. These photos, like my album Find Your Wings, are me telling the world, 'It's a time to dream, a time to elevate and inspire…and a time now to work on your dreams. If not now, then when?'"
Anna's advocacy of empowerment and pursuing dreams no matter one's age is grounded in her own Phoenix-like rise in her mid-40s from betrayal and the darkness of a bitter divorce to completely re-inventing herself – as a person of value, renowned singer and recording artist,  motivational speaker who is planning her first TED talk, author, noted philanthropist and live show producer in her adopted hometown of San Diego, where she puts on private and public events as well as the successful Jazz on Cedros concert series since 2014. Find Your Wings, her second independent release, was all about Anna discovering a new life, fresh purpose and her true inner voice after years of keeping up appearances in an unfulfilled existence she called a "gilded cage." 
This was a far cry from the woman she was earlier in her life, when her ambitions led her to pursue a law degree and a successful career in law. She discovered her gift of music on a fluke at a time in her life when she longed to break free. She won vocal lessons in an auction and gave them to her daughter. When her daughter quit, Anna stepped in and took a lesson herself. The teacher, upon hearing her voice, said, "Wow, where did you come from?" – and the new Anna was born. 
In the opening lines to the title track, the true centerpiece of the album, she captured the inspirational philosophy that continues to propel her forward. Speaking both to her soul and to millions of women who seek the courage to liberate themselves and follow their deeper creative passions, she sings, "When you feel that you don't fit/You're not understood one bit/Find Your Wings/You can rise above the fray/Sing what you can't seem to say/Find Your Wings." "As with my music, I am hoping these photos inspire people to look behind the surface of their lives and explore their own passions and the rich stories that are worth sharing," Anna says. "I've honestly never felt or looked better and I realize how much more is possible – even reversing the clock in some ways. I want more women to be aware of the potential that is within. I re-invented myself at 45, and still feeling fabulous now in my late 40's, and am ready to take on the world!"