Written by

Dakota Digital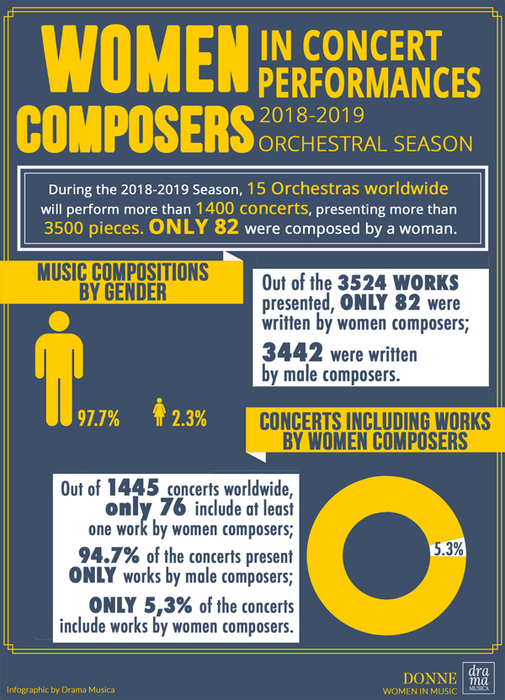 What is the reality when it comes to women composers in concert performances worldwide? How far are we from making a significant change?
Quite far, it seems.
In the 2018-2019 seasons programmed by 15 major orchestras worldwide, more than 1400 CONCERTS will be performed worldwide: 
·     Only 76 of ALL concerts include at least one piece by a woman composer; 
·     At the concerts, 3524 MUSICAL WORKS will be performed;
·     Only 82 were written by women composers;
·     3442 were written by MALE composers.
These numbers were revealed in a research by DONNE | Women in Music and Drama Musica that gathered information on concert programmes by top orchestras worldwide, selected from the Gramophone Magazine list. The orchestras in this list are chosen by a panel of leading music critics among the world's most influential. Please click here for more details on the research and infographic.       


The orchestras included on the research are: Royal Concertgebouw, Berliner Philarmoniker, Vienna Philharmoniker, London Symphony Orchestra, Chicago Symphony Orchestra, Los Angeles Philharmonic, Budapest Festival Orchestra, Cleveland Orchestra, Dresden Staatskapelle, Boston Symphony Orchestra, New York Philharmonic, London Philharmonic Orchestra, Vancouver Symphony Orchestra, Sydney Symphony Orchestra and São Paulo Symphony Orchestra;
DONNE | Women in Music
Launched by Drama Musica on International Women's Day 2018, DONNE | Women in Music is an ongoing project that aims to champion women composers' equality. 
The project, curated by soprano Gabriella Di Laccio, is a new destination platform for information and content spotlighting brilliant women composers, past and present. 

Gabriella says:
What started as a personal interest, turned into an eye opener!
The more I research, the more I discover about the fascinating stories and some outstanding music written by women composers that have simply been neglected for too long. I think it is time we all get involved: as performers and as organisations to make sure we increase the visibility, equality and education for future generations.   


DONNE has already received the support of the Arts Council of England and The Royal Conservatoire of Scotland to record 5 CDs featuring only music by women composers. The 5 CDs will present a variety of repertoire, from medieval to contemporary music and will feature several world première recordings. 
Its dedicated website features an online database of more than 4,000 women composers on the Big List page, providing further information about them. Throughout the year the website will continue to celebrate the women who are currently making their mark in society by posting short and engaging interviews in the online series Composers of Today. 
The website also features the fascinating stories of so many forgotten women composers of the past with short video introductions, also available on the YouTube Playlist. 

They have just launched their CROWDFUNDING CAMPAIGN to gain the global community support and raise the remaining funds in order to finalize the recordings. 
For more information visit DONNE on Crowdfunder.


About Drama Musica

UK independent classical music label dedicated to producing exciting, innovative and high quality recordings combining outstanding musical talent and imagination.
We focus on bringing freshness to the early music repertoire as well as exploring works by women and Brazilian composers. Uniquely, Drama Musica also provides an international platform for renowned Brazilian artists introducing them to a global audience.
http://www.drama-musica.com |  http://www.drama-musica.com/Donne.html