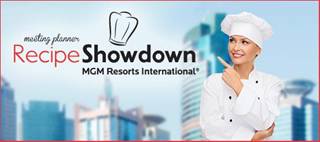 LAS VEGAS (August 6, 2014) – You've bragged about your favorite family recipe to all your coworkers. You bring this dish to every potluck dinner and everyone asks for the recipe. Have you ever wondered how it would stand up to other culinary creations?  Well here's your chance to showcase your star dish. MGM Resorts International is launching the Meeting Planner Recipe Showdown, taking place in 12 major meeting markets across the U.S. and Canada.
If you land on top at one of the city showdowns, you will be whisked away to Las Vegas for the national finals and compete for the honor, prizes and bragging rights of being the first MGM Resorts' Recipe Showdown winner!  On Monday, October 13, the 12 finalists will compete in Las Vegas for the title and prepare their dishes in front of a live audience cheering on their favorites. 
The 12 city showdowns begin in August and go through September where one winner will emerge from each location. 
Prizes include fabulous Vegas vacations with fine dining options and limo transportation. 
If you think you have what it takes, go head-to-head with fellow meeting planners, mix it up and see who can stand the heat.  For more information or to submit your favorite family recipe, please click here.
Showdown cities:
Toronto – August 19                                   
Dallas – August 21                                      
Boston – August 25                                     
New York City – August 26                       
Denver – August 27                                    
Los Angeles – August 28                        
Washington DC – August 28                      
Vancouver – September 9                               
San Francisco – September 10                         
Minneapolis – September 11                        
Chicago – September 16                               
Atlanta – September 18                                    
Contest details:
Recipes can be any type of dish from appetizer, entrée to dessert served for breakfast, lunch, dinner or late-night
City competitions will be judged by fellow meeting planners
The top three finishers from each city will have their recipes featured in a recipe book by meeting planners for meeting planners
First place finisher in each city will be flown to Las Vegas during IMEX for the national finals, a 12-person Cook-Off on Oct. 13. Transportation and lodging will be provided by MGM Resorts
Judges for the finals will include Roy Ellamar, executive chef at Bellagio's Sensi and winner of an episode of Food Network's Chopped
Finals
1st Place – All-expense-paid trip to the South Beach Wine & Food Festival in Miami; February 19 – 22, 2015
2nd Place – Three-night stay at an MGM Resorts destination in Las Vegas, airport limo transfer, dinner each night
3rd Place – Two-night stay at an MGM Resorts destination in Las Vegas, airport limo transfer, dinner each night
Sandy Zanella
MGM Resorts International
For the latest news, please visit the new MGM Resorts digital newsroom or follow us on Facebook.
Bellagio
*
ARIA
*
Vdara
* 
The Shops at Crystals
*
MGM Grand
*
SKYLOFTS at MGM Grand
*
The Signature at MGM Grand
*
Mandalay Bay
*
THEhotel at Mandalay Bay
*
The Mirage
* 
Monte Carlo
*
HOTEL32 at Monte Carlo
*
New York-New York
*
Luxor
*
Excalibur
*
Circus Circus
*