Written by

Gilles Fontaine Deputy CEO
TV in the personal media era: three scenarios  
Montpellier, Tuesday 2nd September 2014 – At a time when Netflix is shaking up classic video distribution models, IDATE is releasing its latest report on the future of television, delivering an analysis of ongoing disruptions in TV content distribution. It explores the dramatic changes in viewer behaviour and industry structure, and predicts how stakeholders' role in the equation will evolve over time, through qualified global market data up to 2025.
 
IDATE's Deputy CEO, Gilles Fontaine, who managed production on this report points out that, "the television industry is having to contend with a major game changer, namely increasingly individualised viewing. This change is upending the industry's longstanding mass media model, but also paving the way for new business models and a new period of growth".
 
Individual TV viewing also represents a dual opportunity: to transform the household market into individual markets, and to capitalise on the shift from mass advertising to more relevant targeted advertising.
 
This growing individualisation is part of the "cloudification" of the technical chain that makes it possible to better serve multi-network and multi-device behaviours, and of the process of adapting services to find the right interplay between linear and on-demand TV, to re-monetise catch-up TV, and to develop the SVoD and electronic sell-through (EST) markets.
 


IDATE has developed three scenarios to describe and quantify the potential impact of this tremendous change in video content markets:
a growth scenario: "the new golden age" where the increasing individualisation of video consumption and Internet access leads to the creation of a market for individual subscriptions, and where video – both linear and on-demand – becomes a medium of choice for advertisers;
a scenario of stagnation: "business as usual" wherein pay-TV plans remain largely monolithic, where on-demand products hold little appeal and TV's ad revenue suffers from advertisers moving a portion of their spending over to the Web;
a negative scenario of "commoditisation," characterised by an accelerated migration from a paid to a free model, and TV losing its relevance as an advertising medium.
 
The three TV/video market development scenarios applied to the US (billion €)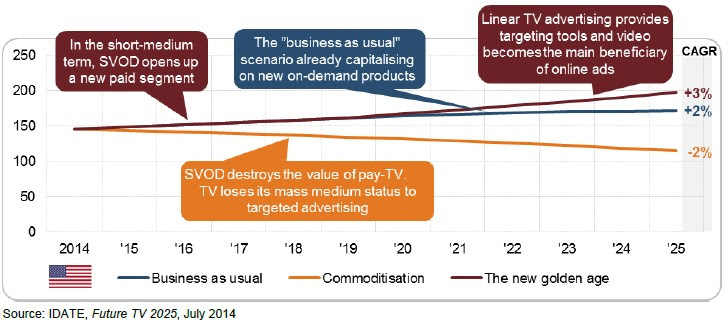 IDATE and the DigiWorld Institute
---
Founded in 1977, IDATE has become a global leader in tracking telecom, internet and media markets, thanks to our skilful teams of specialized analysts. Now, with the support of close to 50 member companies, which include many of the digital economy's most influential players, the Institute has structured its development around three main areas of activity:
IDATE Research, – An independent observatory whose task is to keep a close and continual watch on digital world industries, collect relevant data and provide benchmark analyses on market developments and innovations in the telecom, internet and media sectors – through its comprehensive collection of market reports and market watch services.
IDATE Consulting, time-tested analysis and consultancy solutions. Our teams have established their credibility and independence through the hundreds of research and consulting assignments they perform every year, on behalf of top industry players and public authorities.
DigiWorld Institute – A European forum open on the world. The Digiworld Institute has taken valued IDATE initiatives, such as DigiWorld Summit and the monthly clubs in Paris, London and Brussels, to the next level. Members have the opportunity to participate in think tanks on the core issues shaping the industry's future, drawing on the knowledge of outside experts and the Institute's own teams.
For more information about our activities

:

www.idate.org


Follow us on Twitter: @DigiworldIDATE