Written by

Editor on duty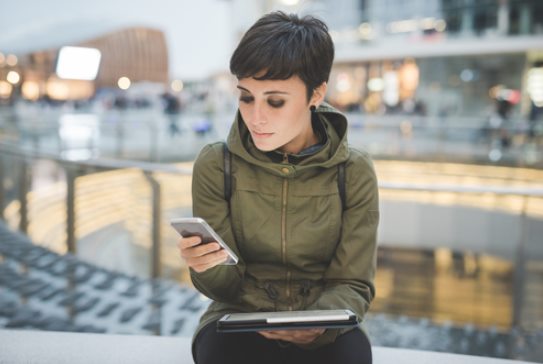 Wi-Fi gives electronic devices the ability to connect to the internet and communicate wirelessly. While this technology is not new, there are major advancements being made. With the increased demand for connected devices, Wi-Fi is more important than ever. Here are a few advancements to look out for in 2017:
Wi-Fi Calling and Messaging
Smartphone carriers have been working tirelessly to expand their networks' reach with the help of more towers and 4G LTE. The better connection your smartphone has, with and without data usage, the more functional your device is. A 4G LTE network empowers its customers to make calls and send texts over Wi-Fi, even if they don't have a cellular connection. If you aren't near a cell tower, you still can use Wi-Fi on your Samsung Galaxy S7 edge to connect to your loved ones or the office.
Cloud Computing
Businesses have been rapidly adopting cloud computing to run their businesses more smoothly and save money on expensive hardware and upgrades. Many of these businesses built up private cloud networks for security and control reasons, but are now realizing how time-consuming, expensive and difficult it is to maintain this type of system in-house.
This is why CIO predicts that businesses will switch to public clouds. CIO states that the public cloud market is growing at a 22 percent compound annual growth rate and will reach $146 billion in 2017. CIO also believes that the top players (Amazon, IBM, Microsoft and Google) will become "mega-cloud providers," but also that smaller cloud companies will grow in niche markets.
Internet of Things
The Internet of Things (IoT) is quickly expanding thanks to more connected and smart devices. You now can control your kitchen appliances, thermostat, virtual assistants, TVs and many other aspects of your life with your smartphone. However, many of these functions are working independently of each other through separate apps and connections. For example, your Nest thermostat is working through a different platform than your Samsung smart refrigerator.
RCR Wireless News predicts that IoT developers will create horizontal layers in 2017. This will create a layer of common IT functions connecting to one platform, such as authentication, provisioning and charging. This will help different devices and types of applications connect through the back end of one platform, resulting in a better user experience.
Mesh Networks
Routers can cause many types of connection problems in your home or office. Most often, your router needs to be connected to the service line, which is set up in an out-of-the-way corner. However, since a router gives an equal signal from its location, the router's best signal usually doesn't reach most of your home.
In comparison, mesh networks are being developed to provide a better signal throughout your home. Mesh networks like Google Wifi, Netgear Orbi and Eero are made up of several units that can be placed throughout your home so you receive a strong signal no matter where you are. Mesh networks also are great if you have an oddly shaped home because you can set up the units wherever you need a signal.
There are a few downsides, though. Unfortunately, since they're a new technology, mesh networks are expensive. Furthermore, you may experience signal loss or degradation because mesh networks have to do double the work to connect to the original router and the satellite feed.