Did you know that horse racing events attract more people in Australia than any other sport with the exception of Aussie Rules? Studies focused on TV audiences show that racing is also the second most popular spectator sport. It's clear that racing is big business in Oz, but just why are people so enamoured with the pounding of hooves?
The history of racing in Australia
Australia has a rich history when it comes to horse racing. Racing has been established for centuries, and its popularity has grown over the ages. The love affair with racing started in Sydney in the 1800's and it became a national sport in the 1900's when the Sydney Turf Club was formed. Initially a sport linked to the affluent, racing has diversified over the ages and you'll find people from all walks of life at modern-day meetings. Many people have grown up watching or attending the racing, and going to the races has become a tradition for families and friendship groups. Over the course of time, the number of courses and meetings in Australia has increased significantly and spectator numbers continue to rise. Meetings are held in cities, towns and rural locations, and they range in size from local, small-scale races to events that capture the imagination of racing enthusiasts all over the world. The season runs all year-round and events staged on public holidays are particularly popular. Highlights of the racing calendar include the Cox Plate at Moonee Valley, the Caulfield Cup and of course, the Melbourne Cup at Flemington.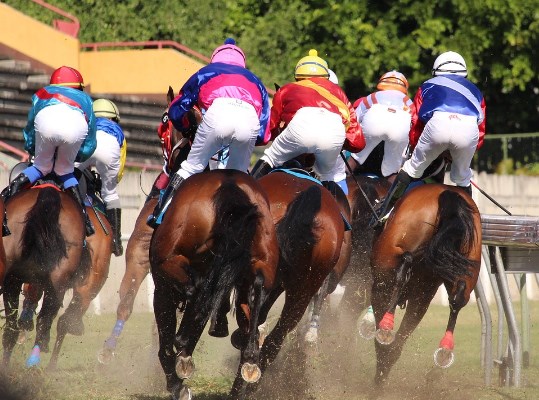 Why is horse racing so popular?
There are numerous reasons why the people of Australia love horse racing. Of course, every individual may have their own answer to this question, but here are some of the most popular responses.
The sense of occasion
Going to the races is a very popular thing to do in Australia, and for many, it's a monthly or annual tradition. Watching the horses perform is just part of the experience. For many, going to a meeting is all about getting dressed up, spending time with family and friends and having fun. For a day or two, you can forget your worries, enjoy quality time with loved ones and get involved in the exhilaration of the sport. There's something special about a trip to the races, and it's an occasion people from all backgrounds look forward to. Even if you don't know the first thing about form, age or pedigree, you can still enjoy the experience of watching the races and soaking up the atmosphere. In some cases, racegoers enjoy the pomp of high-profile events, and race courses are also making an effort to diversify meetings to cater for multiple interests. You'll often find live music at race meetings, for example. Celebrity guests, even royalty, can make what is already a hotly-anticipated event even more exciting.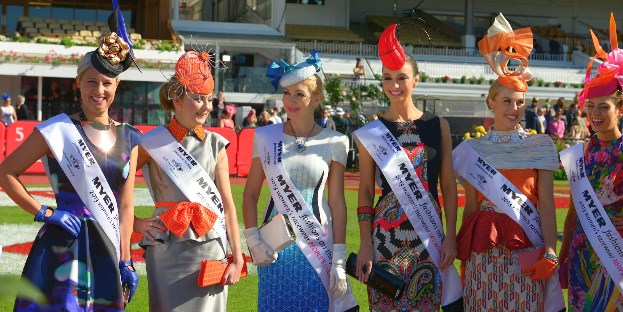 The lure of betting
One of the most popular reasons for watching or attending horse racing events is the lure of betting. Statistics from the Australian Institute of Family Studies show that in 2015, around 1 million Australians placed regular bets on either horse or dog racing markets. Over 80% of regular gamblers were male and the majority were aged between 30 and 64 years old. Research suggests that betting on horses is the 4th most popular type of gambling in Australia behind lotteries, scratch cards and pokies. Betting at the racecourse is appealing because everyone feels like they're in with a shot at winning. Even if you've never been to a meeting before or you don't know the first thing about form, you still have every opportunity to pick a winner. You can research online, take a look at the horses in the parade ring before they run, look at tips from experts and pundits, or simply go with the name or silks that catch your eye. There's always an element of risk involved, and although favourites often win, it's very uncommon for a result to be set in stone before the race begins. Even when there's a short-priced horse in the midst, there's a risk that the race may not pan out as expected. Horses can fall, jockeys can make mistakes, rivals can play a part, and sometimes, a star horse has a bad day at the office.
Betting is a major draw for racegoers in Australia. In 2016, Australians placed bets worth $657 million at the Melbourne Cup meeting. Approximately $350 million was wagered on the main race itself. For many, a trip to the races involves putting a few dollars down here and there, but there are some people that place huge bets. It's particularly common for serious punters to try and ruin the bookmakers' day and lay heavily on favourites.
Research suggests that betting on horse racing, particularly on star-studded events, is growing in popularity in Australia. Online bookmakers processed 26,000 bets in a single second in the run-up to the Melbourne Cup in 2017. This figure represents a 30% increase from 2016. Of course, more people may be betting online than at the course, but trends still suggest that people are increasingly inclined to have a flutter even when they don't plan to attend the event or even watch the race. In total, Australians wagered more than $16 billion on thoroughbred racing during the 2015/2016 season.
Accessibility
In days gone by, horse racing was deemed a sport for the upper classes. Race meetings were often attended by royalty and leading lights of the community, but over the years, events have become more accessible to a wider range of people. Horse racing is now an inclusive sport and you'll find people from every walk of life at the races. You don't have to be rich to enjoy the day and tickets are available at different price levels. In the exclusive areas, it's common to find corporate executives entertaining guests, as well as owners and trainers who often have a long history in the racing industry. That said, there are plenty of options open to those who don't want to spend hundreds of dollars on a ticket. In fact, prices start from less than $10 for smaller meetings with access to basic amenities and facilities. The growing number of meetings also means that more people can attend, and pleasant year-round weather helps to make racing more appealing than it may be in other countries.
High profile events
Even if you're not a racing fan, there's a good chance that you've heard of the Melbourne Cup if you're an Aussie native. This is one of the nation's most high-profile sporting events, attracting TV audiences of millions. One channel boasted a share of 2.7 million Australian viewers in 2017, and this figure doesn't take into account global audiences or digital viewers. In the run-up to the race of the year, the nation becomes obsessed with racing and you can't avoid bumping into amateur tipsters whether you're at the water cooler in the office or you're taking the tram home. For a few days, Australia is gripped and consumed by racing and the vast majority of people have got an opinion on who is going to emerge victorious. TV and media coverage have undoubtedly brought a race, which was already hugely popular, to an even larger audience. If you're not a racing fan or you've never seen a race live before, hearing all about the event and seeing profiles of the runners and riders may just give you that nudge to tune in or even buy a ticket. Much like the Grand National in the UK, the Melbourne Cup has become something of an institution. People participate in sweepstakes at work, families watch the race together, and groups of friends make an annual voyage to the Flemington gates. The ever-growing popularity and intensity of media interest in these events have a knock-on effect on other meetings and the popularity of the sport in general. If you watched the race and you enjoyed it, there's every chance that you'll take an interest the next time the races are on.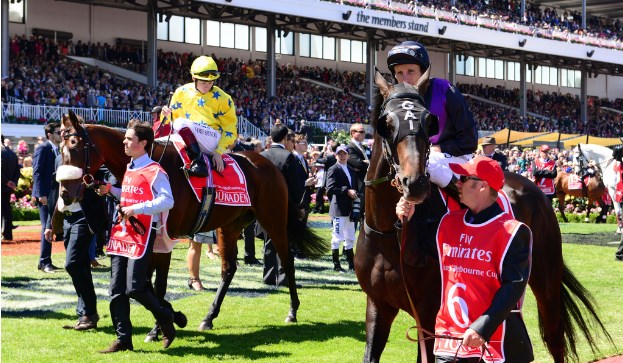 Enjoyment
If you look at studies related to stress these days, the findings don't usually make for happy reading. More of us are devoting more of our time to work and life seems to be more stressful and intense. For many, hobbies provide a release and a sense of enjoyment, as well as a means of relaxing and de-stressing. For many Australians, watching racing or going to the races is simply a means of having fun, enjoying the entertainment and experience and letting loose.
In a nation where sport is at the very heart of culture, heritage and tradition, horse racing has emerged as the second most popular spectator sport. Beating off stalwarts like tennis, cricket and rugby union is no mean feat, but it appears that there's no shortage of reasons why the Australians have a love affair with racing. For many, racing is all about the experience and the occasion, as well as the appreciation of incredible athletic performances, and a trip to the races has become a tradition families and groups of friends are eager to preserve for many years to come.