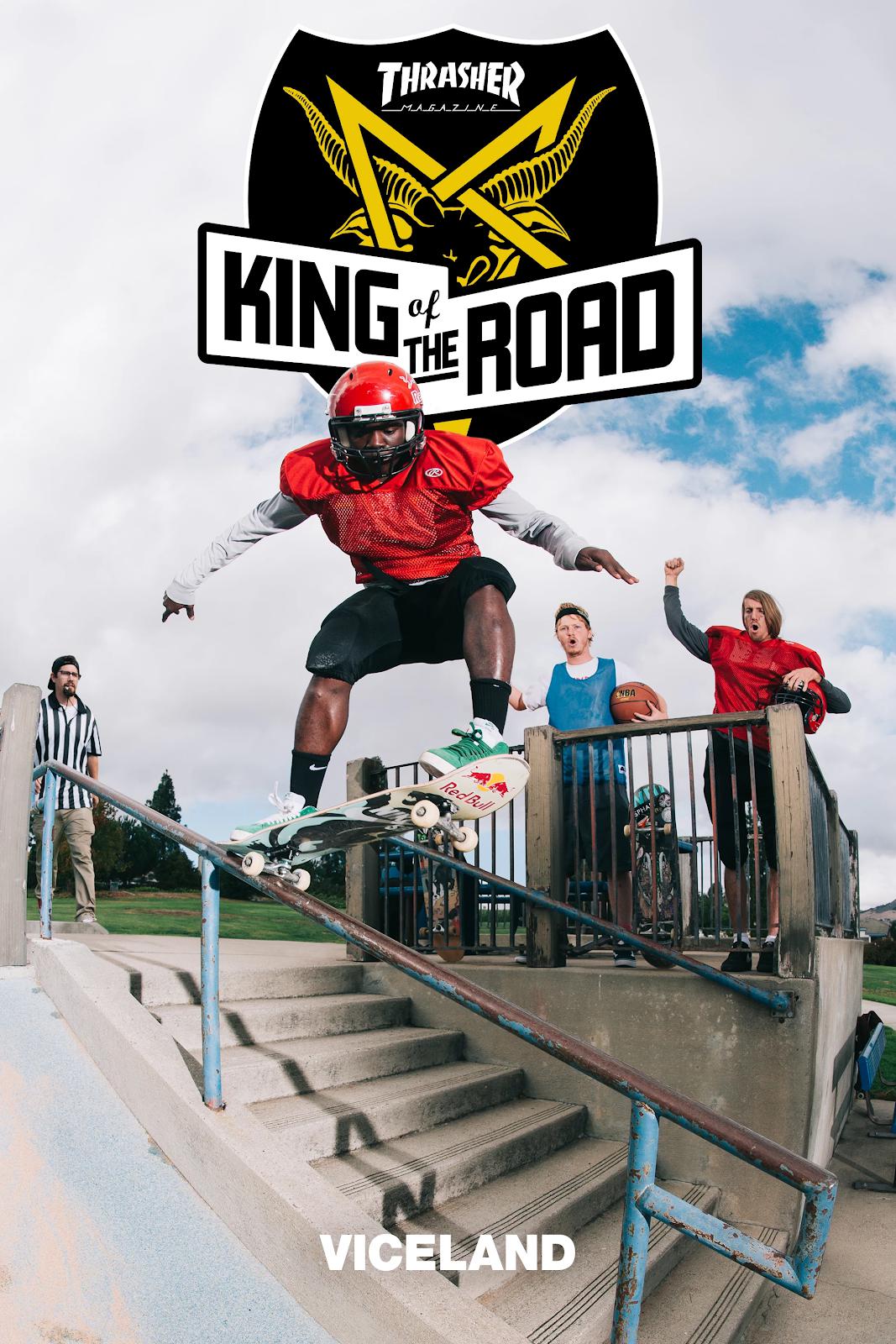 Leigh is writing this series of articles on Season 3 of Thrasher's King of The Road for Viceland TV.


Follow Leigh on Twitter


The ultimate skateboarding road trip begins today!
                                     -- Jake Phelps, Thrasher Magazine, Editor in chief


Thrasher Magazine's King of the Road (KOTR), the annual skateboarding odyssey/ road trip and scavenger hunt is back on Viceland TV for Season 3 of stunts, challenges and insanity. The series chronicles the 2017 King of the Road contest between three teams of pro and am skateboarders competing by performing stunts, challenges and difficult tricks to rack up points along their two-week tour. The winning team gets $50K, the King of the Road trophy, and the ultimate prize: the cover of Thrasher Magazine.
Season 3 has the heavy hitters, Team Element deep with skills including Nyjah Huston, Mason Silva, and Evan Smith; talented underdogs Team Foundation, with Nick Merlino, Dakota Servold, and Aidan Campbell; and the esteemed legacy team, Real, including Chima Ferguson, Robbie Brockel, and Thrasher Skater of the Year 2017, Kyle Walker.
Skateboarders may take skating seriously, but they don't take themselves too seriously.
KOTR thumbs its nose at anyone who can't laugh at the unconventional and absurd. Don't be squeamish about urine-related challenges, bodily fluids in general, or be put off by juvenile foolishness, like drinking the juice from a jar of pig's feet, or you will miss some of the most unbelievable skating, amazing stunts, breathtaking locations, hilarity and camaraderie that KOTR embodies. If you skate, enjoy the tricks and maybe imagine you're there, too; if you don't skate, KOTR will make you wish you did.
King of the Road is born of chaos and it's always going to be a little disorganized and Jake and Andy definitely add to that flavor. -- Michael Burnett, KOTR co-creator
Season 3 teams Element, Foundation, and Real gathered and the contest got under way at Mira Loma Skatepark in Reno, NV; in dramatic fashion. Perhaps to symbolize passion and strength with fire, they skated down a flaming rail on a set of stairs to get things hyped up. Thrasher Editor in chief, Jake Phelps along with KOTR emcee, Andy Roy welcomed the teams and unveiled an intimidating, and potentially impaling obstacle, dubbed 'rattlesnake mountain', a gigantic pole jam contraption with four-foot extension, to kick off the contest. Zion Wright (am, Team Real), Aidan Campbell (Team Foundation), Kyle Walker (Team Real) and Evan Smith (Team Element) initially conquered the rattlesnake pole jam challenge, launched themselves off of it and landed wheels down. As tricks were landed, a foot of rail was added to the pole and ultimately Evan Smith was the only rider who didn't get bucked off of the rattlesnake at well over six feet of almost vertical rail.
When you're on a skate trip, you want everyone to feel like they're a living organism, all together, as one. -- Evan Smith, Skater, Team Element
The teams faced off in the Biggest Little Relay challenge at Mira Loma Skatepark with speed skating, a foot race, assembling a puzzle, ultimately culminating in one skater from each team having to put on boxer shorts and urinate on a target with an enlarged image of Andy Roy. Foundation team had a two-minute lead but stage fright struck Corey Glick (as it did in last year's opening relay challenge with Ben Raemers). KOTR veteran (2014 Element) Smith was able to hit the mark, giving the Andy Roy image a golden shower to push team Element into the lead.
Phelps handed each team manager--Cole Mathews (Element), Justin Brock (Real), and Mike "Big Pink" Sinclair (Foundation)-- a King of the Road book outlining all the challenges teams must execute and the weirdness commenced with skaters banging out tricks right away. Each city the teams travel to has City Challenges, unique tricks or stunts to achieve at skate spots specific to that location.
Kyle Walker (Real) skated off of a roof and made it look easy, Madars Apse, the "Latvian superhero" (Element) did a rolling handstand off of the curb that evoked skateboarding of the 1960s, and Zion Wright sprinkled some versatility from his bag of tricks including an alley oop frontside flip and switch backside heel flip. Antics in the Foundation van garnered points when they caught a fly and ate it and Smith racked up even more points for Element by fulfilling the nutritionally dubious challenge of eating a piece of the team van larger than a quarter.
Big day today. Started off losers, ended up winners...I think. -- Mike Sinclair,
Foundation Team Manager
Foundation buckled down to tackle a bunch of flatground challenges that were sublimely beautiful, including Nick Merlino, crouching head down on his board, thundering toward rookie Cole Wilson, who jumped over him from standing still on his board.
Foundation spied a classic Reno https://www.visitrenotahoe.com/ wedding chapel, so the team trundled over for two of their own to be joined in holy matrimony KOTR style, checking off that challenge. Cole Wilson's dog, Walter walked down the aisle, then Wilson and Aidan Campbell got hitched in a sweet, peculiarly sentimental ceremony that had the team as witnesses, noiselessly unified; even team manager Mike Sinclair got misty-eyed.
KOTR is a buddy road trip and celebration of the unrestrained fun of youth: getting dirty, being crazy with friends, and having a blast living life. Michael Burnett, creator of King of the Road provides narration and commentary offering insights and information in between the action.
After last year, we realized the sky's the limit: these might be the hardest tricks and the wildest challenges we've ever put in the book -- Michael Burnett, KOTR creator
Full episodes are also available at Viceland or on Viceland's YouTube channel.