Written by

Zankhana Sentinel PR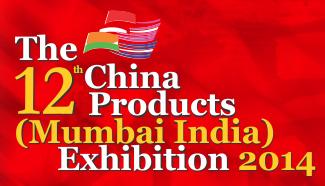 12th Edition Of The China Products Exhibition -India's Unique Multi-Sector B2B Trade Show
Interact with and source directly from more than 170 manufacturers from Hong Kong, Macau & Provinces from Mainland China
Showcasing more than 20 product verticals
Insightful industry and business.
On the back of 11 successful exhibitions, the 12th edition of "China Products Exhibition" will take place from 18th – 20th December, 2014 at Hall V, the Bombay Convention and Exhibition Centre, Goregaon(East), Mumbai, India.
One of the most renowned multi-sector B2B trade show in India -the China Products Exhibition 2014 -will showcase products spanning more than 20 industries and verticals from Sichuan, Ningbo, Xiamen, Wuhan, Dalian, Gansu and Guangdong provinces of China. Products on exhibit will range from Consumer Electronics, Home Appliances, Household products, Furniture and fixtures, LED and Lighting products to Fashion Jewellery, Gifts and Accessories, Apparel and Textiles to Machine Tools, Industrial goods, Building material and equipment, etc.
More than 10,000-12,000 trade buyers from across India will visit this 3 day event, taking advantage of viewing the wide range of quality Chinese products from various sectors at one central location.
To enhance business opportunities, there will be special networking reception pavilions, one-to-one business matching for buyers and industry seminars, all aimed at deriving maximum benefit in minimum time.
The Exhibition assists Indian businesses in meeting their future business partners from China, Hong Kong and Macao to help produce high quality products at lower manufacturing expense and logistics costs.
This is a platform which will introduce contemporary technology and innovative products to Indian entrepreneurs and assist them in bringing the right products for the large domestic markets.
The China Products (Mumbai, India) Exhibition has been endorsed and supported by leading trade bodies in India including the Indian Merchants' Chamber (IMC), All India Association of Industries (AIAI), India-China Chamber of Commerce and Industry (ICCCI) and SME Chamber of India.
The organizers of the show are China Council for the Promotion of International Trade (CCPIT), Guangdong Provincial Committee, Sub-councils of Commercial Industry, Ningbo, Hangzhou, Hong Kong Trade Development Council (HKTDC), Department of Foreign Trade and Economic Co operation of Guangdong Province and Macao Trade and Investment Promotion Institute. The show is managed by Worldex India Exhibition & Promotion Pvt. Ltd.
For further details please log on to: www.chinamumbaiexpo.com