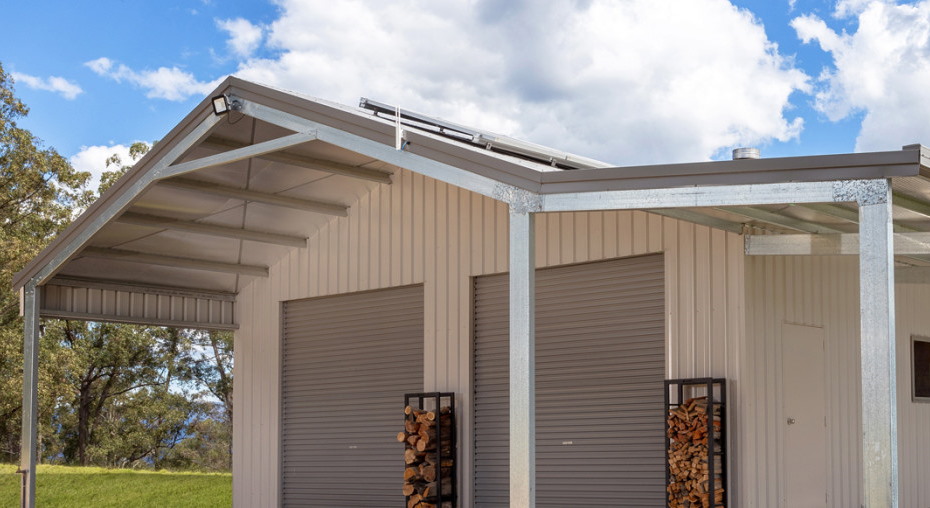 It's almost Summer, and that means home projects are on the way! Whether you're a first-time homebuyer or you've had your home for many years, you are always trying to find a way to better your home. Sometimes you want to add a room, create a getaway, or something else that you maybe just don't have space in your home for. A shed or patio is a solution to this issue, but that's not even the beginning of what Fair Dinkum Builds offers.
Sheds are a great addition to any home. It can be a getaway without even leaving home! Whether it's a garage, carport, or even a livable shed, this amazing company has so many great options for you to choose from. You choose the profile, color, size, and more! These could range from a gym, a hangout spot for guests, a studio, or even a little home for guests. There are endless possibilities that you can choose from. Actually, if you're wondering what you want to do, this company has an amazing inspiration page that will make help you find your perfect build.
You also have the option to create the patio of your dreams. These patios are guaranteed to be the spot you make lasting memories with friends and family. You choose the profile, color, size, roof pitch, and extras (such as skylights or patio attachments)! These are amazing options that are cost-effective, easy to install, have double-sided color options, and give your patio a traditional look!
One of our personal favorite options for residential products is the liveable sheds. These products can help create a getaway, a home for family or friends, or something else. These meet all the building code requirements and are accredited by SafeShed. The options, like all the other products, are incredibly diverse and great for anyone looking to design their own home. Extras include glass sliding doors, stairs, skylights, insulations, and more! So if you have a home being built and need a temporary one, you need a home for a family member in your backyard or just a holiday rental, this is an amazing, budget-friendly option.
You also have the option of getting pergolas. These are great for shade in a swimming pool, in the backyard for a barbeque, or just adding interest to your yard. You can choose from a flat roof, gable roof, dutch gable, or even a combination. These create functional and enjoyable outdoor spaces for friends and family. Of course, you get to pick the profile, color, size, and extras.
That isn't even the end of what this company can do for you. They have products for commercial owners, such as storage containers, industrial warehouses, and even aircraft hangars! These functional spaces can be delivered directly to your busy and are safe on the way there. These options can be adjusted just for your business' budget.
Rural landowners also have a wide range of products that they can choose from. Regardless if you have livestock, crops, or something else, they have various barns, sheds, equipment, riding arenas, and more that will fit your needs. All of which are customizable based on your own wants and needs. They have so many solutions that are sure to fix any issue you may be experiencing.
There is also an app featured on the website called Shed Designer. This app allows you to see your design with your customized features on your land. Using this, you can email your design to an expert to get a quote and engineered to spec design. It's available online, the Apple App Store, or Google Play. The steel colors on the app were reproduced to represent actual colors as accurately as possible. The designs you submit are indicative only, so you still get to check the final details on the quote before acceptance and ordering. The same is true for openings and building sizes. However, this is still an amazing tool to use to see what you may want on your land.
All these options, all customizable, all cost-effective. These amazing products are nothing short of perfect, so what's the catch? There truly isn't one! These products are made with genuine COLORBOND steel, making them very sturdy and strong structures. These quality materials are hand-picked just for you. They have a national network of experts with over 30 years of experience with over 140 outlets nationwide. Speaking of 30 years, that is how long they offer warranties on their outstanding products. They also are accredited with ShedSafe, so they design to code. What's even more amazing about this company, they get your designs to you fast! They know you have projects to get to, so they manufacture and deliver as quickly as possible. This company makes fantastic products that will fit your budget just for you.
This company is one of Australia's biggest and most trusted companies in sheds and patios since 2007. They are a large company, but also are humble enough to put their customers are real people. You might be wondering how to get started with your project. All you have to do is go to FairDinkumBuilds.com.au or call 1-800-033-284. You can get a quote directly from their website. You have so many amazing options with this website, and no reason to wait. Fair Dinkum is building the future of shed building, so start your project that will wow any guest you have over!