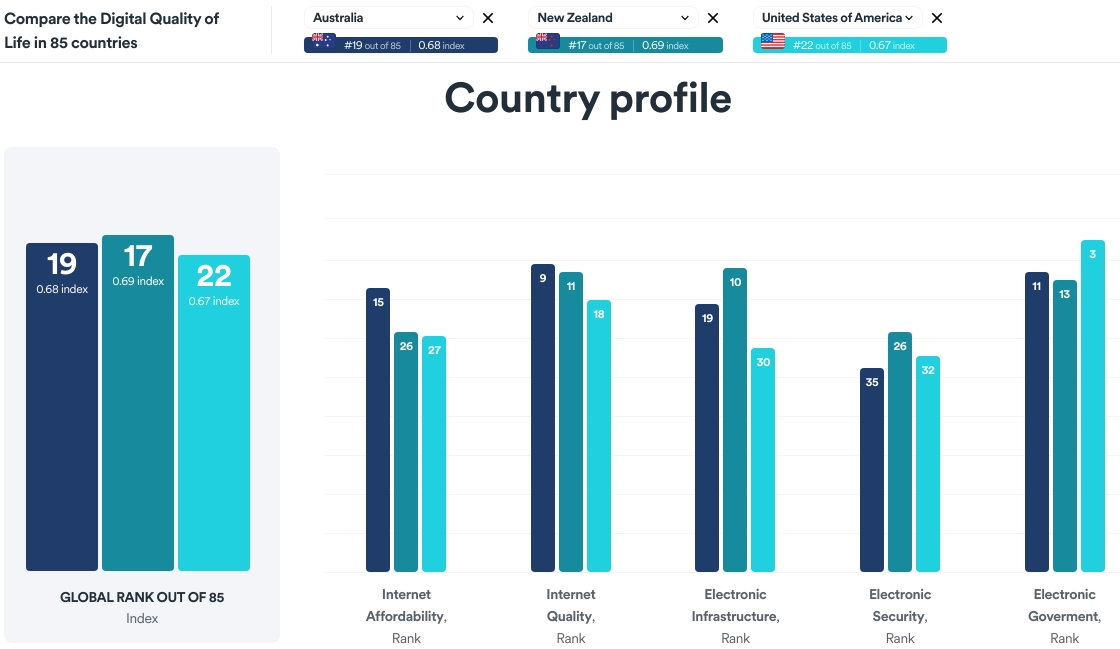 Global study shows New Zealand surpasses Australia with its digital quality of life
This year's edition of the Digital Quality of Life (DQL) research, conducted by the privacy protection company Surfshark, ranks Australia 19th among 85 countries. 
Australia excels globally in terms of internet quality (9th) and e-government, while showing mediocre on e-infrastructure (19th) and e-security (35th). The DQL investigation, covering 81% of the global population, ranks countries based on a set of five fundamental pillars. It defines the overall quality of digital wellbeing around the world.
The digital quality of life in Australia has room for improvement. While Denmark and Australia share a similar GDP per capita, their digital quality of life differs substantially -- Denmark ranks first in the DQL Index while Australia barely makes it to the top twenty. In comparison to New Zealand, Australia ranks lower in terms of e-infrastructure and e-security.
"Any country's digital advancement and people's online experiences have tangible relation to its economic potential and population's overall wellbeing. To demonstrate this coherence, we are continuing our annual Digital Quality of Life research project that investigates multiple factors influencing people's online experiences," explains Dom Dimas, Head of DQL research at Surfshark. "The index aims to overlook any country's digital preparedness's status quo and establish a common ground for further conversation."
7 of 10 countries with the highest Digital Quality of Life scores are in Europe, and Denmark takes the podium. The latter country registered a score of 0.7919 on a scale of zero to one. Sweden and Canada followed Denmark. None of the countries examined crossed the threshold of 0.8, reflecting room for improvement in all digital areas.
Among other findings in the report: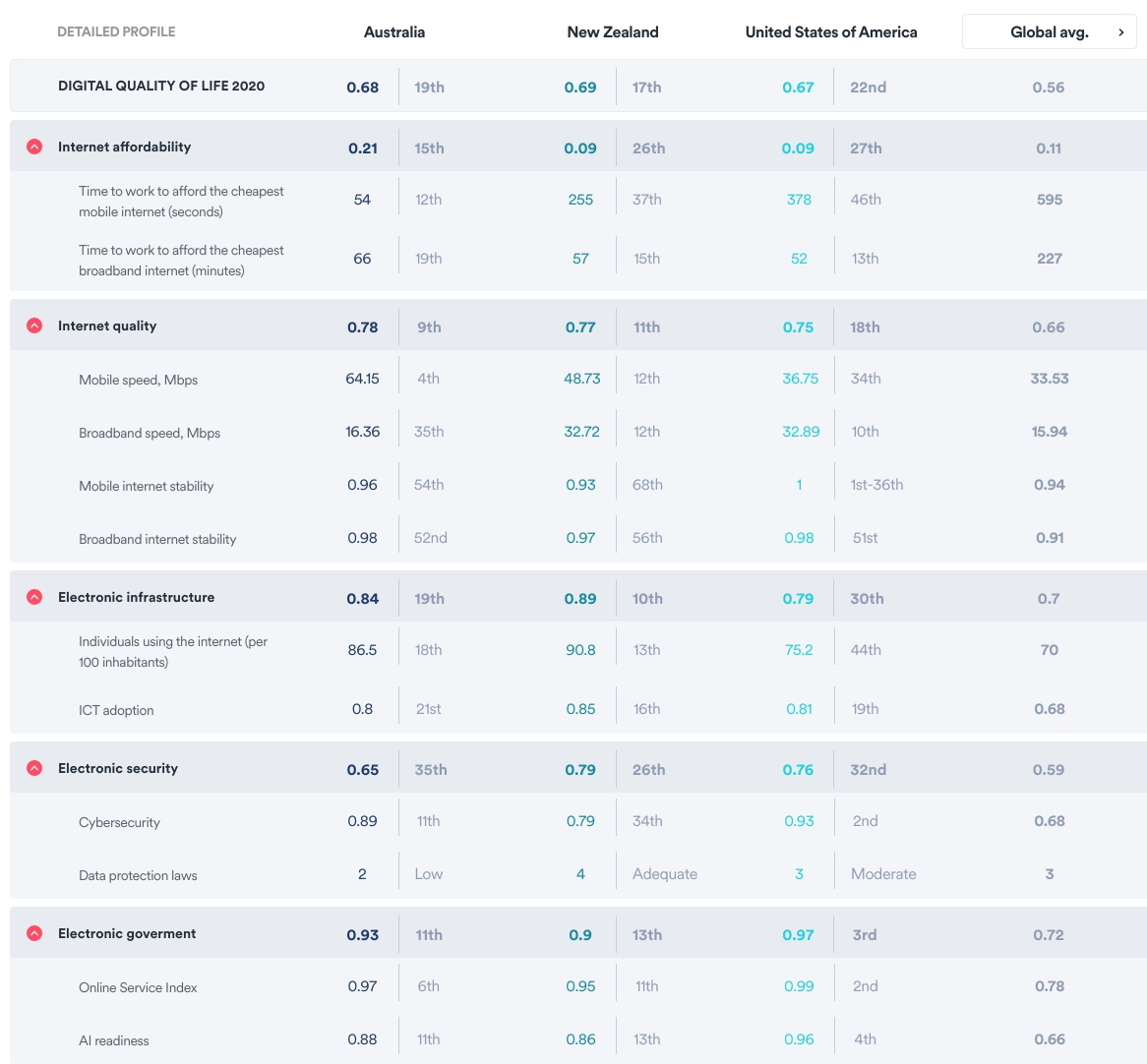 E-security, e-infrastructure, and e-government have a more significant correlation with the digital quality of life than GDP per capita.
Internet affordability plays a significant role in ensuring accessibility. However, it has a notably lower correlation with the DQL than the other pillars.
High inequality in affordability: people in 75% of the researched countries have to work more than the global average to afford the internet.
COVID-19 outbreak had a significant impact on internet stability. 49 of 85 countries experienced drops in mobile and 44 in broadband speed due to the WFH setting.
The DQL research examined a total population of more than 6.3 billion people in terms of 12 indicators that are interrelated and work together to measure the overall digital quality of life. The study is based on open-source information provided by the United Nations, the World Bank, Freedom House, the International Communications Union, and other sources.
The final 2020 Digital Quality of Life report and an interactive country comparison tool with country-level reports can be found here: https://surfshark.com/dql2020.
Surfshark, a Gold medalist at 2020 Info Security Excellence awards as a Hot Security Technology of the Year, is a privacy protection toolset developed to provide its users with an ability to control their online presence seamlessly. The core premise of Surfshark is to humanize online privacy protection and develop tools that protect users' privacy beyond the realm of a virtual private network. Surfshark is one of a very few VPNs which have been audited by independent security experts.