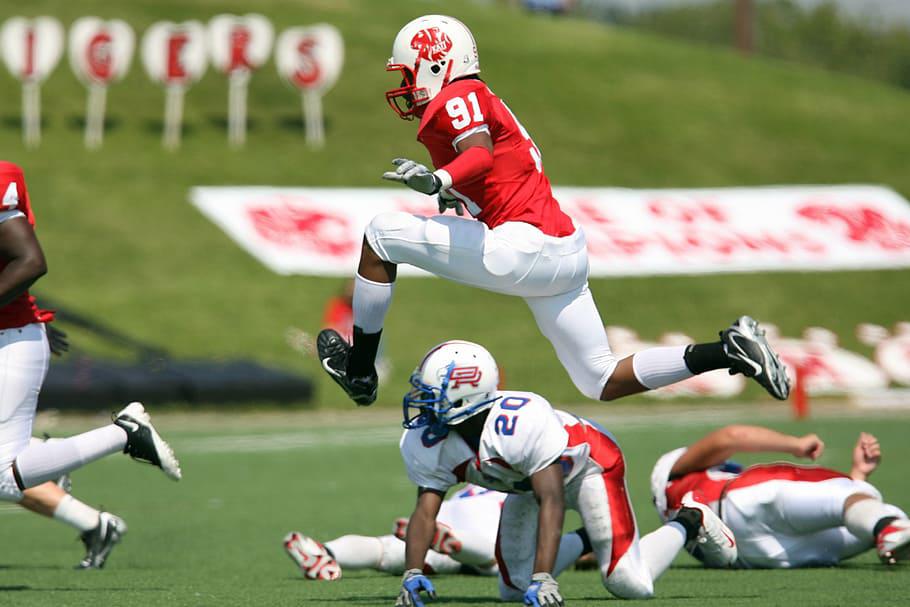 Players Working Out on Their Own


One of the biggest question marks resulting from the global pandemic gripping the nation and paralyzing the world of professional sports is, how will the players stay in shape without mandatory team workouts? Well, unlike decades ago when players fattened up in the offseason and waited until training camp to work themselves back into shape, today's athlete has to stay physically fit all year round.
However, for the average NFL player, there is offseason shape and football shape, which are two completely different things. Players can no longer afford to pack on a dozen or more pounds in the offseason, therefore, many maintain a light workout routine that will allow them to preserve their pliability and keep their cardio in check. This way they are in good shape when it's time for skills drills, pads, and ultimately live competition.
This year has been far different than any other offseason. Voluntary OTA's became virtual OTA's with team facilities having been closed due to the pandemic. Part of the incentive for players working out together is the push they give each other in each and every practice. It also builds camaraderie, team chemistry, timing, and allows everyone to get on the same page.
Although the fitness aspect remains from these virtual workouts, there is no replacing the real thing and it gives more room to cheat. Yes, even professional athletes go through the motions just as we do when we hit the gym on a day when we are just not feeling it. Some of us train with partners to motivate us on those days when we can't motivate ourselves and the same is true for the athletes we watch on Sunday.
Cleveland Browns fullback Johnny Stanton commented on his own workouts from home, "I've been going to a grass park to do some fieldwork. No lines or anything but it could be a lot worse. And my strength coach allows me to work out in his garage weight room. Scheduling can be tough but otherwise, I'm trying to make the most out of it."
Duron Harmon was recently acquired by the Lions from the New England Patriots and in a conference call with the Detroit media he was asked about his training regimen, "Today I was able to go down in my basement, I had the Peloton (exercise bike) down there. I have different bands because I'm a big and firm believer in the TB12 Method. So, I was able to get a workout in that way. That's how I'll probably continue to do my workouts until I'm able to get back out and start lifting weights. I'm going to do it that way. I have enough space to run, too, so I'll do that and keep doing everything I can to stay in shape and be ready for when it's time to come up to Detroit and start working with the team."
It will be interesting to see if there are more injuries in the early going this year than in years past due to the lack of training staff available to assist with the workouts and the post-workout treatments. So far it has been business as usual, even in Vegas, and offshore sportsbooks where the NFL lines are available for anyone wishing to make a wager. But if the aches and pains turn into full-blown injuries, there could be plenty of action from the practice squads to fill those voids.
Some players, like linebacker Jamie Collins, is taking a more relaxed approach to staying fit on his own, "I shoot basketball, man. I like to flip and tumble and like to do ninja things," he said. "That's my offseason training. I do pushups. I do a little stuff around the house. I do band work. I get on my stairs in my hallway, I do stuff on the stairs. I ride my bike forever. I've got Jumpsoles. I always just do little stuff. Growing up in the country, you'll make your own workouts."
Soon enough – or at least we hope so - there will be legitimate training camps with contact drills and the whole enchilada. But hopefully, the players are up to the task after having been on their own and left to their own devices. Time will tell but getting football back on track is something everyone, players, and fans alike, want to see.