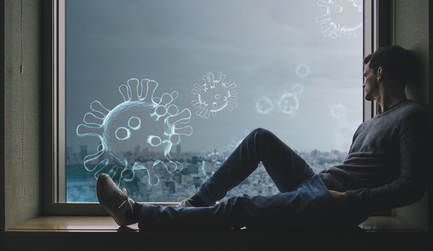 Many businesses have had to make radical changes in the way they do just about everything. Some of these have had a positive effect on the market. The lockdown has brought about new and exciting trends, but unfortunately, business to a halt in some areas. The question is, which businesses will thrive in the post-pandemic world?
Data protection, cybersecurity, and cloud-computing companies are running the show at the moment. Anyone qualified in these areas will be lucky in the job market for the foreseeable future. Banks are constantly in need to boost their IT workforce. In fact, there are plenty of jobs banks are hiring for during the virus lockdown. 
Virtual or Augmented reality is another area with a lot of potential. This can be very effective for sales, communication, and other aspects of business. There are many opportunities for AR to grow in different areas. It could add a social experience to business meetings or other virtual events. This year everybody is dependent on platforms such as Zoom and Microsoft Teams, and this has helped with productivity and efficiency working from home. There's certainly room for development in this area. 
Many businesses have had to adapt delivery methods quickly in order to get their products to their customers. Amazon has developed the FBA program to enable small businesses to use their services. This gives small businesses an opportunity to get on to the retail marketplace. FBA sellers source products for their Amazon stores from their original ideas, that they manufacture, or from other local businesses and wholesalers. Amazon works as the middle man, by advertising and distributing the products. 
In the catering industry, delivery service is essential. People are more than just used to having their food delivered, it's become the norm, and not just due to social-distancing. Before the lockdown began, companies like UberEats and JustEat had already taken over. The key is thinking of how to make your business stand out. Some companies are providing complete meal services, for various dietary needs, or simply home cooking made easy. 
The meal kits industry is booming at the moment, as it's managed to take on the challenge of making takeout healthy. Customers can pick and choose prepared ingredients, and find out about their nutritional value. In fact, many local businesses are starting to provide a service like this. For experienced pub and restaurant owners, it's a great money-maker. If you're in need of bulk delivery for your catering business, it's better to go for Wholesale Cleaning Products, which can help you cut costs. 
With thousands of citizens going back to their milkman to avoid shopping, it's clear that the way people consume has changed dramatically. These types of social-distance based trends may have started in lockdown, but can be expected to carry on for a while. Society has been changed for the long-term and it's unlikely to see a return to the way it once was. It'll be interesting to see what this means for the business world.