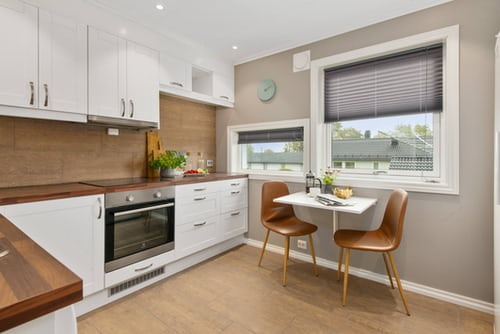 What comes to your mind when you think of the Australian landscape? The rich green scenery? Plenty of natural light? These aspects influence Australian kitchens too. Natural tones, a breakfast bar, and loads of lighting are distinct features.
The kitchen is one place in the house that is jam-packed with things like utensils and appliances. Organising it and making it look presentable is a herculean task. But it need not be if you have the right instruments to manage it with. You could use movable kitchen islands with or without wheels. They have compartments that make it easy to store anything.
A kitchen trolley can neatly hold your commonly used vessels and makes it mobile.
How does a kitchen trolley help in organising your kitchen?
It helps you organise your kitchen quickly and makes it look neat.

As kitchen trolleys have wheels, it makes it very easy to move it from one place to another. If you are throwing a big family lunch, carrying dish after dish to the table can be exhausting. Instead, transport them all in one go.

Kitchen trolleys are functional and highly versatile. You can choose to arrange the things inside any way you prefer.
What can Trolleys be used for?
It can take the role of a food container. You would have had to deal with messy kitchens with food containers strewn all over the place. With a kitchen trolley, you can neatly arrange them and ensure they are within your hands reach. The items in the trolley are easily visible. So, classification or labelling is unnecessary.

It can be used as additional shelves for the kitchen. When you need makeshift storage space for a short time or if there is a budget constraint during renovation, make use of them for storage.

They can be used to store china and cutlery. It is also convenient to store wine since it can be placed anywhere in your home.

The trolleys have metal or stainless steel baskets. It can be used to store onions, potatoes, or other vegetables.

Functions as a mobile pantry and can be used to store spices and herbs.

You can use it to store cutlery as well. As it is something that is often needed, the trolley makes sure it is easily within reach.

It can be used as a morning counter, and you can store all your breakfast supplies in it like cereals, bread, jam, butter, etc. This can save you a lot of time in the mornings.
Other ways to organise more efficiently:
Mount racks above the stove. You can do this yourself with a piece of wood and some bolts. Make sure it is at the right level that is accessible to you.

Add pegboard panels to your cabinet doors. This can give you a place to hang your pots and pans. Maximise the space you already have.

Opt for a pantry system that has wire shelves. This way, you can prevent items from falling, and it also allows easy viewing.

Use base organisers and pull-out drawers to keep your walls and counters uncluttered.

Grouping similar items can save you a lot of time and effort. Label and classify them according to type.
Conclusion:
A kitchen should be a place of inspiration. Make it as stress-free as possible by neatly arranging all things in it. Accessibility, presentability, and convenience are the criteria that you should prioritise while organising.
Author Bio: Ester Adams is an experienced independent content writer with a demonstrated history of working in the writing and editing industry.  She is a multi-niche content chef who loves cooking new things.