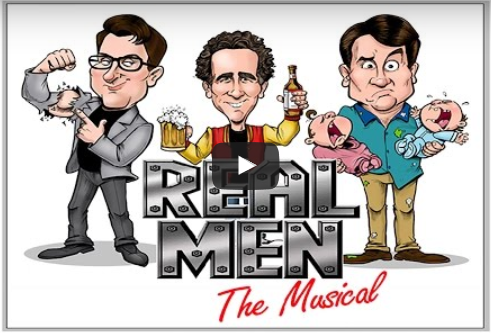 New York Michael Catalano & David Silberg will bring some masculine-fueled joy to midtown this holiday season, with the new award winning musical comedy, REAL MEN: The Musical .
The show will play at New World Stages (340 W 50 Street) and has been called "A hilarious romp through manhood" by Examiner.com. Written by Paul Louis and Nick Santa Maria and directed by David Arisco with musical direction by Martin Landry and arrangements by Manny Schvartzman, REAL MEN will begin performances on November 12 opening December 10 and will initially run through January 2, 2016. Tickets are $59-$79 and can be purchased by calling 212.239.6200 or visiting Telecharge.com.
All men are schmucks who struggle with their daily existence. REAL MEN: The Musical follows that existence down Manhood Lane to gain some clarity, or at the very least, explore the common bond that all men are morons just trying to get by. REAL MEN is a 90-minute romp that delves into fatherhood, mid-life crisis, dating, marriage, potency, and sexuality.
 "Old, young; married, single, straight, gay, bridge, tunnel - Ultimately, all men are schmucks and REAL MEN is a musical about what it means to be a real guy, good, bad, or indifferent." -Co-creators of Real Men Paul Louis and Nick Santa Maria.
Starring Stephen G. Anthony (I Love You, You're Perfect. Now Change) and Paul Louis (TV: "Jelly Bean Jungle"), Nick Santa Maria (Secret Every Smart Traveler Should Know). Creative team includes Patrick Tennant (Lighting Designer) and M. Florian Staab (Sound Designer).
REAL MEN: The Musical premiered in Miami where it was called "Hilarious…Crude… Poignant…Ingenious" The Miami Herald; "Brilliant Comic Performances!" Miami New Times; "At last, a musical for men who don't like musicals" Sun Sentinel; "It's funny, it's clever, it's bawdy and did I mention it's funny?" MiamiArtZine. In Miami, it was award the BroadwayWorld.com Award for Best Original Musical.
REAL MEN: The Musical
Written by Paul Louis and Nick Santa Maria
Directed by David Arisco with Musical Direction by Martin Landry with Musical Arrangements by Manny Schvartzman
Performance Schedule Thursday at 8PM; Friday at 8PM; Saturday at 2PM & 8PM
Begins performances on November 12, 2015 through January 2, 2016
Opening Night is December 10, 2015
New World Stages is located at 340 W 50 Street.
Tickets are $59-$79 and can be purchased by calling 212.239.6200 or visiting Telecharge.com
For more info on REAL MEN: The Musical  please visit RealMentheMusical.com
Press performances are:  Thursday, December 3 at 8PM; Friday, December 4 at 8PM; Saturday, December 5 at 2/8PM; Thursday, December 10 at 8PM (opening)
The creative team is available for interviews. To arrange interviews and press seats please contact JT Public Relations at (646) 481-6583 or email pressrsvp@jt-pr.net
Who's Who:
PAUL LOUIS (co-author/co-star) is the author of over 50 children's musicals produced in theaters throughout the USA.  In 1995, he created and wrote the scripts and songs for 13 episodes of his nationally syndicated children's TV series, "Jelly Bean Jungle," (praised by President Bill Clinton as "High quality children's programming"). A two time Carbonell Award winning actor, Louis has co-starred as "Marvin" on the ABC Family Channel series, "S Club 7", performed as a puppeteer for Matt Stone and Trey Parker's hit cult film, Team America: World Police", and is an award winning documentary filmmaker. Paul's also the author of the eBook, "Make Money With Puppets".
NICK SANTA MARIA (co-author/co-star) performed on Broadway as Vince Fontaine in Tommy Tunes production of Grease and was part of the Broadway and National Touring companies of Mel Brooks' Producers for 6 years. As a member of the Miami Comedy Improvisation Group, MENTAL FLOSS Nick honed his writing skills, becoming their resident songsmith. He wrote the musical comedy revue, Sweet Bedlam playing the ship circuit for 3 years. Nick contributed songs and sketches for the Off-Broadway hit, Secret Every Smart Traveler Should Know. With his writing partner, Paul Louis, he developed Blib and Blab, Language Explorers, an internationally seen video series, and worked with Paul as a puppeteer in the former nationally syndicated children's TV series "Jelly Bean Jungle." Nick is the author of COMEDY CRAZY; 60 Essays About Comedians From the Golden Age.
STEPHEN G. ANTHONY (co-star).) Steve's known in S. Florida for his Carbonell-winning portrayals of Man #2 in I Love You, You're Perfect. Now Change, & Tom/Phyllis/Leslie in Sylvia. He made his Broadway debut as Hoss in the award winning, critically acclaimed Hank Williams: Lost Highway. He's appeared alongside Sharon Gless in A Round-Heeled Woman at GablesStage, the Carbonell-nominated August: Osage County (Actors' Playhouse). Anthony has also produced and starred in several independent films.
DAVID ARISCO'S (Director) career spans 40 years as director, actor, musical director, stage manager, symphonic conductor and instrumentalist. He's directed over 140 shows as Artistic Director at Actors' Playhouse (Miami. FL.), as well as the Carbonell awarded productions of In the Heights (2013), Les Misérables (2009), AIDA (2005), etc., all winners for Best Production of a Musical. Awards: George Abbott Award for Outstanding Achievement in the Arts, & Richard G. Fallon Award for Excellence in Professional Theatre
MANNY SCHVARTZMAN (musical arrangements) is a 2-time Carbonell Award winner (Best Music Direction – In The Heights and Parade) was the music director for RENT in Havana, Cuba, thru Nederlander Worldwide and the council of arts of Cuba. He's been the MD at Actor's Playhouse, Slow Burn theater and more. Music Director/Supervisor for several cruise lines including Regent, Silver Sea and Celebrity cruise lines and Miami-Dade College, FIU's department of Theater. He's currently working on the Gloria Estefan musical On Your Feet.