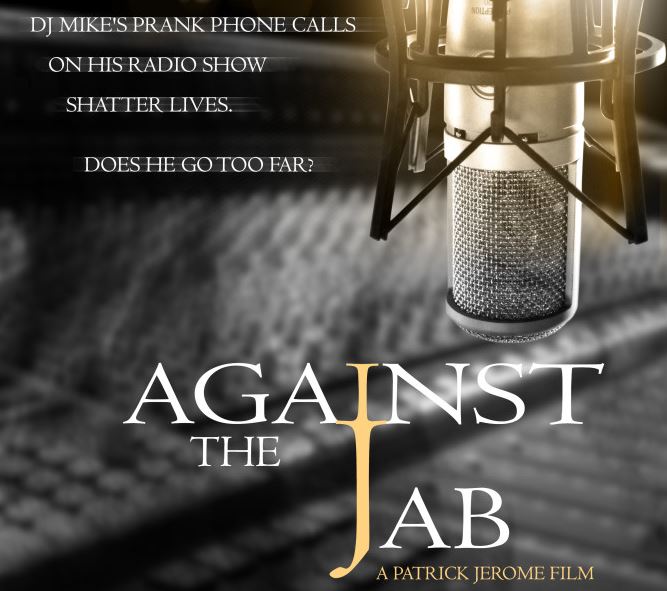 After enjoying a successful run at the AMC Loews Boston Common 19 and designation as an "Official Selection" of the 2015 Boston International Film Festival, the critically acclaimed Against The Jab is now available for rental or purchase on a wide variety of platforms, including Amazon, iTunes and YouTube On Demand. Written, directed and executive produced by veteran independent filmmaker Patrick Jerome, the film stars Leon as radio personality "DJ Mike," host of a Boston based prank phone call driven radio show called "Jab Stab." Other cast members include Scott Neufville, Clara Lago and Lonette McKee, with Jerome himself making an appearance as Detective Paul.
In the film, the lead character DJ Mike (aka Michael Washington) makes fun of people's lives with prank calls, and his jokes make his show the #1 morning talk show in the state of Massachusetts. However, behind the scenes of the radio show, many unpredictable events develop in Mike's personal life – which lead to an adventure that brings him to the brink of disaster, fighting for his own survival. The question the audience is left to wonder throughout is, Will he persevere? Much of the radio banter plays out against dynamic and compelling daily life scenes shot in numerous locations throughout Boston, the Haitian born Jerome's home and creative base since the early 90s.
"Most of my films are based on true stories or inspired by real events that spark my creativity and desire to build a unique narrative," says Jerome. "One morning as I was driving to work, I was listening to a bunch of prank phone calls and I got hooked on them. Like most people, I found them entertaining but fraught with potential peril. As an artist, I was attracted to the dynamic of these calls, which have built in comedy, drama and risky situations for those on the receiving end. As a storyteller I saw potential in the subject and wanted to make a film about it. I've always felt that life reflects art and art reflect life. Most of the seven phone calls we have in the film are based on real ones I heard on Boston radio."
In an intensely ironic real life twist, a major, globally reported tragedy based on such a prank occurred on just the second day of filming of Against The Jab. On December 7, 2012, Jacintha Saldanha, an Indian nurse who worked at King Edward VII's Hospital Sister Agnes in London, was found dead by apparent suicide, three days after receiving and falling for a prank phone call as part of a radio stunt. In the prank call, the hosts of the Australian radio program "Hot30 Countdown," broadcast on the Southern Cross Austereo-owned station 2Day FM in Sydney, called Saldanha's hospital and impersonated the Queen and the Prince of Wales enquiring about the health of the Duchess of Cambridge, who was a patient there at the time. Saldanha fell for the hoax and transferred the call to the nurse looking after the Duchess. 
"Members of my crew heard the breaking story and wondered if we should rewrite anything before continuing filming," Jerome says. "I said no, because the real life story showed the potential consequences of radio pranks just as we were depicting in the film. The topic became more poignant, powerful and culturally relevant than ever before."
Since launching his career as a producer and director with the real life based drama Deportation in 2001, Jerome has written and directed the feature length films Holla At Me (2007) and Open Vacancy (2012) and the short films Day By Day (2012) and The Last Delivery (2015). He has also served as executive producer on the 2008 film Walls Have Ears and Assassin's Bullet, a 2012 drama thriller starring Christian Slater and Donald Sutherland. As producer, director and writer, he currently has one feature (Beyond Control) and two shorts (100 Yards Away, For Love or Money) in post-production.
Read more