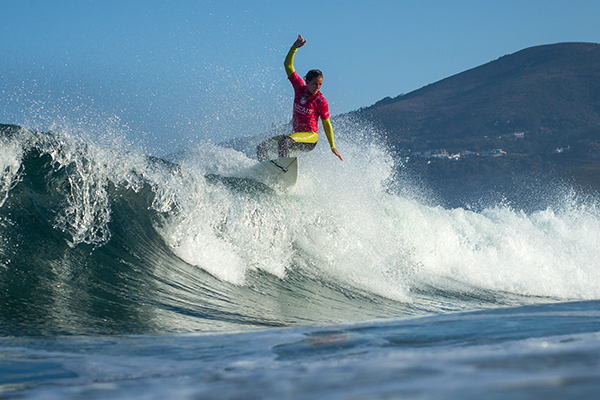 CASCAIS, Portugal (Sunday, September 27, 2015) - Courtney Conlogue (USA) has defeated Lakey Peterson (USA) to win the Cascais Women's Pro and reclaim the WSL Jeep Leader Jersey. Stop No. 8 on the 2015 Samsung Galaxy World Surf League (WSL) Championship Tour (CT), the Cascais Women's Pro, concluded today in solid two-to-four foot (1 metre) waves at Guincho.  
Today's victory is Conlogue's third of 2015 with previous CT wins in Margaret River and Rio. The win propels her up to first place on the Jeep Leaderboard ahead of 2X WSL Champion Carissa Moore (HAW).  
"Right now I'm focused on trying to win heats and events, " said Conlogue. "Saying that, having the Jeep Leader Jersey back is going to be sweet -- I didn't like having it for just one event. I'm very serious as soon as I put the jersey on but it's also really important for me to have fun and enjoy what I'm doing, and it seems to be working."  
"Time out of the water last season was very hard," Conlogue continued. "I had to watch the Title Race play out, so to be here this year has been so wonderful. It's been a lot of hard work and I've really put in a lot of time. To be a part of this tour is so special and I can't wait to see how to rest of the year plays out."  
The Final saw Peterson and Conlogue battle it out in an all-Californian match-up. Peterson earned a 7.17 on her second wave and paired it with a 5.17 to take the lead. Conlogue was left searching the lineup for an excellent 8.41 and found an 8.00 with ten minutes remaining. Conlogue was determined and focused, hunting down opportunities, and her energetic approach was rewarded. She unleashed on her backhand and secured an 8.10, the best wave of the heat, for a 16.10 two-wave heat total and the win.  
"I didn't ever give up and I didn't want to lose to Lakey," said Conlogue. "She beat me at Lower Trestles and has been so on point. I was focused on trying to manufacture scores out there and I really had to adjust my plans after she got such a great start."  
Peterson has had an incredibly consistent season in 2015, finishing in the Quarterfinals or better at every event this year. Today's result is her best of the year and moves her up one place to 4th on the Jeep Leaderboard, keeping her well inside the Top 5.  
"It's amazing to make a Final and for me it's been a little while," said Peterson. "I love Portugal and I love coming here every year. I'm excited to head over to France with some momentum. After making a Final here the World Title is definitely on my mind but there's a lot of work to do before I get there. I'm just going to take it heat-by-heat and surf the best I possibly can."
Before facing Conlogue, Peterson defeated face Tatiana Weston-Webb (HAW) in Semifinal No. 1. Weston-Webb, hunting down her first CT Final appearance, was quick to post two scores but Peterson held the highest score (a 6.00), and was able to back it up for the advantage. The pressure was on the Hawaiian rookie and she kept busy, but failed to manufacture the points required after a series of mistakes. An effort by Weston-Webb in the final seconds under Peterson's priority fell short and she takes home a 3rd-place finish.
Conlogue previously battled Sally Fitzgibbons (AUS) in the second Semifinal and got to work quickly, building a lead with two small scores. Her opponent netted a 6.00 for a precise one-maneuver wave. An important exchange played out at the halfway mark and a 6.67 from Conlogue increased her lead to leave Fitzgibbons searching for a 5.31. The Australian was able to close the gap to just 0.13 but couldn't overcome Conlogue and takes home a 3rd place finish. The result cements Fitzgibbons at the No. 3 place on the WSL Jeep Leaderboard and within striking distance of the title.  
"It was always going to be a really tough match-up with Courtney," said Fitzgibbons. "Today was a great opportunity for me to make another Final but it just wasn't meant to be. It's disappointing and I felt like I had a lot more to give but it wasn't my day. I'm going to have to refocus on France and give it everything there."  
Highlights from the Cascais Women's Pro are available at WorldSurfLeauge.com and via the WSL mobile app.  
The next stop on the 2015 Samsung Galaxy WSL Women's Championship Tour is the Roxy Pro France, which gets underway on October 6.  
Cascais Women's Pro Final Results:
1: Courtney Conlogue (USA) 16.10
2: Lakey Peterson (USA) 12.34  
Cascais Women's Pro Semifinal Results:
SF 1: Lakey Peterson (USA) 11.60 def. Tatiana Weston-Webb (HAW) 10.34
SF 2: Courtney Conlogue (USA) 11.30 def. Sally Fitzgibbons (AUS) 11.17  
2015 Women's WSL Jeep Leaderboard Top 5 (after Cascais Women's Pro):
1: Courtney Conlogue (USA) 58,600 pts
2: Carissa Moore (HAW) 56,300 pts
3: Sally Fitzgibbons (AUS) 49,300 pts
4: Lakey Peterson (USA) 47,000 pts
5: Bianca Buitendag (ZAF) 44,050 pts
About the World Surf League
The World Surf League (WSL) organizes the annual tour of professional surf competitions and broadcasts each event live at WorldSurfLeague.com where you can experience the athleticism, drama and adventure of competitive surfing -- anywhere and anytime it's on. The WSL sanctions and operates the following tours: the Junior Tour, Longboard Tour, the Qualifying Series (QS), the Big Wave Tour and the crown jewel of the sport, the WSL Championship Tour (CT) which determines the sport's undisputed world champions. The organization is headquartered in Santa Monica, California with Commercial Offices in New York. The offices are supported by regional centers in Africa, Asia, Australasia, Europe, Hawaii, North America and South America.