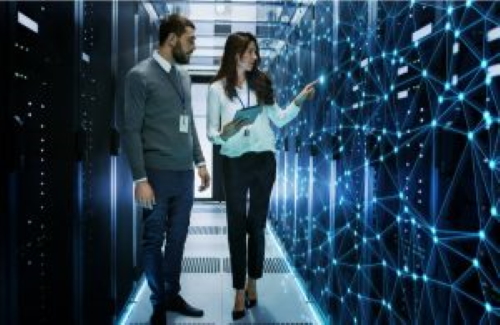 Choosing one specific career path that you will follow and hopefully excel in can be a daunting task. Clearly, you want to choose something that speaks to your own skills, talents, and interests, but at the same time, it needs to be something that you can become as well-rounded as possible in – thereby increasing your odds of employment. Often there are additional layers to a job that you may not have even thought about or been aware of.
For those who have their eyes set on becoming an IT manager, you may be surprised to learn that you can be more effective in your job, and even more employable, if you also work on improving your business skills. But why are business skills so important in this position? Let's examine it closer.


A Healthy Job Outlook for IT Managers
The great news for those looking to find a job as an IT manager is that, not only do they exist, but the field itself is growing. The U.S. Bureau of Labor Statistics shows that by the year 2028, the field will have grown by 11%, which is much faster than the national job growth average. Take into account the healthy median salary of $146,360 per year, and it's a very promising path to follow.
And while it's true that you'll be working with information systems and computer systems in order to plan, coordinate, and implement all the computer-related activities in that particular business, your skills shouldn't end there. It's the soft skills, as they call them, that you'll also want to give time to and ensure you allow them to develop.


What are the Key Business Skills to Develop?
Now that you're convinced of the importance of business skills for IT managers as a way of being more effective, more confident in your job, and frankly, to give you the cutting edge over the competition, the next question to ask is, what skills do you need to develop?
One in particular that you'll want to focus on is motivational skills. As an IT manager, you are just that - a manager. What that means is that you will be leading a department of staff who look to you to motivate them and encourage them. You need to have confidence in your ability to connect and then communicate with staff effectively.
This, of course, leads to communication skills - another must-have in the job. The good news about communication skills is that you can work on them quite regularly, making sure they get to where they need to be.
Then there are your decision-making skills because, let's face it, as a manager, you'll be faced with making decisions on the regular. Some will be tougher than others and you'll need to know how to do your research, weigh all your options, and make informed decisions that ultimately benefit the company.


Ensure You Have a Long and Successful Career
While it's important you do all the necessary schooling and training to become an IT manager, don't forget that there are other skills you can also work on that will help to make you a more effective manager.