Written by Institute for Public Accuracy
Thursday, July 24, 2014 BBC is reporting today: "At least 15 people have been killed and more than 200 injured when a UN-run school used as a shelter in Gaza was shelled, the Gaza health ministry says. ... In the past 16 days of fighting, more than 750 Palestinians and 32 Israelis have been killed, officials say."
Time magazine reports: "The UN Human Rights Council voted Wednesday to launch an inquiry into potential violations of human rights by Israel in its conflict with Hamas in the Gaza Strip ... The council's inquiry would investigate 'all violations of international human rights law and international humanitarian law' in Palestinian areas. The resolution was drafted by Palestine, and supported by 29 of the 46-member council. The U.S. voted against the resolution, while European countries abstained."
JOHN QUIGLEY, quigley.2@osu.edu
    Professor emeritus of international law at Ohio State University, Quigley's books include The Statehood of Palestine: International Law in the Middle East Conflict. He said today that UN High Commissioner for Human Rights, South African Navi "Pillay's concern that the fire power being brought to bear on Gaza indicates that war crimes are being committed is well founded. The level of civilian deaths being caused is out of all proportion to whatever military objectives are being targeted." Quigley's other books include Genocide in Cambodia and The Ruses for War.
RANIA KHALEK, [in D.C. area] raniakhalek@gmail.com, @RaniaKhalek
   Khalek just wrote the piece "Medical workers killed, injured as Israel targets Gaza health infrastructure," in which she interviews the Norwegian doctor Mads Gilbert who is operating on patients in Gaza. He states: "The hospitals in Gaza have never ever been proven to conceal or hide or harbor any militant needs, be it fighters or weapons. This is just another of the many lies which the Israeli propaganda machine is spewing out. Israel is puking it out around the clock.
    "So al-Aqsa hospital [was] attacked, absolutely horrible, and it caused me and the Ministry of Health to send out a press release yesterday calling for the international community to consider the attacks on health facilities as war crimes under international law and called upon the international community and the United Nations to take immediate actions to prevent further attacks on medical facilities, ambulances and patients."
FRANCIS BOYLE, fboyle@illinois.edu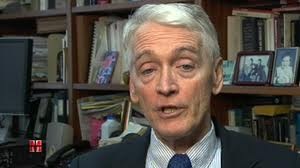 Boyle is a professor at the University of Illinois College of Law and author of Palestine, Palestinians, and International Law and The Tamil Genocide by Sri Lanka. He said today: "I read the entire Navi Pillay Letter to the Human Rights Council. She said that war crimes and crimes against humanity have been committed and need to be investigated. So what? That's exactly what [Richard] Goldstone did after Operation Cast Lead [in 2008-9] and nothing came of it.
   "An appropriate legal remedy is to apply the 1948 Convention on the Prevention and Punishment of the Crime of Genocide. Palestinians have been victims of genocide by that treaty's definition. In 1993 I won two World Court Orders on the basis of the 1948 Genocide Convention that were overwhelmingly in favor of the Republic of Bosnia and Herzegovina against Yugoslavia to cease and desist from committing all acts of genocide against the Bosnians in violation of the 1948 Genocide Convention.
     "You did not need an equivalent to the Nazi Holocaust against the Jews in order to find that wholesale atrocities against a civilian population constitute 'genocide' in violation of the 1948 Genocide Convention. Indeed the entire purpose of the 1948 Genocide Convention was to prevent another Nazi Holocaust against the Jews. You did not need six million dead human beings in order to constitute 'genocide.'"
See: Israel's Incremental Genocide in the Gaza Ghetto by the Israeli historian Ilan Pappe.
For more information, contact at the Institute for Public Accuracy:
Sam Husseini, (202) 347-0020; or David Zupan, (541) 484-9167
Francis A. Boyle
Law Building
504 E. Pennsylvania Ave.
Champaign, IL 61820 USA