Gregory McKarl hardy is a Mixed Martial Artist and a former American football player, hardy was born on July 28,1988, he made his MMA debut in 2017 and has an MMA record of (5-1-1). He made his professional MMA debut in April 2018 where he fought Austen Lane and won by a knockout in the first round. After winning the fight he was awarded a contract by The Ultimate Fighting Championship.
Hardy made his UFC debut against Allen Crowder, he lost the fight via disqualification.
In latest
UFC news
Greg Hardy took out an inhaler during his fight with Ben Sosoli, after the second round Hardy broke out an inhaler which resulted in confusion and surprise all around the UFC.


Things took a turn, and confusion escalated after it was announced that Hardy's victory over Ben Sosoli would be deemed a no-contest.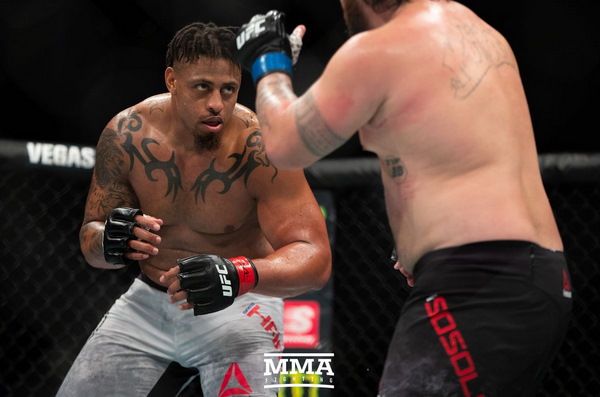 Dana White(UFC President) was as surprised as anyone else, after the end of the event UFC representatives announced that Greg's use of the inhaler was illegal, unless it was approved by the Massachusetts Athletic Commission.
Greg Hardy was seen asking for permission to use the Inhaler, As seen between the rounds Hardy can be seen talking to an official asking him if he could use the inhaler.


Hardys win over Sosoli was overturned by the officials, the reason given for the same was that Hardy never cleared it with them neither did he take any prior permission for the use of an inhaler.
Hardy was visibly distraught after the UFC result was overturned, according to him the inhaler has been cleared by the USADA and they have clear knowledge that he doesn't take any steroids and also that he uses his inhaler.
The inhaler Hardy used is a ventolin albuterol inhaler for exercise induced asthma.
Inhalergate is what the infamous event is now being called, the incident is being talked about everywhere, Dana White being UFC President was obviously asked about the team, Dana seemed confused himself and claimed he had no idea of what any of the people involved in the situation were thinking, Dana states that it is clear in the rules that a fighter cannot take anything in between the rounds except for water. 


After Hardy's use of the inhaler many people have been asking questions like, Did Hardy Cheat? To this White says, Did he cheat obviously not, he can be clearly seen asking for permission.
This Greg Hardy incident as confusing as it was, raises some important questions, like How clear are the rules regarding the use of things like inhalers and most importantly who are the people or federation that can give permission to use any such thing.


Meanwhile the decision to overturn Hardy's victory seems like a fair one at this point.