Covid-19 has put more emphasis on the need to get out of the city and into nature. Camping enthusiasts want fresh air and peace, and quiet. Having the appropriate outdoor equipment and accessories can be quite handy. 
Certainly, a good torch will ensure you don't go tripping over or stumping off things in the dark. Some rechargeable flashlights have incredibly powerful beams of light. The Fenix LR40R is a very bright rechargeable flashlight. Amazingly, it can produce 12000 lumens. Still, even the smallest rechargeable torches won't disappoint a hiker or camper with the lumens they emit.
Which is the Best LED Torch?
We look at some of the best rechargeable and non-rechargeable LED torches. Thanks to a rechargeable USB torch with its built-in micro USB charging port, you can conveniently charge your torch with any USB device, such as your power banks or laptops.
So which of these torches is best? It's a no-brainer, really, with the verdict. Rechargeable batteries are the best. However, some old-school adventure seekers say that there's something worthwhile about non-rechargeable batteries too. The top brands offer both varieties.
Let's take a look at some comparisons -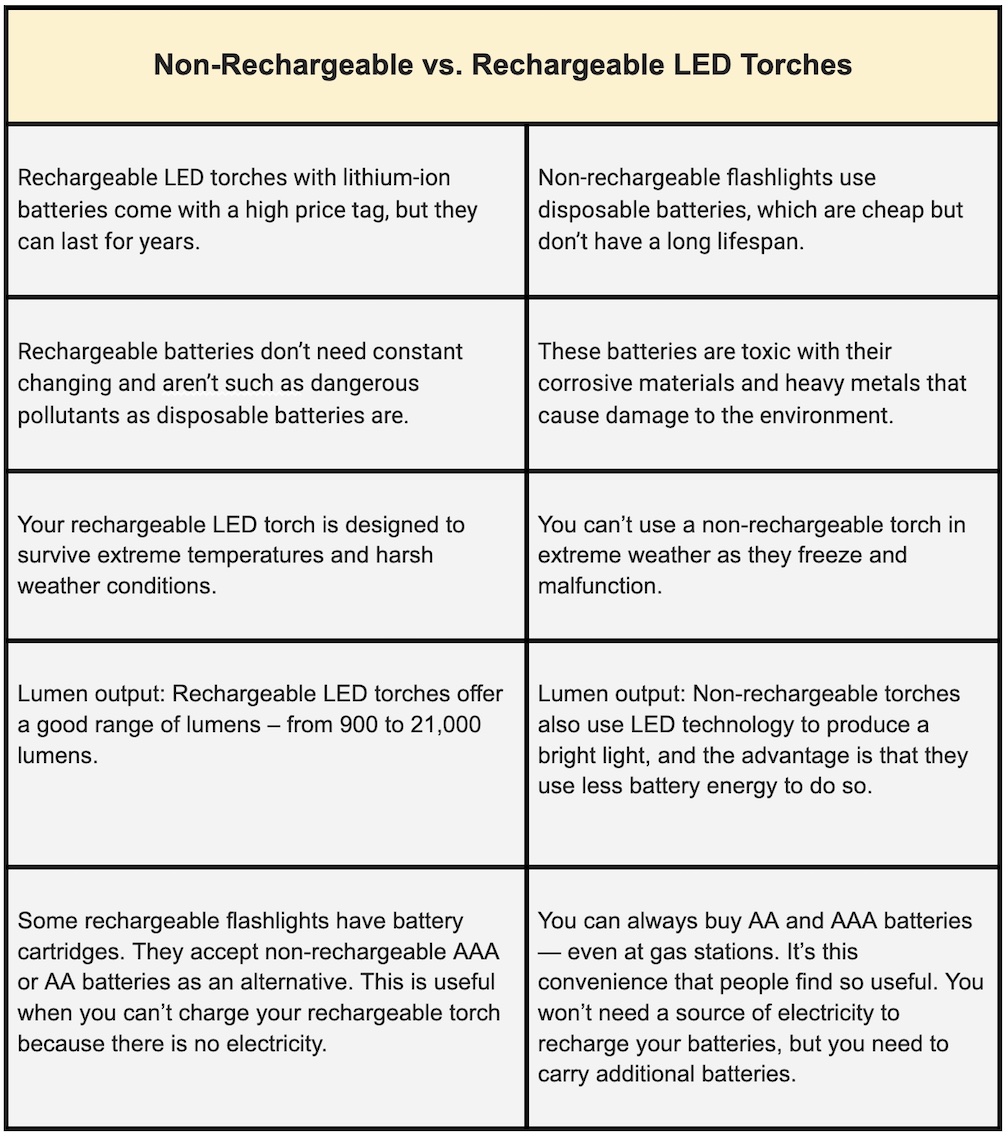 Added on perks with Rechargeable LED Torches
Some rechargeable LED torches come with an emergency power bank and can charge your mobile phone and other small electronic devices from their battery power. For this, you need a USB cable. 
In terms of battery capacity, it is measured in milliamp hours (mAh). Sub-1,000 mAh batteries offer a shorter battery life, but anything over 3,000 mAh or, better still, over 5,000 mAh is used to power stronger lights for many hours. 
Another feature to look for is different power modes. Low settings may not suffice for campers and adventure seekers, so you need to do some research. You want to be able to customise your torch to your individual needs. You want to choose between different energy modes and light modes.
The Rechargeable LED Torch offers a Full Spectrum of Advantages
While the verdict may seem to be a no-brainer inclination in favour of the rechargeable battery torch, a case can also be made for the usefulness of disposable batteries. It essentially depends on the application. 
It seems rechargeable batteries are better in the long run as they are kinder on the environment – no disposing of used polluting batteries – and you don't have to buy batteries every time you use them.
Top Brands offer Plenty of Options
When buying a LED torch for your lighting needs, you always have plenty of options. You can choose the convenient rechargeable torch or the cheaper, more reliable non-rechargeable torch. With Fenix torches, you will always have the best torch, whether you go for Fenix rechargeable torches or AA flashlights. 
Rechargeable flashlights in Australia come from some pretty reliable brands, such as Fenix, which offers a fabulous range of trendy LED torches and flashlights. They are great for every purpose under the sun. You can rely on their skills and industry knowledge to guide you toward the right products. 
All their torches are built with convenient power sources and are super bright and reliable to light the way ahead for you. It is always advised to use a flashlight with at least 1,000 lumens to illuminate a campsite.
Get a Torch For Your Specific Application
What's your preference? Cheaper models use alkaline batteries, while more expensive models use lithium batteries that last longer. However, both rechargeable and non-rechargeable torches have their advantages, and both come with waterproof and drop-resistant materials and good overall brightness.
Certainly, in modern times, the trend is towards rechargeable lithium battery torches. With their micro-USB cable, portable USB power banks, and
rechargeable torches
,
you're fixed for lighting when camping in the wild.