Written by

Anna Melnikova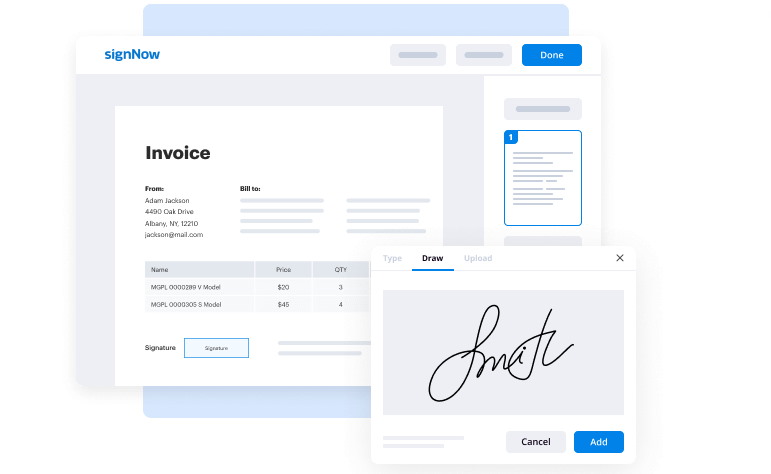 In the modern world, many areas have migrated to the online format. People have found ways of mass social communication without leaving their homes. In particular, today, a lot of specialists can work via a computer, without being tied to a place. As a result, numerous solutions have been invented to facilitate paperwork in various ways.
One of the best inventions that help sign documents offline since 2011 is an
electronic signature
. It's an excellent decision to simplify your business. The leading provider of this solution is SignNow. During its existence, the company has grown: over 20 million users visited the service, and 700 employees are working on your issues from five offices worldwide.
It's useful for businesses of any scale and personal affairs. Moreover, SignNow provides the possibility to use different tools, not only e-signatures. In particular, you can:
*  automate your business by sending files to several clients, partners, and employees simultaneously
*  organize documents and files with different tools and integrations
*  collect e-signatures you signed and sent
*  create and negotiate contracts
*  use fillable templates 
Functions
Entrepreneurs often dream of making their work faster and more accurately. Although document signing may seem a rather insignificant procedure, it is often time-consuming and problematic in reality. SignNow has been solving paper problems and facilitated operations for almost a decade. It is not surprising that users highlight SignNow as a 
leader
in the industry. There are some useful features that clients like:
API. It is an application programming interface between the site and third-party programs. Integrate e-signature into your app and see the result faster than in 15 minutes.
Sandbox Account for comfortable work. Test some new software, get your key, and the business can run securely.
No need to provide your personal and billing information. Check it out for free to understand all the features and make a decision.
Ready-made integrations. Link your account to different work accounts (DropBox, GSuit, NetSuite, Salesforce, GoogleDrive, Word).  40+ integrations with popular apps and CRM systems are made for different ways of using:
AirSlate Business Cloud. It's about Document Process Automation (DPA) and Robotic Process Automation (RPA). Work with multi-cloud documents to optimize tasks.
No need to use a code and ease of a solution's configuration. You don't have to create documents from scratch. Use ready-made HTML forms and templates.
A secure workspace for the whole team. Invite the group using the link, configure access, and join via a verified e-mail domain address.   
Web forms. Choose any convenient shape. Integrate interactive features and fields to suit your goals. Remove unnecessary functions and leave only the information you use. Build mobile app options and share with your team via AirSlate Business Cloud.
Benefits
Online signature service has become a part of many people's lives. It proved its numerous benefits and usefulness to over 20M users worldwide. There are main profits of using the SignNow service:
*  Many opportunities. It's not only about signing documents, but it's a whole system for optimizing the work process. You have everything you need in one service.
*  Free trial. Try any tool without payment; save money till you not sure about profit. SignNow doesn't impose a paid version; decide all by yourself.
*  Chatbot support. Right after opening the site, you are greeted by the question, "Hi, how can we help?" Ask anything and anytime. Maybe, you will need a site tour to understand how to use some of the tools.
*  Interface. SignNow has a simple-to-use interface with great design. All of the buttons are conveniently located, sorted into sections, and easy-to-read. It's intuitively clear how to use the service and tools.
*  Free time. Unload your schedule for other activities and rest.
*  Don't waste paper. All you need is in your database. Send documents online. Save trees and the environment with the help of electronic files.
*  Mobile versions. It's not necessary to be at the office or near the PC. Get permanent access to all files in your pocket. Download on the AppStore and get it on Google Play.
*  Tested by lots of users. Find a great number of positive feedback, for example, on
Trustpilot
.
How Much Does It Cost?
The service has a free trial for review and primary use. SignNow can offer you versions selected by functionality for different user categories if you are engaged in large-scale work.
Business. It costs $8 per user per month. Sign and send documents for signing. Use basic tools. Download the mobile app. Choose any template you want.
Business Premium. For $15/user/month, you get more features: basic sets from the Business + reminders and notifications, inviting links, brand expression.
Enterprise. $30/user/month. It includes every feature of the previous two and more: adding, subtracting, and dividing values from different fields in a document; requesting payments; signer attachments.
AirSlate Business Cloud. $50/user/month. Get access to every feature and tool on the service. Add a minimum of 10 users, integrate anything you need, get support for integrations, additional data protection, security, and manage the organization of dashboard, files, and members. 

Choose the Best for You and Your Team
Online signature service meets all quality and professional standards. A large number of certificates evidence quality work, trustworthiness, and authority.
The company's functionality allows you to combine different tools for solving the main problems and organizational issues.
Reputable clients trust the service.
Join SignNow for a free trial and try everything by yourself.