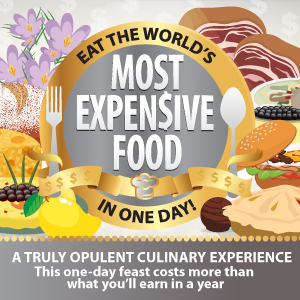 Is wining and dining a standard arsenal in your client hunting? A fine dining meeting may be that last hammer to nail down a valued account. But just how much is too much when indulging a potential client, who, after finishing off a succulent $50 chocolate truffle, decides to "think your proposal over."
It's really up to how bad you want the account; just keep in mind that the dining itself is just an icing to show off your perceived success. The cake is still in the pitch. But if you insist on pampering your prospect with a lavish dinner, allow us to suggest a really impressive menu of the
World's Most Expensive Foods
.
How about starting out with a fruit worth US$4,200 to sweeten the deal? It's no fancy breed of rare tropical fruits, but this case of first-harvest mangoes auctioned in 2011 by the Brisbane market community is now considered the world's most expensive mangoes. Not even Japan's "Egg of the Sun" pair of mangoes harvested early this year came close at $2,958 for both mangoes.
Truffles, saffron, caviar and Wagyu beef will, of course, be regular fares in our most expensive dinner list. Is your client worth this rib-eye steak from Craftsteak Restaurant in New York City prized at US$2,800 a piece? And what good is a dinner without a nice dessert like the Frrrozen Haute Chocolate Ice Cream by Serendipity 3 (also in NYC) for US$25,000. You can also throw in a 24-carat gold tin can of rare caviar for US$25,000 as takeaway to make sure he goes home sumptuously happy. Of course, not before he signs the contract.
If you plan to make the client meeting a whole day affair, take a look at these infographic on the World's Most Expensive Food and watch your total bill surpass the value of your car.