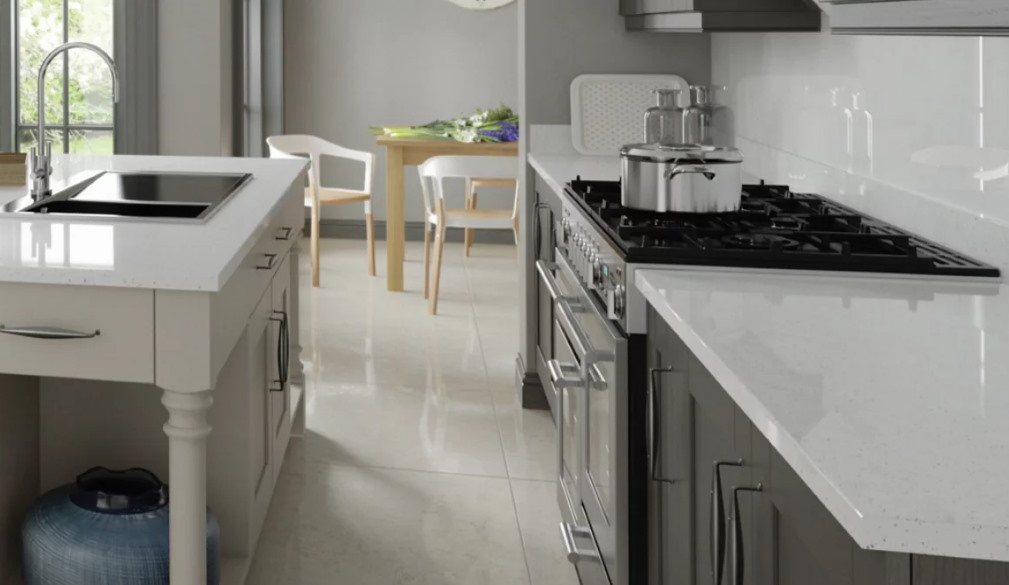 They say the kitchen is one of the most used and well-loved rooms in a family home. This isn't exactly surprising when you consider how much we use our kitchen, be it to cook delicious food, find a midnight snack, or entertain our friends and family. And it is because of this high usage that many of us wish to make the heart of our home beautifully luxurious so that we can impress anyone who visits.
Creating a luxurious and high-end kitchen, however, is subjective to what we, ourselves, consider to be lavish. While there are certain textures, patterns and materials that scream luxury (think granite countertops and an open plan kitchen and dining area!), it all boils down to what aesthetic you wish to include within your home.
Wondering how to design a high-end kitchen that will be the envy of all your friends and family? Read on for ideas and inspiration!


Granite Kitchen Worktops
Granite kitchen worktops are a beautiful addition to your home. Not only are they sleek and effortlessly pleasing to the eye, but they are also durable, easy to clean, and can suit many different aesthetics. Simply choose a colour that best suits your overall design and find a manufacturer who can provide you with the type of granite that meets your specifications. For instance, granitetransformations.co.uk can provide you with Italian granite worktops that will become centre stage of your kitchen and add instant luxury to your home.


Add a Breakfast Bar
Open plan is a great way to add more space and make your home much more sociable. Plus, with the added space, you can also include a breakfast bar with stools so that you can create a more relaxed atmosphere for those times when a dining table seems a bit too formal. With a long island in the middle and beautifully selected bar stools, you can create a breakfast bar that is ideal for late morning brunches with friends. Not only is this a great way to socialise but you are also making use of your space and can even use it as a place to work when you do not want to be confined to your office or study area. Click here for breakfast bar inspiration that'll help add value to your home.


Include Shiny Details
It's all in the details, or so they say. Make your kitchen pop and pull it all together by adding small and intricate decorations that can add whimsical charm to your space. For instance, shiny chrome or brass accessories are proving popular right now. So, invest in brass kitchen accessories such as utensils and have them hanging from the wall so that they have a purpose but also act as a feature. You could also install a brass or chrome kitchen sink or kitchen tap and have this act as the showstopper for your kitchen.
What counts as luxury is subjective, but the above tips can help you transform your home so that it adds value and is considered high-end amongst your friends and family. Granite worktops and brass detailing are both great ways to add grandeur to your kitchen as well as bring character to your home.