Written by

Anna-Sophie Jürgens, Lecturer (Assistant Professor) in Popular Entertainment Studies and Science in Fiction Studies, Australian National University
Bloodsucker, leech, tick – few things have a reputation worse than parasites. But these biological hangers-on also have a comic cultural history.
In biology, a parasite is an organism that lives on or in a host organism and gets its food (or other benefits) from (or at the expense of) its host. Scientists have just documented the oldest known example of a parasite-host relationship – a nutrient stealing worm over 500 million years old.
Due to their complex and often hidden life cycles, parasites seem to appear suddenly. They thrive in oozing wounds or are transmitted via explosive diarrhoea. No wonder parasites occupy a vivid role in our cultural imagination.
In fiction and popular culture, parasitic characters appear as a metaphor for the threat and spread of disease. They infiltrate human bodies and transform them into monsters, like Dracula. Or they act as extraterrestrial biological weapons like in the Alien saga. The quintessential parasite narrative – per 2019's Oscar-winning Parasite – showcases it as a physiological, psychological and social threat. But they've also played for laughs.
Read more: A 515 million-year-old freeloader: this nutrient-stealing marine worm is the oldest known parasite
Humbugs
Italian showman Louis Bertolotto's "extraordinary exhibition of industrious fleas" from the early 1820s is the first documented flea circus. It featured a 12-piece flea orchestra playing audible flea music, a Great Mogul Flea (with harem!), a ballroom with flea ladies and frock-coated gentlemen dancing a waltz, a mail coach drawn by four fleas (with a cracking whip) and a reenactment of the Battle of Waterloo including Wellington, Napoleon and field marshal Blücher – all played by miniature warrior fleas.
Today, traditional flea circuses can still be found. Flohzirkus Birk and his fleas have entertained small crowds at Oktoberfest in Munich for decades. Humans play fleas and other insects in the Cirque du Soleil show Ovo – leaping through a day in the life of bugs.
The flea fiction literary genre exists for those who prefer to use their own imagination. It includes humorous 19th century texts such Hans Christian Andersen's The Flea and the Professor and German Gothic writer E. T. A. Hoffmann's Master Flea, both of which feature tame flea companions and collaborators.
The genre also includes flea porn, which features the little bloodsuckers in all kinds of interesting perspectives. An example is the The Autobiography of a Flea (published anonymously in 1887).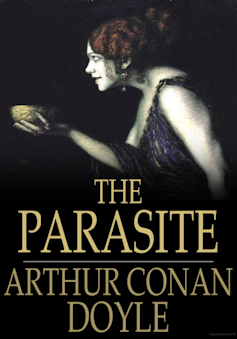 Read more https://theconversation.com/love-the-parasite-youre-with-the-entertaining-life-of-unwelcome-guests-from-flea-circuses-to-aliens-137602