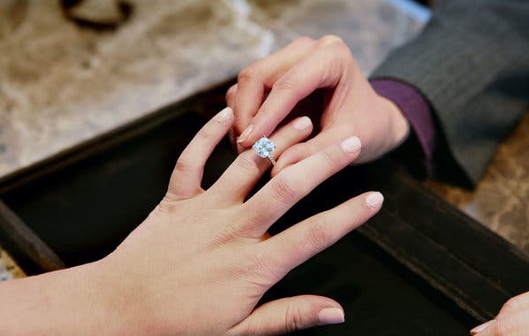 Buying an engagement ring is a very exciting prospect – the thought of a life together with your partner, the excitement of planning the proposal itself, and the look of excitement on their face are all things to look forward to. Something that some might not look forward to is the buying an engagement ring – not just because it's a huge investment, but for it simply being possible to think that you've made the wrong investment, and one your partner will be displeased about – stressful! We totally understand this point of view, so in this article we provide some simple tips to help you buy the right engagement ring for your partner.
Engagement ring budget basics
If you're looking to buy an engagement ring in Melbourne, we certainly wouldn't blame you if you were stuck, whether it be due to being overwhelmed by choices or not having a clue where to actually start. The first thing you should work out is what your budget is, and potentially how far it can stretch should you find a perfect ring slightly out of your expected price range. No matter your budget, though, you shouldn't automatically believe that the best ring possible is the most expensive – instead, your budget should represent what you are willing to pay for the right ring, and the perfect ring might not even reflect your complete budget. After all, the ring you decide on will often carry meaning behind it, rather than just being a showcase of precious metals and stones. By understanding your budget, however, you can look to certain styles of ring designs and understand the type and size of the stone you might want to use as your central stone. If you're completely unsure how to approach this particular step, going to a reputable jeweller can give you a better understanding of what you can buy for your budget.
Choosing the ring style
For many, the budget is the easy part – the real trouble factors into finding the right style for the engagement ring. You should hopefully have some idea about the style that your significant other likes by factoring in the kinds of clothes and jewellery they typically wear – for instance, they might prefer a retro vintage vibe, or an ultra-sleek modern vibe, and you can then find an engagement ring that complements this look (which they will also appreciate, of course). If you're extra sneaky, you can pay close attention to what your significant other says about certain rings when you comment on them and take mental notes accordingly – just remember, don't make it obvious or they'll start suspecting something!
Choosing the right engagement ring for you
Although choosing an engagement ring can be a stressful time, you should know that your partner will undoubtedly be excited for the ring you chose (unless you don't know them at all, which is a completely different issue). Taking the time to do the appropriate research and making sure that you have a firm understanding of what you're looking for is a great place to start from, and from there you'll be sure to develop a much better understanding of what engagement ring you should be looking for and the best possible option your budget will allow for.