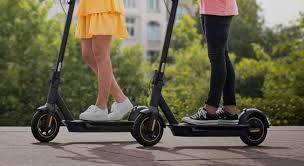 Children nowadays are going gaga over electric scooters and it's not hard to see why. Electric scooters are fun and need barely any effort to ride, plus there is a huge selection of models to choose from, too!
If you are looking to buy one for your kid but can't decide which one to pick, we got you covered. In this guide, we have compiled 10 of the must-buy and best scooters for kids this 2021. Read on to learn more about their features and see which one suits your child best.
Swagtron Swagger 8
One of the best-selling e-scooters these days, the Swagtron Swagger 8 is a simple yet powerful e-scooter for kids that can travel a straight 10 miles when on full charge. This electric scooter boasts of its uniquely quiet motor—it is so quiet you will barely hear it even when running on top speed! Unlike most kiddie scooters today, this one has a kick-start option that works in boosting its tour speed while keeping your child stay relaxed while riding.
Gotrax Xr
With a range of 12 miles and top speed of 15.5mph, there is no doubt that the Gotrax Xr is one of your best options if you are looking for a quality e-scooter for kids. The 250W motor of its standard version is powerful enough to let your child travel long distances, he won't even need the Ultra version to enjoy a long weekend ride!
Razor E300
If the electric scooter you want for your child is one that comes with several unique features, the Razor E300 is the way to go. A true must-have, this electric scooter is packed with features that your child will surely love, including a hand brake and a foldable kickstand. These features do not only add more power to the motorized vehicle but also make it safer to ride.
Viro Rides VR 550E
Now if design is your priority, then the Viro Rides VR 550E will certainly fit the bill. This classic-looking electric scooter for kids features a minimalistic design, characterized by its spacious deck that makes it possible even for a first-time child rider to ride it effortlessly. This electric scooter for kids can travel at a speed of 10mph, making it ideal for short cruises around the village.
Segway Ninebot MAX
Boasting of its top speed of 18.6mph and range of 40.4 miles, the Segway Ninebot MAX is selling like hotcakes this year and it could only be a matter of time before every kid in the block gets one of this for themselves. Compared to most e-scooters on this list, this one is a tad pricier but that's nothing compared to the benefits that it has to offer in terms of speed, range, and power.
Hiboy S2 Lite
When it comes to safety and performance, this electric scooter is definitely a must-have. The Hiboy S2 Lite is one of your best options if you want an e-scooter that is safe to use and will give you peace of mind when your child is out of your sight when riding. But that's not all—this e-scooter also looks cool, thanks to its large front headlight and complex yet minimalistic style.
Glion Dolly Foldable Electric Scooter
Running at a top speed of 15 mph, the Glion Dolly Foldable Electric Scooter is a great choice for pre-teens and teens who are looking for a unique-looking electric scooter with a range of interesting features. This e-scooter is fairly quick to charge and has large wheels, allowing your child to go over difficult surfaces.
Razor Power Core E90
This premium electric scooter for kids can run for 80 minutes when on full charge. Its speed is pegged at 10 miles per hour, making it a perfect ride for kids between 8 to 10 years old. You will definitely love how maintenance-free this e-scooter is. With no chains, its design is so simple you don't even need to clean or lubricate it every time you use it.
Unagi Model One
Great for kids and teens alike, the Unagi Model One has a range of 15.5 miles and top speed of 15.5 mph. It comes with great features and boasts of its excellent construction, but the best part is that it lets its rider choose from different riding modes. That means whether your child is a beginner or a pro in riding an e-scooter, there's a mode that will certainly match his riding skills.
Gotrax GKS
Want to ensure that your child enjoys a smooth ride even on rugged streets? Then the Gotrax GKS is one of your best choices. With its 6-inch rubber wheels, your child will surely have a smooth ride whether on paved or bumpy areas when riding this e-scooter. Its maximum speed is 7.5 mph, making it ideal for kids below 8 years of age.