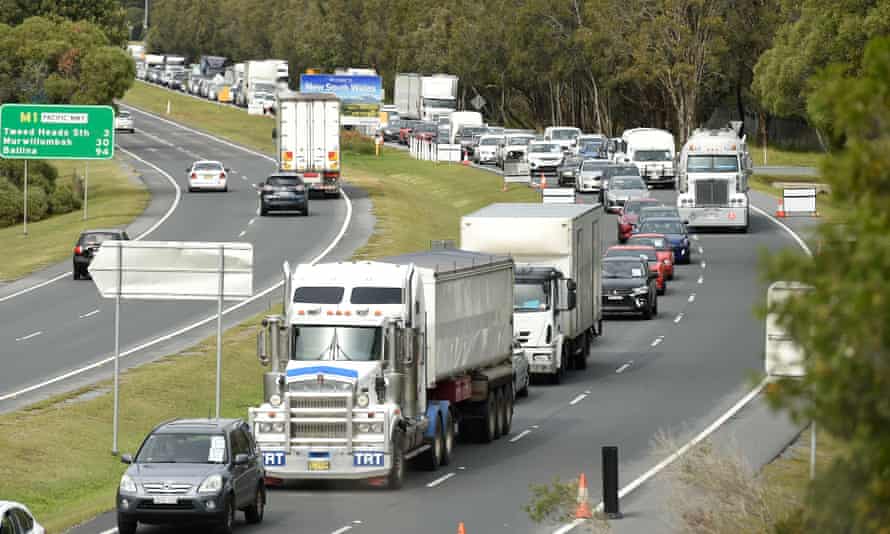 In the last decade, Australian migration has been a hot-button issue. This is because of how it's changed from being largely about skills and national interest to being largely about family reunification. It's hard to believe that over a year on since the beginning of the pandemic of Covid-19. Lockdowns and border closures are still here for the foreseeable future and the hopes of travel and tourism on the horizon is not feasible until a large part of 70 – 80 percent of the population get inoculated. But what did immigration look like before Covid-19?
The Department of Home Affairs publishes quarterly snapshots of temporary entrants in Australia. The most significant border closures occurred on March 20th 2020, so a year on let's see what picture the stats are showing.
Despite the decrease of temporary visas from December 2019 to March 2020, several factors contribute and may play a role in this decline. One such factor is that Covid-19 has had an influence on visa numbers as well.
The number of temporary visa holders in Australia decreased by 10.7% from December to March, according to the Department for Immigration and Border Protection figures released on Wednesday 20 June 2018. This is a significant drop compared with previous years where there would usually be no change between this period; however, it does vary among different types of visas—for example visitor visas are down while most other categories have risen slightly.
This gives 260,034 fewer temporary visa holders in Australia at the end of March than there were at the end of December. This is a 10.7% decrease whereas usually less people travel through Australian borders during these months which means that Covid-19 restrictions must cause some effect because visitors cannot come into country anymore but numbers still remain variable.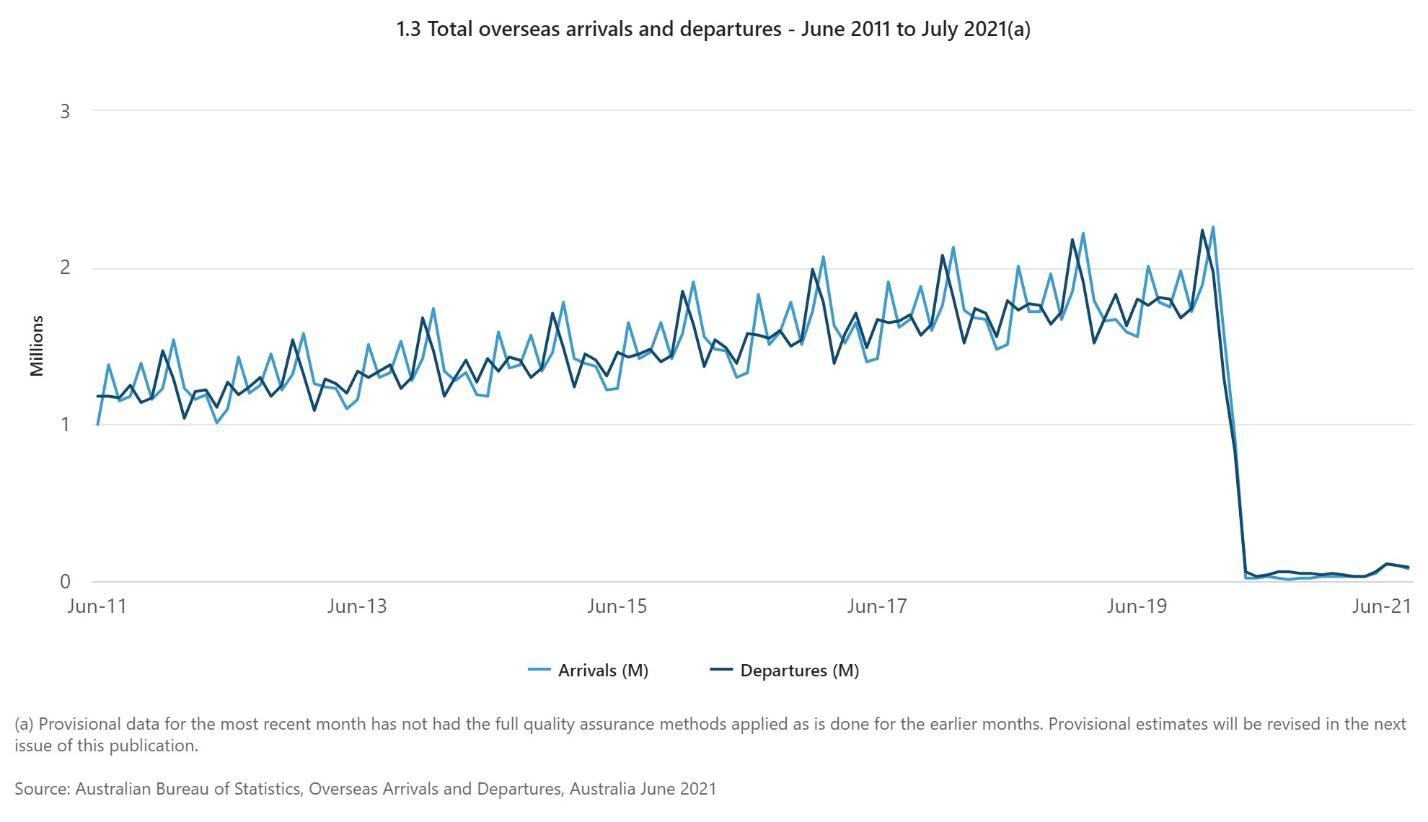 Interstate Migration
In 2019-20, 368,700 people moved between Australia's states. Queensland had the highest net gain from interstate migration of 25,300 people compared to New South Wales having 20,900 moving out of state resulting in a loss for NSW.
In the year ended 30 June 2020, there was a net gain from interstate migration which contributed to population growth for:
Queensland (25,300 people) and Tasmania(1,200). There was a net loss from interstate migration which contributed to population loss for New South Wales (-20900), Western Australia (-2400), Northern Territory(-2700) ,South Australia(-2200).
Data from removals platform Find a Mover in Melbourne, show that the uptake in interstate removals jobs between NSW and QLD has seen an increase of 18% compared to 2019 with Brisbane removalists being in exceptionally high demand. Confirming the major population migration attributed to people ditching NSW and opting for a warmer climate to QLD again confirming the net gain for QLD and NSW resulting in a migration loss.
Visitors
The number of Visitor visa holders visiting Australia has fallen by 97.8% over the 2020 – 2021 period with 6.6 million fewer arrivals than the year before. This is due in part to the introduction of Covid-19 border restrictions resulting in major declines in travel movements since.
The table above shows monthly snapshot trends for selected temporary visa categories over the past year.
International Students
Astonishingly, in June 2021 there were 470 international arrivals into the country, that's an increase of 410 students compared to the same month the previous year. However, June 2021 arrivals decreased by 99% as a whole compared to June 2019 before the Covid19 pandemic outbreak.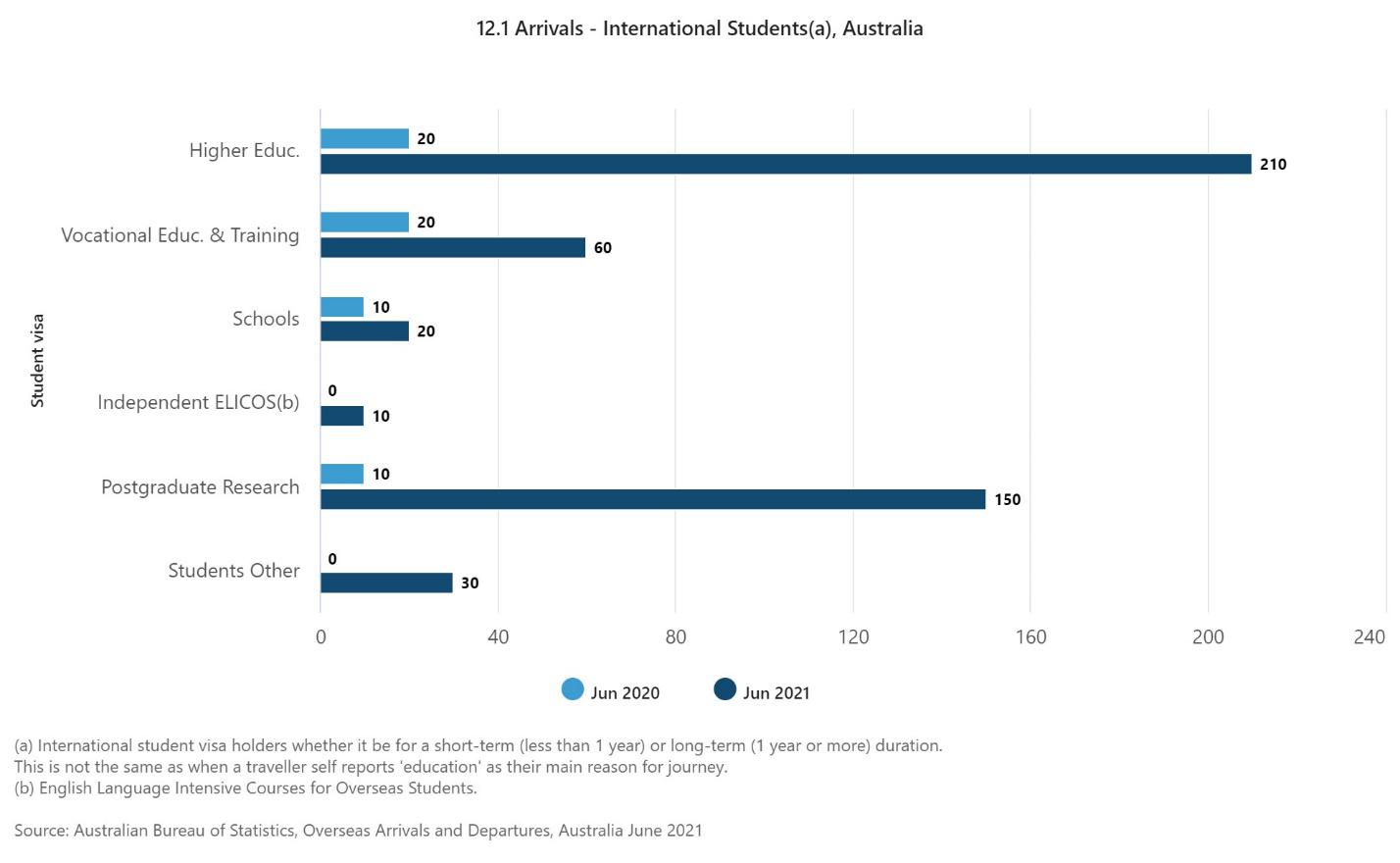 New Zealanders
New Zealanders living in Australia can obtain a Special Category visa, which allows them to stay indefinitely. New Zealand also has its own border and lets citizens return if they wish to leave again. The number of people with this category is relatively steady as there are small seasonal dips during the December quarter due to holidaying or going back home for Christmas. New Zealand was the largest source country, accounting to 83,710 visitors nationally.
Working Holiday Makers
As numbers of Working Holiday Makers are on the decline, it seems that factors including Covid-19 and summer bushfires may have hit this cohort particularly hard.
On average there was a 15% decrease in working holiday visas during the three months after Covid-19 came into effect compared to last year's December quarter which saw an increase by 2%.
Bridging Visas
The number of people on Bridging Visas has been increasing in recent years. Compared to the last quarter, there was a sharper rise during this period which could be due to fewer visa options available under Covid-19 restrictions or other factors involved. The data doesn't give any information about different types of visas granted for bridging purposes but it is difficult to make an assumption with only the early part covered by full travel restrictions as many variables are likely at play here.
As the national cabinet meet to draft up the exit path forward out of Covid-19, it seems increasingly clear that a large part of the 70 to 80 percent of the nation needs to be inoculated to achieve a successful opening where the virus won't run rampant and likely the key to a recovering tourism industry inviting a large part of our visitors, international students and working holiday makers back to our country.