Written by

Agustinus Prasetyantoko Dean of Faculty of Business Administration and Communication Science at Atma Jaya Catholic University of Indonesia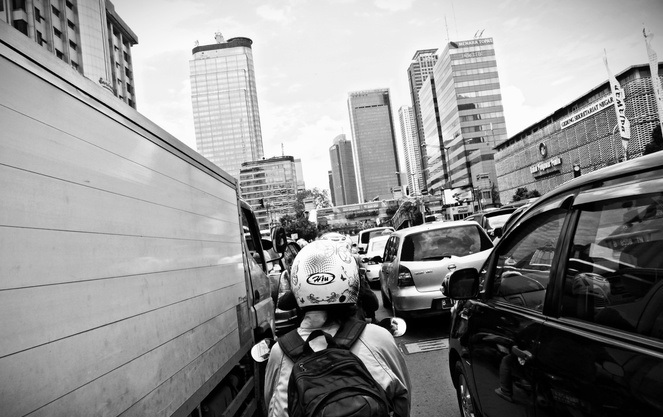 Indonesians are holding their breath while the Election Commission tally their votes in the presidential election. At the same time, investors too are in a "wait-and-see" mode.
Most market players privately acknowledge Joko Widodo has won against ex-military general Prabowo Subianto in last week's election. Reputable pollsters have released quick count results showing the Jakarta governor, universally known as Jokowi, leading the race by 3-5% margin.
Investors seem optimistic that Jokowi, if elected, would perform better than outgoing president Susilo Bambang Yudhoyono to unclog bottlenecks in Southeast Asia's biggest economy and boost its growth to exceed the current projection of 5.3-5.5%.
Investors are wary of Prabowo's resistance in conceding defeat. Like Jokowi, Prabowo has also declared his victory, based on quick count results from less reputable pollsters.
If Prabowo loses, he might challenge the Election Commission final tally to the Constitutional Court. The Constitutional Court can annul the Election Commission's result and order re-voting if they find electoral fraud that favours the winning candidate. Should this happen, Indonesia's leadership uncertainty will go on longer.
In general however, investors are expecting a Jokowi presidency to start in October.
Economic prospects under a Jokowi presidency
Foreign investors prefer Jokowi over Prabowo, who campaigned using anti-foreign rhetoric. Investment firms Morgan Stanley, Deutsche Bank, and Nomura root for Jokowi. The Economist magazine also endorsed Jokowi as "the right choice for Indonesia". Jokowi is not an economic liberal, but he is seen to be the type of leader who can boost Indonesia's productivity.
Indonesia's civil society are also behind Jokowi. That foreign investors and the civil society back the same candidate is something to take note. Rarely in Indonesia do foreign investors and civil society agree. Usually, the interests of these two groups clash with each other.
Investors, businesses and the general public are waiting for progressive change in dealing with Indonesia's problems. In the last 10 years, Yudhoyono's administration failed to complete planned infrastructure projects and bureaucratic reform. Under Yudhoyono's two terms, Indonesian bureacracy remains overstaffed, underproductive, expensive and ridden with graft.
As a result, Indonesia does not have enough energy supply and faces logistic problems. It is lacking adequate infrastructure such as roads, ports and airports. And it lacks a bureaucracy and legal system that allows the business sector to move fast.
Yet even in this kind of situation the economy performed well. In the last decade growth has been relatively stable at 6%. In 2011, it even reached 6.5%.
This year, growth is projected to be around 5.3-5.5%. This is still relatively high, albeit lower than last year 5.8% growth.
The country's long-term economic prospect seems promising. Indonesia has seen growth in retail, hotel and restaurants, transportation, telecommunication and banking sectors. Even without progressive restructuring by Yudhoyono, Indonesia has a robust economy. Imagine if there was a government that can effectively solve various foundational problems.
Indonesia's problems are elementary. To fix them, it needs a leader who is a doer; someone who is willing to go the ground and directly lead the bureaucracy down to the lowest levels to revamp the system.
Jokowi fits that mold. Amidst doubts in his relative short experience in politics – he started his political career in 2005 as mayor of Solo – Jokowi has shown a can-do attitude in solving infrastructure problems. As Solo mayor and Jakarta governor, he has shown that he is a practical leader, the type that Indonesia economy needs.
Uncertainty creates volatile market
But for now, uncertainty surrounding victory claims from both candidates has prompted investors to sell their stocks and gain profits while they wait for the Election Commission result on July 22.
The day after the election on July 9, investors were still upbeat. On July 10, the Indonesian Composite Index (IHSG) closed at 5,098, the highest record for this year. Meanwhile the Rupiah appreciated 0.45% to Rp 11,580 against the US dollar.
But two days after, with both candidates claiming victory, investors started selling their stocks, creating a market correction. The IHSG closed 85 points lower to 5,013.45. Until Indonesia knows for sure their next president, the market will continue to show volatile behaviour.
Businesses are thus hoping a Jokowi victory to be a political reality. An official seal will bring certainty to the market. With Jokowi president, Indonesia might have a bigger chance in unlocking its economic potential.