Written by

Paul Rogers Professor of Peace Studies at University of Bradford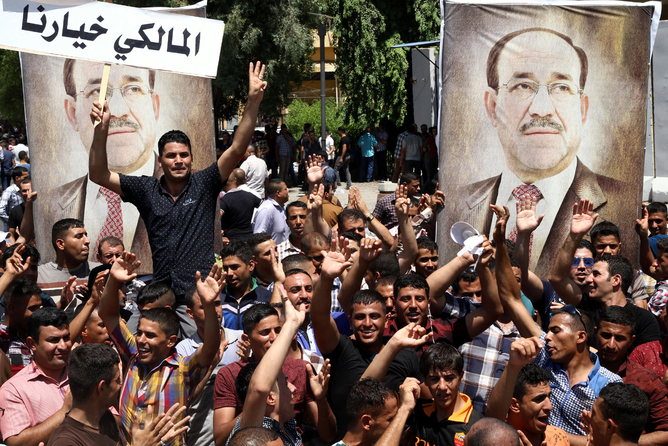 One of the defining moments in the growth of the Islamic State (IS) was when its leader, Abu Bakr al-Baghdadi, announced in a mosque in Mosul at the end of June that an Islamic Caliphate was being established and that he would be the caliph.
That was not long after ISIS/ISIL, as it was previously known, had overrun much of north-west Iraq while consolidating its base in Syria, the latter greatly aided by other Islamist paramilitary groups being willing to accept its leadership.
The chair of the US Joint Chiefs of Staff, General Martin Dempsey, announced at the time that the Iraqi government under its prime minister, Nouri al-Maliki, did not have the ability to regain lost territory. There was widespread criticism of Maliki's failure to put together an all-embracing government after the inconclusive general election at the end of April.
Six weeks later, the Islamic State has consolidated its hold on territory while acting brutally against minorities, especially the Yazidis, and has now threatened the previously secure Kurdish region and especially its capital of Irbil. These two, in combination, have been enough to prompt external humanitarian airdrops to the Yazidis on Mount Sinjar and US Navy air-strikes on IS artillery close to Irbil.
The progress of IS has also prompted a political crisis in Baghdad, with the Iraqi president, Fouad Massoum, calling on the deputy speaker of the Parliament, Haider al-Abadi, to form an inclusive government. For the moment, Maliki is contesting this – but he has lost much support including, crucially, that of the cleric Moqtada al Sadr, who controls a powerful Shia militia as well as leading a substantial bloc of seats in the parliament. Under the Iraqi constitution, Maliki can remain prime minister for 30 days while Abadi forms a government, giving him plenty of time to mount challenges at a time when the US has relatively little influence over him.
US military options
President Obama is clear in his determination to avoid "boots on the ground" but that will prove difficult if not impossible if the current carrier-based operation is to be maintained for more than a couple of weeks.
In addition to several hundred US troops officially in Iraq, there will already be Special Forces operating in the Kurdish region, providing intelligence and aiding target acquisition. There will also be units available to rescue aircrew should any planes be lost.
Arms going to the Kurds, as well as longer-term support for Special Forces would mean a forward operating base in the region with full protection, medevac facilities and substantial logistic support. According to a Military Times estimate, this could require up to 10-15,000 troops.
The US already has substantial forces in the region including more than 40 strike aircraft on the USS George H W Bush, at the centre of a carrier battle group that includes a cruiser and three destroyers armed with cruise missiles. A substantial Amphibious Ready Group centred on the USS Bataan is in the Persian Gulf and another aircraft carrier, the USS Carl Vinson, and its battle group are due to head to the region at the end of the month but are on stand-by for earlier deployment if need be.
If this wasn't enough, the US Air Force's Central Command group (AFCENT) has scores more bombers, interceptors, intelligence, transport and tanker aircraft and drones available, many of them based in Qatar and Turkey but with the base on the UK territory of Diego Garcia providing further support.
Limits to US power
Obama may be determined to limit US involvement to protecting the Kurds and religious minorities, rather than aim to defeat the Islamic State but he will be under increasing pressure to go much further. This is because one of the most ominous signs for the US and its allies is that since the declaration of a Caliphate and its rapid expansion in Syria and Iraq, IS has already become a beacon for other Jihadist groups previously operating under the al-Qaida banner. These include groups of fighters in Yemen and North Africa.
Obama's problem is that any action taken against IS over and above limited protection of the Kurds can be presented by the IS propagandists as yet more evidence of the "far enemy's insatiable appetite for waging war on Islam" – this is already a feature of posts on Jihadist websites. But if Maliki hangs onto power in Baghdad, then any prospect of Iraqi forces being effective in countering IS is little more than a pipedream.
US intervention has now started. There is a certain irony in that the aircraft attacking the Islamic State in Iraq are flying off the US Navy's newest aircraft carrier, named after the president who ordered planes to strike Saddam Hussein's Iraq 24 years ago, in August 1990, following the occupation of Kuwait. To add to that irony, he was also the father of the President, George W Bush, who led the more recent Iraq War from 2003, a theatre of war that provided training for jihadist paramilitaries – many of whom are now at the core of the Islamic State's forces.
If Maliki does stand down and a more inclusive government comes to power in Baghdad, then IS may find its popularity waning, but Washington does not have much influence in that direction. Iran, though, does, and may well want to see an end to Maliki's tenure, given its concern over the growth of the deeply anti-Shi'a Islamic State. This certainly looks to be the case, given that al-Abadi's appointment has today been welcomed by Ali Shamkhani, the secretary of Iran's powerful Supreme National Security Council.
Perhaps the most remarkable element of all, and an indication of how the West's influence in the region has changed, is that what happens in Iraq may be far more dependent on decisions made not in Washington but in Tehran.