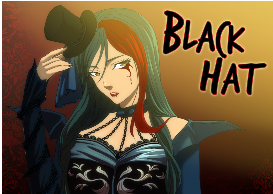 DISABLED TEEN'S PASSING SPURS ON A LOUISIANA TOWN'S DREAM OF SEEING HER MEMORY IMMORTALIZED IN THE INDEPENDENT ANIME-THEMED FEATURE FILM, "BLACK HAT".
When veteran independent filmmaker Robbie Bryan held a fundraiser earlier last year for his manga/anime themed feature "Black Hat - www.blackhatmovie.com," he had no idea how a teenage girl he would never meet would change the course of his film and his life – and set off a wild media firestorm.
Cassie England, an amateur cosplayer from Baton Rouge whose passion for anime helped her cope with a devastating rare skin disease whose real name (Recessive Dystrophic Epidermolysis Bullosa) is so hard to pronounce that it's often shortened to "E.B.", passed away January 9 at the age of 16.
But her spirit, name and likeness live on in the film as a character with reddish brown hair and cat ears. Upon hearing Cassie's powerful and courageous story, Bryan, the film's writer, producer and director and head of Good To Be Seen Films, added this young female character into the story of Dandi, a high school outcast and frequently bullied fan of death metal and anime who goes on a "Little Miss Sunshine" like adventure – "borrowing" her sister's car, kidnapping her wily, black sheep grandfather - to get to a huge convention where her favorite Japanese artist is going to turn one amateur artist's manga into an anime.
Bryan's passion for the project, Cassie's story and the enduring love of her grieving but newly inspired father Logan – whom Bryan met through a mutual friend – caught the attention of local media during their joint fund and awareness raising appearance at New Orleans Comic-Con,, where Cassie had hoped to spend her 17th birthday. Channel 6 WDSU, which had previously documented Cassie's struggle with E.B., aired the story on its NBC-affiliate - which spurred a whirlwind of feature coverage in New Orleans (Times-Picayune) and other cities including NYC (New York Daily News) as well as numerous internet anime outlets, including 91.8 The Fan in Arizona.
The one year anniversary of Cassie's passing has further fueled emotions and efforts by a loving community and an equally passionate filmmaker. "We have so many people following this film and Cassie's story and rooting us on, so we are calling out all the stops to make sure we can tell this story right and engage anime fans everywhere with first class illustration by legendary anime Producer Masao Maruyama".
Set to be shot in 2016 in Abbeville and Lafayette, Louisiana, "Black Hat" – a live action feature which will include 11 minutes of anime - received another powerful accolade, being chosen as Indiewire's "Project of the Month," which merits Bryan and his team a meeting with the Tribeca Film Institute. The project's dedicated Facebook page has over 550,000 followers and growing.
Amazingly, Bryan met Logan just a week after Cassie passed away.  "After my former high school friend Jennifer had pledged a significant amount of money to the film's campaign, her crowd funding perk was that she could have a character or location in the film named after her," says Bryan, whose previous features include "iMurders" (with Billy Dee Williams, Gabrielle Anwar, William Forsythe and Charles Durning) and "The Stand In" (Kelly Ripa, Judith Ivey, David Ogden-Stiers).
"Instead, she asked if the film could name a character after Cassie England, who I learned suffered from this terrible disease. When I was made aware of this special girl and her story and love for anime and cosplay, I was completely taken in by Cassie and her family. I explained to Jennifer that no matter if we succeeded in the campaign, Cassie would be incorporated into the story, and I changed the name of one of the characters that night. Jennifer shared this information with Logan, who was incredibly moved by the gesture and contacted me to say he was determined, during his time of incredible grief, to help get this movie made, and that nothing would have made his daughter more happy and excited than what we were about to do.
"The film's themes of being who you are and helping prevent teen bullying and the celebration of the magical art form, has been more than enough to get people excited and committed to the project," Bryan adds. "But now we have our very own angel, Cassie England, and we're honored that so many people who have come to love Cassie and her inspiring story as much as we do are getting behind us to help make 'Black Hat' a reality -- as well as a legacy for her and a way to make people aware of E.B. and the need to fund research for its ultimate cure."  Bryan himself battled Stage 4 cancer earlier this year and fought back to direct a feature film "The Eyes" which he just wrapped on
But his heart and soul remains with Black Hat and seeing this film to its ultimate  goal of immortalizing this young girl's story.