Written by Maria Ferreira media@zadrocommunications.com.au
Friday, 8 August 2014
SMALL BUSINESS RECOGNITION AND SUPPORT GROWING, BUT
MUCH WORK STILL TO BE DONE

2014 COSBOA NATIONAL SMALL BUSINESS SUMMIT WRAP-UP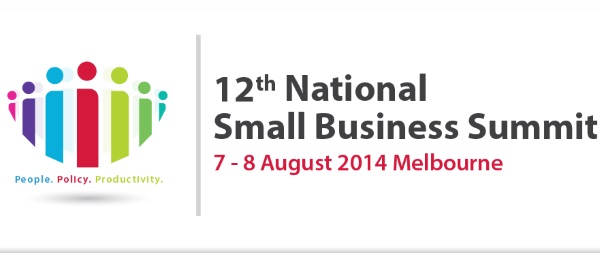 Australian business and political leaders all agree, our two million small businesses are the backbone of our economy; they are the largest employer group and business owners through their hard work and risk taking provide opportunities for jobs and provide services vital for our high standards of living.

The Council of Small Business Australia (COSBOA) spearheaded a number of successful initiatives in the past 12 months, leading to an increased focus on regulators due to the Productivity Commissioners review of regulator engagement, the introduction of the Government's new 'red tape reduction day' and of course the Competition Policy Review.

However, 200 delegates at this year's National Small Business Summit held in Melbourne this week, heard that there is still a lot of work to be done to create an environment in which small businesses can thrive, innovate and do business easily.

Small business a focus for Victoria

In his address, The Hon. Russell Northe MP, Minister for Small Business said small businesses are vital to the Victorian economy and the State Government is committed to building a more productive environment and providing opportunities for small businesses to grow.
 
"Given there are more than half a million small businesses actively trading across the state, it is fitting that Victoria is hosting this prestigious event and I'm glad the Victorian Coalition Government is providing $48,000 to support the delivery of the Summit in Melbourne," Mr Northe said.

Competition Policy Review Update

Professor Ian Harper, Chair of the Competition Policy Review explained that extensive consultations are being held with small businesses all over Australia to help understand whether our laws and institutions are up to the challenge of competition in 2014 and beyond.

"It has been 20 years since the last competition enquiry – the Hilmer Report. We have been asked to create a Hilmer Mark 2, which will include new areas that Hilmer Mark 1 never did, such as Health and Education," Professor Harper said.

The draft report is due in September 2014.

Bill Shorten addresses small business leaders

The Hon. Bill Shorten MP said that small businesses only exist as the result of courage, hard work and ambition, and that his party's decisions regarding business policy will be based on whether it will make it easier for a small business to thrive, innovate and do business.

"The Australian Labor Party is a great supporter of small business, because we believe that when small business succeeds, Australia succeeds," the Opposition Leader said.

Debate between leaders and small business

A robust debate, between Ged Kearney, President, ACTU; The Hon. Bridget McKenzie MP, Senator for Victoria; Dr Cassandra Goldie, CEO, ACOSS and David Bates, MD, Workforce Guardian during a panel session on Thursday, illuminated their diverse views about industrial relations laws and what solutions are needed to help small business.

Peter Strong, CEO, COSBOA said it was a Summit highlight to have such an open and honest debate between members of the small business community and such high calibre industry and Government representatives.

2014 COSBOA Small Business Champion

Victorian businesswoman, Kathryn Bordonaro, Operations Manager - East State Credit (ESC) Group was awarded the annual COSBOA Small Business Champion Award at the Summit Dinner on Thursday night, in recognition for her contribution to advancing the position of small business.

"Kathryn has been the driving force behind COSBOA's small business finance policy issues and actions. We have issues on the agenda of banks and policy-makers due to Kathryn's tireless work," Mr Strong said.
About COSBOA & the National Small Business Summit:
1. The Council of Small Business Australia (COSBOA) was founded in 1979 and was incorporated in 1985.

2. COSBOA is Australia's peak body exclusively representing the interests of small businesses.

3. The 2014 National Small Business Summit will be held at the Crown Conference Centre Melbourne on August 7th and 8th.

4. The National Small Business Summit provides the small business sector with the opportunity to discuss and identify relevant issues, promote innovation and generate ideas to stimulate growth within the industry.

5. For more information about the summit visit: www.nationalsmallbusinesssummit.com.au

6. For more information on COSBOA visit: http://www.cosboa.org.au/

7. Interviews with Peter Strong, CEO are available upon request.

8. Connect through social media channels:

      Facebook: /COSBOA
      Twitter: @COSBOA
      Hashtag: #NSBS14
      LinkedIn: http://www.linkedin.com/company/cosboa

9. COSBOA is a long-time advocate of small business on issues from taxation and workplace relations, through to competition law and retail tenancy.
10. The goals of COSBOA are to promote and support the development of small businesses in Australia and the council recognises that it is a national imperative for Australia that the needs of small business are on the national policy agenda.