Waldorf Publishing is excited to be releasing the new book "Domestic Chic, A Fashionably Fabulous Guide for Cooking & Entertaining" by Celebrity Chef, Kristin Sollenne. ISBN: 9781943092178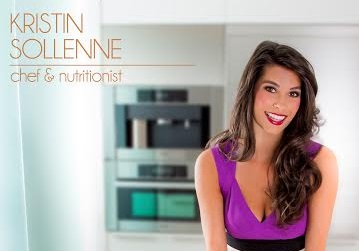 Cooking, Entertainment, Nutrition, Food & Wine.
Release Date: September 4th 2015  
Rising culinary star Chef Kristin Sollenne has been making headlines for her contemporary food philosophy, approachable cooking tips and re-imagined healthy dishes. Rather than the sometimes-overwhelming cookbook approach, Kristin has provided you with the ultimate go-to guide for cooking and entertaining by the seasons. With 16 pre-planned menus and over 100 recipes with innovative décor tips to coincide with holidays and celebrations during each season, this is your "one-stop-shop" to hosting a fashionably fabulous affair! Unique flavors and pairings are awakened through each menu, along with touching family stories and traditions.
As a certified nutritionist, Kristin focuses on fresh in-season produce and the lavishness of each season to guide your palette. Passionate about healthy, flavorful dishes, she demonstrates a farm-to-table approach to traditional Italian style cooking. Think a modern day twist on your grandmother's classics! Speaking of modern day – check out Kristin's specialty line of kitchen couture designer aprons, CELLINI, and always entertain with passion and flair.  
We are also releasing a boxed gift-set that includes this book and one of Kristin's new aprons from her apron line.  
The book will be released on September 4th 2015, via Hardcover, eBook and Audio book. Kristin Sollenne lives in New York City.  
This book has already been endorsed by Stephane Caporal-Executive Chef-Fisher Island Club, Travis London-Celebrity Chef, New York City Restaurant Group, Ed Schoenfeld-NY Restauranteur  
Reviews
DOMESTIC CHÍC is not just another bland collection of recipes, like so many on the market, and it's not just a how to guide on giving the best party. In it, she shares the family stories behind her favorite dishes. It is warm and welcoming, like a home cooked meal. - Cedric Jones, New York City Restaurant Group  
"Alchemy of  flavors…Kristin walks between daring and harmony!"-Stephane Caporal, Executive Chef, Fisher Island Club  
"Kristin's cooking style is not only fresh and modern but also approachable and relatable for the everyday cook. Either cooking for one or a group, her recipes are fun, easy to follow and delish. She has mastered bringing ease to great Italian dishes." – Celebrity Chef Travis London  
Kristin Sollenne Bio: As a rising culinary star and Food Network Judge, Chef Kristin Sollenne has been making headlines for her contemporary food philosophy, lightened-up Italian fare, and approachable cooking tips, with regular appearances on WCBS's Morning News and WLNY's "Live from the Couch," as well as a feature on NBC's "Today" show, Fox5 Good Day New York, Fox Business and regular guest judge on Beat Bobby Flay and Kitchen Casino on the Food Network. In 2014, she was featured on season ten of Food Network Star as a mentor to finalist Luca Della Casa and will appear in 2016 as a season finale judge for Food Network's Worst Cooks in America.
Sollenne, a 2013 honoree of Zagat's Top 30 under 30, has cooked for Taylor Swift, Seth Rogan, Ed Sheeran and the entire SNL cast. She adds author under her belt with the release of her first cookbook – Domestic Chíc, A Fashionably Fabulous Guide to Cooking and Entertaining by the Seasons. Inspired to modernize the woman chef, Kristin has designed a line of kitchen couture designer aprons, CELLINI to keep you feeling fabulous in the kitchen.   
She oversees the three kitchens of the New York City Restaurant Group's (NYCRG) Bocca Di Bacco. "My main philosophy is farm to-table with a focus on clean ingredients and keeping it simple," the 28-year-old chef says. "I think simple dishes speak a lot louder than over complicated ones. Simplicity actually enhances the flavors."  
Sollenne's other culinary tenets for modernizing Italian cuisine include moderating portion sizes and using nutritious and full-flavored alternative ingredients. She centers most menu items on farm-fresh vegetables and herbs, lean proteins, whole grains, and heart-healthy olive oil while limiting the amount of butter and cream. "I get asked a lot: 'How can you make healthy Italian food?' she says. "It's all about the choices you make. You can still cook satisfying, great-tasting dishes on the lighter side when you use fresh in-season products. Or I'll make pasta with whole wheat, or spinach spaghetti, so it's not just all about heavy starches."  
The self-taught chef discovered her interest and talent in creating fresh spins on classic Italian dishes while she was growing up in California with her Italian-American family. She honed in on creating wholesome meals without compromising on flavor as she assisted her parents in attaining their weight-loss goals while still enjoying their favorite foods. "Cooking for my parents really ignited that spark for me to move to New York and getting involved in the restaurant industry here."  
Sollenne has worked with the NYCRG since 2008, bringing a California farm-to- table mindset to traditional Southern Italian cuisine. Sollenne's role as executive chef and culinary director she oversees the expanding chain, works with each location's chefs on healthy cooking techniques, and manages the training program as well as implement new innovative menu developments. Prior to helming culinary operations at Bocca Di Bacco, she served as opening chef at NYCRG's Vucciria in the Theater District, which she helped rebrand to another Bocca Di Bacco in summer 2012.