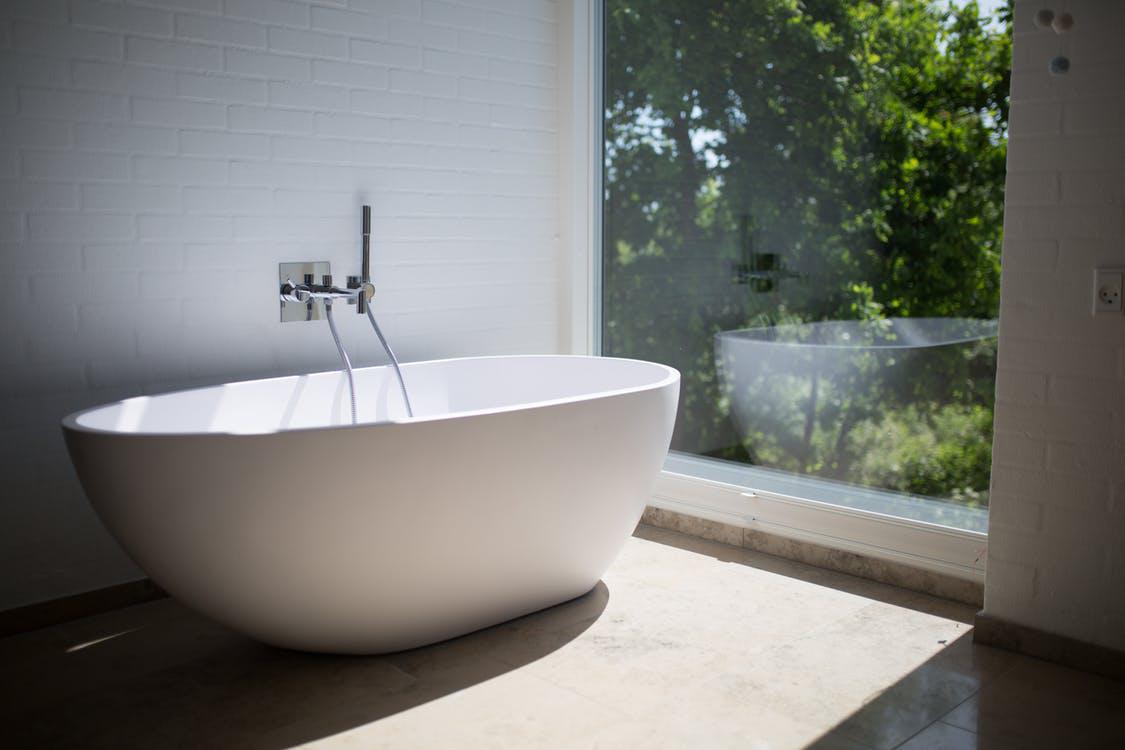 There are a lot of reasons why you would want to opt for a new bathtub. The previous one could be rusting or its finishing could be flaking off. You might find your old bathtub unattractive and need a new one. Or maybe you have just moved into a new house and want to change some of the things to match your style. Whatever it is, getting a new bathtub is not a DIY project that you can accomplish on the weekends. It is something that you need to put some serious thought into.


GET A FREESTANDING TUB
If your bathroom is large enough for a bathtub, you could consider or should we say definitely go for a designer freestanding bathtub. All you have to do is to go online and search for it and you will immediately fall in love with the pictures that you see. A freestanding bathtub brings a whole new level of luxury in your life and a chic style to the bathroom. There are a wide variety of choices that you can go for so that your bathtub matches the bathroom style as well as your personal style. And it will definitely add to the overall aesthetics of the place. Adding a freestanding bathtub also helps you close the deal if you are selling your house. I mean, who wouldn't want to have a house where they have their own freestanding bathtub?
A freestanding bathtub is a tub that is not attached to the walls of the bathroom. It stands alone in the middle like the centerpiece attraction. A freestanding bathtub is the perfect mixture of functionality and aesthetics. Choosing a freestanding bathtub is just like choosing a piece of furniture for your house. You have to be very careful in choosing as this is something that you are going to be living with for a long time. It's not like you can change your bathtub every other month or so.


DIFFERENT TYPES OF TUB
If you want the style of the tub to match your style, you need to decide about the shape and the design of the tub. Square or rectangular bathtubs look chic and sleek with their edges and sharp lines. They convey a modern style. Oval bathtubs have been in style for a long time. They are traditional bathtubs but you can add pedestals and roll tops to improve the look and pull it away from the old styles. Round bathtubs are a mixture of modernity as well as tradition. They have smooth lines that give off a modernistic style and their furnishings give the traditional feel. Different types of bathtubs have different prices. It depends on materials used, type of tub, among other things. You can select a host of materials for the tub like plastic, cast-iron, steel, or something else. Depending on your budget and your preference, you can select the bathtub material.
You can also put in additional elements to your tub for your pleasure. Although soaking in bathtubs means that the water is still and calm like a pond, you can add jets to relax, if that's what you want. Air tubs stir the water and promote therapy using air pressure. You can also get a whirlpool bathtub and relax amid the waves. Bottom line: the more you sweeten the pot the better you can relax in the tub.
Here are 5 things that you need to consider before you buy your new bathtub.


1. Tub Size, Height, and Depth
You can find bathtubs of various sizes, heights, and depths. You will have to choose the right size depending on your style, your budget, and your bathroom size. If you have a bathroom that can accommodate a big size, then you should go for a plus size bathtub. No need being cramped in your old bathtub when you have the resources to get a new and better one. Most standard bathtubs are around 60 inches long and 23 inches wide.
Again, depending on what you're looking for, you can select the bathtub height. If you are going for an insert tub, it will be installed on your floor. You will have to step into it. It will give everything a fantasy vibe and feel. Before you select the tub you want, just make sure that your bathroom structure can support it.
You should also consider the tub depth while you're at it. You don't want to be stuck with a bathtub that doesn't soak you properly.


2. Tub Shape and Weight
If you already have a bathtub, you will know whether it is comfortable or not. Depending on your previous tub's dimensions, you can go for something that is more comfortable and accommodating. Select a shape and slope that will fulfill your needs. When selecting a tub, make sure that you step into one before selecting anything. Don't be afraid to do that.
Also, calculate the weight of your previous tub and the one that you have set your heart on. See if your bathroom floor can accommodate the additional weight of the new tub. You might need to put in additional support infrastructure. Instead of doing it all yourself, it's better to let an expert look into the matter. This will ensure that there are no miscalculations on your part.


3. Walls and Corners
The type of design and style that you want to go for also depends on how many walls are around your bathtub. Usually, bathtubs are surrounded by three walls. This means that you will have fewer choices as compared to bathtubs that have only two or even one wall near it.


4. Core Materials
Consider the material of the bathtub before selecting one. Usually, the bathtubs are made of fiberglass or acrylic materials. These materials are great to keep it lightweight while giving it the maximum depth. If you want to go for something heavier and sturdier, you can go for any metal or enamel. A more expensive option is going for concrete or natural stone, but we don't recommend it to everyone.


5. Finishing Materials
Last but not least, check out the finishing of the bathtub. It's not necessary for the outside to match the inside. You have various options that you can go for.

CONCLUSION
If you have the space and the desire for a bathtub then you should definitely go for it. Just keep these things in mind and you'll be good to go. Take one soak in the bathtub and you'll be amazed at how you could have lived without it.