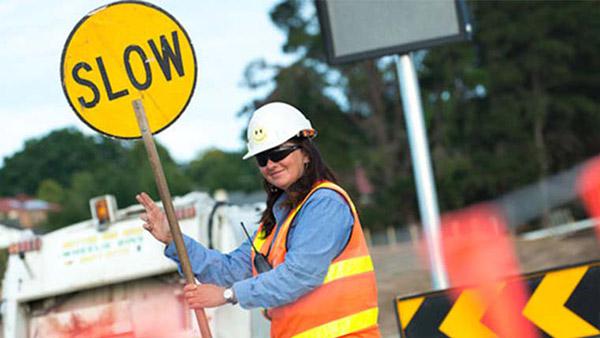 Road traffic control devices are markers, signs and signal devices used to inform, guide and control traffic, including motor vehicle drivers, cyclists and pedestrians. These devices are usually placed over or along the freeways, highways, traffic facilities, roads, and other public areas that may require traffic control. Some examples are:
Arrow boards are illuminated, easily portable, high-visibility panels that are used to alert motorists of an approaching lane closure and to direct merging traffic.
Traffic cones are channelling devices shaped like cones. They are made from bright orange flexible materials, none less than 18 inches in height. Cones used at night must have bands of reflective material near the top. These are used to bar a particular section of road or divide traffic temporarily.
Vertical panels are reflective traffic control devices which measure a minimum of 8 inches wide and 24 inches high. Bright orange with diagonal white stripes, these panels are used to direct vehicle traffic.
Construction barrels or drums are cylindrical devices that are used when visibility is critical. These devices are made with orange plastic and covered with alternating orange and white reflective stripes. These drums are usually positioned with a heavy rubber base or a sandbag in the bottom for added stability.
Barricades are channelling devices used to redirect the flow of traffic on high-speed roads such as freeways. There are different types of barricades depending on its size, design and intended use. Barricades may be a fixed or portable traffic control device. Barricades are also used to shut roads and/or footpaths.
WHEN IS TRAFFIC CONTROL EQUIPMENT NECESSARY?
Traffic control equipment in Melbourne or in any other city are signs which use words and symbols to provide information to road users. These mechanisms are made with retroreflective materials that reflect light from headlights back towards the driver's eyes. This is to achieve optimal visibility, especially at night. Common channelling devices are traffic cones and drums. These types of equipment are usually placed between traffic and road construction zones, or between opposing traffic streams. This traffic control equipment is used to present information and occasionally direct road users towards a safer direction of travel.
WHAT ARE THE RISKS OF SUBSTANDARD EQUIPMENT?
Traffic control equipment is especially important for road users travelling to and from different locations, as the potential for a greater number of risky interactions between the general public can significantly increase without proper direction. Fake traffic control equipment Melbourne is therefore especially dangerous. It can lead to a false sense of security and a growing risk of increasing danger at a time when all road users should be focusing on a safe trip or return home.
HOW DO I KNOW I AM GETTING EQUIPMENT FROM A REPUTABLE PROVIDER?
Obtaining the correct equipment is essential to the safest correct method of controlling traffic.
Word of mouth is the best way to find a great (or not so great!) supplier near you. Consider asking a friend, family member or colleague who works in and around the industry who they used and what they thought of both the service and products. Independent review boards or pages are also fairly reliable sources of information as most don't allow the companies reviewed to amend or remove reviews they don't like or agree with.