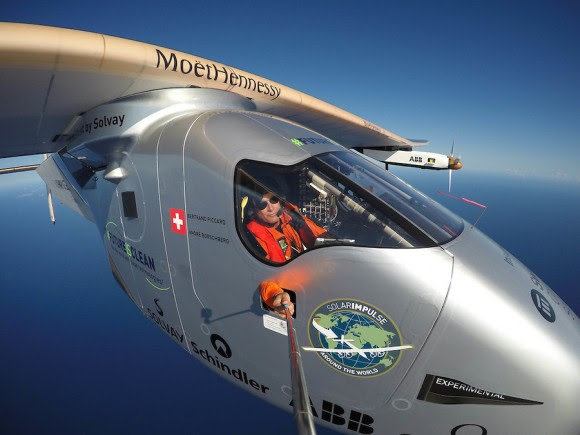 KALAELOA, HAWAII (United States) – Piccard took off just before dawn from Hawaii on the solo flight across the Pacific Ocean as the 2,300 kg/ 5,100lb airplane that flies without even a single drop of fuel continues its history-making journey around the world after an eight month interruption. Together with compatriot André Borschberg, the adventurers are attempting to demonstrate the enormous potential of clean technologies with the circumnavigation of the globe their airplane powered by 17,248 solar cells built into the wings.
"All systems are go and it feels great to be back in the skies on this important mission for the future," said Piccard, as he lifted off on a cloudless morning in an easterly direction towards San Francisco's Moffett Federal Airfield, where he is scheduled to land at about 03:00 a.m. on Sunday.
Borschberg had landed the SI2 in Hawaii on July 3 after a record-breaking 117-hour, 52-minute nonstop flight of 8,900 kilometers across the Pacific from Nagoya, Japan. Borschberg stayed awake for almost all of the five days and nights on the longest solo flight ever but the airplane's batteries suffered unexpected damage due to overheating that necessitated an eight-month interruption to the round-the-world flight. 
After San Francisco, the crew is aiming to reach Phoenix. Based on the findings of 2015, the decision was made to expand the range of destinations to achieve a maximum flexibility for route planning. The final target destination will be chose depending on the weather conditions. The mission will then continue onward to New York, then Europe or North Africa and Abu Dhabi where it all started.
More information: www.solarimpulse.com