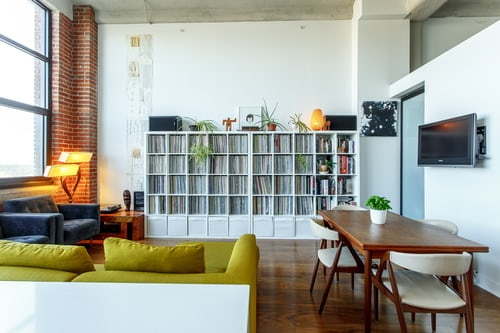 Are you searching for apartments in big urban centers and expensive real estate areas? In that case, you're probably looking for something smaller and more affordable. If you're moving by yourself or your partner/roommate, it's safe to say you'll be choosing between a studio apartment and a single bedroom apartment. These two types of accommodation are similar in many ways, but they also differ in some key elements.
Before you start putting your things in boxes, it's smart to take a closer look at studios and single bedroom apartments, so you can make a good decision when renting or buying. Here is a little guide that will help you understand the difference between these two units so you can choose a space that's right for you and your needs.
Why choose a studio?
What is a studio apartment? This type of apartment has one single room that's combined into a living room, bedroom, dining area and kitchen—mostly a completely open-space concept. You will have no walls that separate specific zones/room section. While the kitchen and sleeping area are usually open as well, there are some studios that have kitchen separations or utilize a small alcove to place the bed in.
The biggest flaw of studio apartments is the lack of space and privacy. If you're a person with many belongings, you might want to keep an eye on larger studios or those equipped with good storage solutions. If you choose to buy a studio, you can come up with many smart storage solutions that will come in handy.
Sure, they might be small, but studios are always cozy, cute, homey and, most importantly, inexpensive. If you're looking for practical studios for rent, you can find amazing options with smart layouts, modern furniture and surprisingly plenty of space. Opt for a bigger studio, and you can even have access to a balcony! For very little money, you'll get a space that's perfect for a first apartment that will allow you to get a taste of solo living yet make you feel safe and cozy.
Why choose a single bedroom apartment?
Single bedroom apartments have a separate bedroom next to the kitchen and living room. While a studio has a bed right in the living area, single bedroom apartments have a separate room that's meant to be used as a sleeping space with plenty of privacy. Most of the time, these units also come equipped with a full (albeit small) kitchen, even though single bedroom apartments aren't that much bigger than studios. In some cases, your kitchen can be separated from the living space, but in more open-space concept apartments, the kitchen opens to the living room.
For roommates and couples, single bedroom apartments are usually more convenient than studios, because one party can watch TV in the living room while the other one naps or works in the bedroom. Just the fact that you have a separation between sleeping and living areas will be attractive to couples, people who often have overnight guests and those who love to entertain (if you have some unfolded clothing or if you forgot to make your bed, you can just hide everything from sight in your separate bedroom). Also, if you have a lot of things, extra square footage for single bedroom apartments can come in handy.
However, since you'll have just one bedroom area, single bedrooms are suitable for one or two people max. Additionally, expect to pay more for rent and require more furniture to make your space feel and look cozy and presentable, so if you're looking for your very first place to live, it might be better to start at the bottom with a studio. What many people also realize is that they love open space and don't even mind having no separate bedroom!
What to choose?
Make sure to analyze all your needs and wishes between you start looking at apartments. Making the decision between a studio and a one bedroom apartment is the most important decision to make. Depending on your budget, location, layout and future plans, you will be able to choose one over another.
 If you're looking to move out, get some independence and save up some money, both studios and single bedroom apartments will offer you just what you need. So, start looking for places and enjoy the freedom of living in your own small apartment!