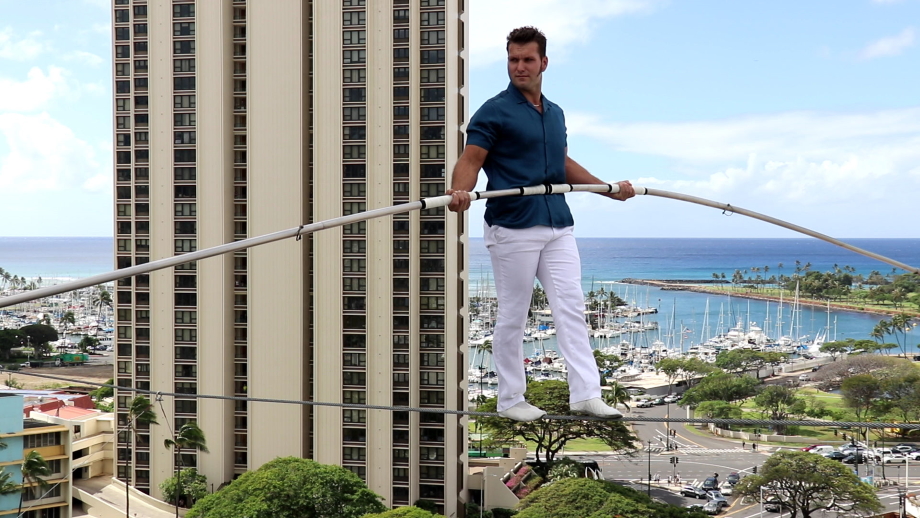 World-renown high-wire walker, Blake Wallenda, from The Flying Wallendas family, made history on 17 February when he completed a skywalk between two Ala Moana Hotel by Mantra hotel towers – 15 storeys up.
The skywalk was his most daring act to date ― and a first for Hawaii.
There was no tether or net for Wallenda as he travelled between two of the hotel's buildings on a 60m-long, 1.5cm-wide wire whilst battling wind gushes of up to 50kph.
The event was staged to launch The Super American Circus tour in Hawaii, which features Blake Wallenda as one of the headlining performers. 
Ala Moana Hotel by Mantra General Manager, Glen Erickson, said the audacious act also marked the beginning of the hotel's 50th anniversary celebrations.
"This year, our hotel celebrates its 50th anniversary and we are very proud to continue our commitment towards supporting family events that showcase world-class performances in our local community," Mr Erickson said.
"We are very excited to bring to life a revitalised sense of adventure and limitless possibilities to the next 50 years of this landmark hotel – a sentiment which is in line with Accor's new lifestyle loyalty program, ALL – Accor Live Limitless."
Ala Moana Hotel by Mantra provides a beacon of leisure and entertainment to the Kama'aina community and visiting travellers from around the world.
Situated in Honolulu, just a short stroll from the inviting waters of the Pacific and beside the world's largest open-air shopping mall, the landmark hotel boasts more than 1,000 guestrooms, each with free Wi-Fi and either mountain, city or ocean views.
A host of dining options exist within the hotel, including a restaurant on the 36th floor and its own nightclub and bar.
Ala Moana Hotel by Mantra also offers more than 14,000 square feet of flexible meeting space, up to nine meeting rooms, Wi-Fi and satellite conference facilities, and is just a short stroll to the Hawaiian Convention Center.
For more information, visit all.accor.com