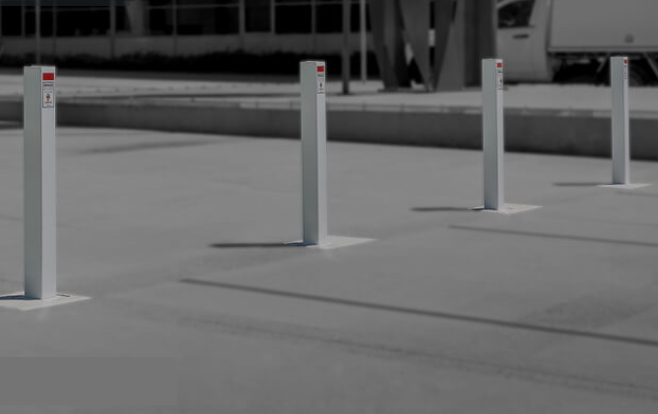 The primary purpose of parking bollards is to ensure order and safety for properties, motor vehicles and individuals. These barricades are put up in buildings, sidewalks or in between parking spaces.
Parking bollards come in various designs and are made from a range of different materials. There are concrete, plastic, aluminium, 
steel bollards
and more. Now let's check out the five best parking bollard designs for 2020.
1. Spherical Concrete Bollards
Despite all the modern designs coming out in the market, the traditional concrete bollards have never lost their touch. Concrete bollards are commonly used to improve the safety and aesthetics of urban areas. They're both an interesting feature in a space that adds character, and a functional safety device. They can be used for residential or commercial sites as well.   
The most common types of concrete bollards are round and spherical. They are great for parks, restaurants, courtyards, and other public places. They can also be used in car parks to protect nearby pedestrians.
Concrete bollards are fixed to the ground. They are ideal for public places that require constant safety and security, especially those areas with high vehicle and pedestrian traffic.
2. Dome Top Bollards
The dome top bollard is smooth and made of spun mild steel pipe columns. It has a smooth powder coat finish which can serve as a piece of elegant furniture for parking areas aside from its original purpose.
What makes dome top bollards stand out is their ability to withstand harsh weather conditions in Australia. They are definitely built to last and are fixed well to the ground. Mostly made of stainless or appropriately treated steel, they are practical for areas that need long-term security.
3. London Bollards
Another classic design is the London bollard. It's gaining popularity because its colour can be customised to suit an area's aesthetics. Like the dome top bollard, it is stable enough to withstand harsh Australian weathers.
London bollards are usually made from stone, metal, or concrete. They're mostly seen in highways, churches, or city halls.
4. B11 Bollards
Another popular bollard design is that of the B11 Bollard. It is made from a mild-steel column that has a cast-aluminium cap and hot-dipped galvanised steel. Like the London bollard, it can be customised with any colour finishing.
You can opt for a powder-finish coating or even a two-tone scheme. It can be in-ground, bolt-down or removable. When it comes to industry settings, its strength and durability are as good as the other options above.
You can also check out its other variations, the B10 and B12.
5. Stainless Steel Bollards
Stainless steel bollards can both serve as safety barriers and decorative items. The sleek and classy look can be perfect for a residential or commercial property.
Steel bollards can be removable or bolted to the ground. Most site owners prefer to have fixed ones though, as they last much longer and are much more durable. That's it!
Installing parking bollards in your property is a practical and wise decision to improve your site's safety and security. Make sure to choose the design and material that suits your property best. You can also consult experts to help you, so you'll get the best value for your money.