If you happen to have travelled and enjoyed many beaches around Australia, you will notice one thing – not many of them are on safety patrol. The long stretches of sandy and sometimes rugged coastlines do present a lot of dangerous situations, and in any case you don't exercise caution, you may as well fall victim to any of the potential dangers within the beaches. If you are enjoying yourself on a non-patrolled beach, and it happens you land yourself at risk, you will be in very deep trouble as there will be no experienced safety person to come to your help. Therefore, the number safety rule is that you should avoid non-patrolled beaches since they have less fun to offer and instead make you worry more about your life.
Watch out for the beach safety signs
In patrolled beaches, you will meet many signs, and these will help to know the status of the beach you are about to swim in. For instance, if you meet a sign that says a given beach is closed, it may not be because the lifesavers aren't around rather that will be an indication that the particular beach is too dangerous to swim at. Open beaches are considered to be among the safest; however, this doesn't mean that they are completely devoid of dangers. You should look out for the red and yellow safety flags as these are one of the things that give directions on areas that are marked safe for swimming. Surfing is prohibited between the safety flags, and anybody found violating the safety code can have their surfing boards confiscated.
Image used with permission from 
http://www.sbs.com.au/
- Always swim between the flags on Australian beaches.
Keep of friends and family, especially children
Sometimes the lifeguards won't even know if someone is in trouble until their friends report them missing. Though Australian beaches are idyllic in many respects, strong currents and unfamiliar conditions mean there is a credible risk to life if you do not know what you are doing in the water. A buddy system for older children and even adults can save a life, and it should go without saying that children should be closely supervised at all times.
Image used with permission from 
http://www.thecanvasfactory.com.au/
  - Always keep children under close supervision when you're at the beach.
Listen to the lifeguards/savers and know their language of communication
Lifeguards and Lifesavers can only do their jobs to their best if people are responsive to their directions and are also aware of the things that should be watched in any case there is some potential danger around. Beach-goers should have some familiarity with hand signals, verbal warnings, whistle and sirens which are used to give out alerts in the event of possible dangers. You should not swim alone, and this rule applies to persons who may not have strong swimming skills. As a tourist, you probably have knowledge of your swimming limitations, and thus know the water conditions that put your life less susceptible to danger.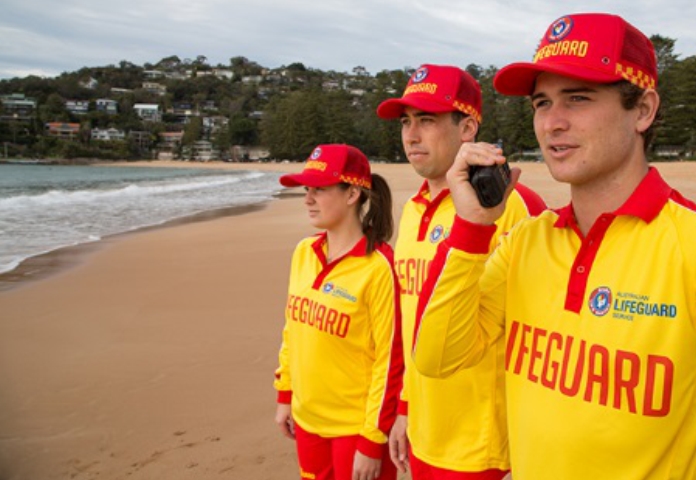 Image with permission from 
https://lifeguards.com.au/
- Australian lifeguards at work on a NSW beach.
Beware of shallow waters, don't dive into them
Shallow water too can pose problems. In case children accompany you on your beach trip, you should exercise caution and supervise them as they play on the shallow beach waters. If you are fond of diving, then the last area you should do so is in shallow waters. Sandbars can break your neck. Therefore it is important you are certain of the depth of water you are about to take a dive. Stingers and jellyfish are also some of the potential dangers you are likely to meet on shallow beach waters. In any case, you fall victim to stingers and jellyfish bites, the first thing you should do is seek treat without buying any time.
Sun too can be a problem while at the beach
While at any Australian beach, the danger isn't only at the waters you see. Overexposure to the sun's ultraviolet rays can leave you with many skin problems, and the only way to be free from this problem is to wear sea clothing that prevents your body from being over-exposed to the sun. Besides, you can also have some sun creams with you, and these should be applied at that time when you are done being in the water and considering enjoying some sun bask. If you feel sunburns can cause a health concern, then you should make sure that any of your beach trips never misses a hat to protect your head, sunglasses for your eye, and some drinking water to keep dehydration in check.