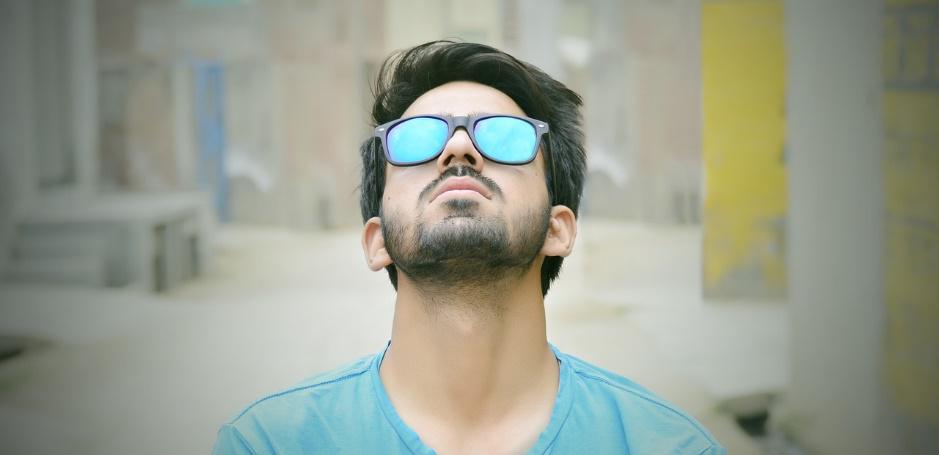 Using sunglasses is the best and convenient way, to protect your eyes from the glaring sun.
The sunlight does not heat the mirror coating of sunglasses; this way, our eyes are saved, from the unbearable heat and glare.
Here a few interesting facts about sunglasses that you probably didn't know.
Chinese And Sunglasses
It is believed that the affluent Chinese used the first sunglasses in the 12th century. Sunglasses used at that time were not polished or properly framed; the frames were rough back then. They served the purpose of stopping sunlight from shining into one's eyes. Chinese judges used them to mask their feelings when hearing an important case; wearing sunglasses was a sign of emotional disinterest at that time.
THE Eye Brow Game
There has always been a discussion about whether the sunglasses should be below the brows or hide it.
There is no rule when it comes to wearing sunglasses, but fashionistas would mark it as a crime if your eyebrows are showing above the glass rim. It all depends on an individual's preferences when it comes to the way you wear your sunglasses.
Emerald As Sunglasses
Roman emperors are also on the list of the earliest people who wore sunglasses. The famous Gladiator fights were witnessed by the Roman emperors while wearing emerald sunglasses, in the grand coliseum.
Snow Sunglasses
Today you can find a wide range of snow sunglasses in the market easily, and the Inuit are believed to be the pioneers of snow sunglasses. Animal bones and wood were used for this purpose, and a small hole was made in the roughly cut bone and wood frame. This hole allowed minimum sunlight to glare on their eyes.
Luxottica
Luxottica makes all the eye wares of big brands, and they are best known for their design, manufacture and wide distribution of sunglasses.
Chanel, Ray-Ban, D&G, Tiffany & Co and many brands have licensing deals with Luxottica.
National Sunglasses Day
National sunglasses day is celebrated on the 27th of June. This day is held to celebrate the importance of wearing sunglasses. The use of sunglasses is not just to follow the trend; many eye diseases can be prevented by using professional eyewear.
Polaroid Glasses
The fist Polaroid glasses for commercial use were invented in 1929 by Edwin Land. Polarized sunglasses are designed for visual comfort; they reduce glare and increase clarity. Other benefits include eyestrain reduction and minimal colour distortion.
Tinted sunglasses were used before the invention of Polaroid glasses. Polarized glasses are the optimum option if you are spending most of your time outdoors and specifically near water.
Ray-ban History
The popular sunglasses Ray-ban were originally designed for pilots of the US Air service. On high altitude, these sunglasses protected them from intense hues of sunlight. Later Ray-ban was adopted as a fashion symbol, and people highly appreciated the designs and colours.
Sunglasses As An Accessory
It didn't take much time for the sunglasses to make its place as a fashion accessory. There are hundreds of designs for every face cut, and they make you feel more confident.
A Man Known For His Funky Shades
Sir Elton John, the music icon, is known for his collection of funky sunglasses, he is also on the list of people who have exclusive collections. His sunglasses were bold, bright and confidently wild.
Digital Sunglasses
With the advancement of technology, brands are starting producing digital sunglasses. They are equipped with an audio player and wireless mobile phone headset. The lens of the smart technology sunglasses can detect obstacles, and also display the total distance covered. There are sunglasses with inbuilt camera and censors, and the features also include remote controlled earphones.
The Best Selling Sunglasses
The bestselling sunglasses are Oakley and Wayfarer by Ray-Ban, and many celebrities are spotted wearing them. Ray-Bans are believed to be a statement of style and attitude. Ray-Ban is an Italian brand. Aviator glasses are also trendy. Oakley is made overseas, and the assembling part is done in the United States. In the beginning, Oakley used to sell ski glasses.
Songs About Sunglasses
There are many songs about sunglasses, and singers have dedicated their songs to sunglasses. Rose-coloured glasses, past my shades, sunglasses after dark and Judy in disguise are some of the songs written about sunglasses. Corey Mitchell was one of the singers and songwriters who gained popularity after releasing his song "Sunglasses at Night". It became an international hit song in 1983.
Sunglasses Materials
Metal, plastic and natural materials are the primary sources of making sunglasses. For sports sunglasses Nylon is the primary material; it is flexible and can easily be twisted and turned. There are also some unusual sunglasses frame materials such as wood, bone and buffalo horn. Some people prefer frames, made out of silver and gold. Stainless steel, titanium, and aluminium are also used for the rims and frame manufacture of sunglasses.
Temple Arms
The tradition of attaching a ribbon to glasses is believed to be started by the Spanish; temple arms were inspired by them. They keep the sunglasses from falling and slipping down the nose and ears.
The Final Word
Today all of us have at least one pair of sunglasses, and it is used for eye protection against rays as well as an accessory by many. Glasses are available in many colours, frames, shapes and styles. Define your style and rock your sunglasses look.