Written by

freuds fabienne.wilson@freuds.com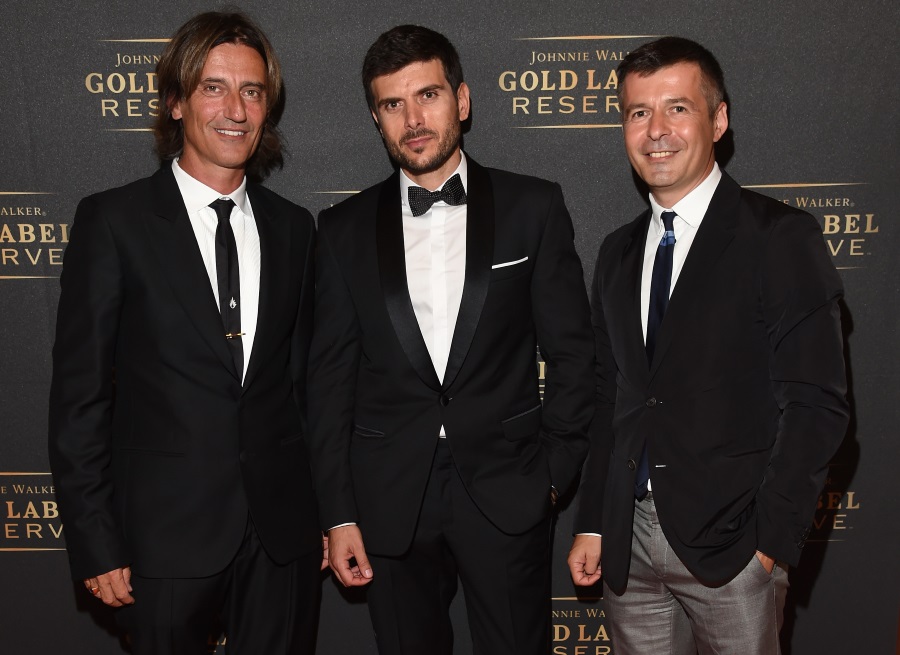 VENICE, ITALY - AUGUST 30: Manos Gavras attended JOHNNIE WALKER GOLD LABEL RESERVE and Vanity Fair?s glamourous event, during the Venice Film Festival. The gold event revealed JOHNNIE WALKER GOLD LABEL RESERVE?S collaboration with world-renowned portrait photographer RANKIN who has created the ultimate luxury photobooth, as part of our search for the next generation of rising stars. Check out www.johnniewalker.com for more information and for where the photobooths will be popping up around Europe (Photo by Venturelli/Getty Images for Johnnie Walker Gold Label) Manos Gavras
Monday 1 September 2014 Celebrities from around the world gathered at the glamourous Vanity Fair Party at Venice Film Festival. The star-studded event saw world-renowned photographer Rankin and JOHNNIE WALKER GOLD LABEL RESERVE join forces in the ultimate search for a new generation of rising stars.  
Game of Thrones star Gwendoline Christie from Great Britain, Blanca Suarez from Spain and Marie Nasemann from Germany were in attendance at the Westin Europa and Regina, to see an exclusive exhibition showcasing iconic RANKIN photography. For one night only, the display celebrated legendary moments of both yesterday and today's talent from the world of film, as JOHNNIE WALKER'S European search for a rising star begins. Other attendees on the night included Paolo Stella and Eleonora Carisi from Italy, Manos Gavras from Greece and Bejna Bruijning from Benelux.  
The celebratory Scotch whisky and RANKIN have collaborated to create the ultimate photobooth, which is inviting aspiring and talented individuals to step inside to be in with the chance of winning a money-can't-buy prize. The winner, selected by RANKIN, will get to share their legendary moments of celebration with the world, as they star in an online JOHNNIE WALKER GOLD LABEL RESERVE campaign in 2015. The photobooth, unveiled by RANKIN on the night, will feature in a number of events across Europe as part of the six-month competition.  
Rankin said: "Over the years, I've been lucky to capture many celebrities on their rise to fame. Now, in collaboration with Johnnie Walker Gold Label Reserve, I'm looking for a new generation of rising stars, who embody the spirit and passion it takes to succeed, in whatever they put their mind to. Putting down the camera, I've designed a photobooth which is a new and different way of shooting for me. It's something I've always wanted to do. Through special treatments and lighting, I will capture the celebratory moments of today's rising stars - I am really looking forward to seeing the results."  
Flying the flag for Great Britain at the star-studded celebration was Gwendoline Christie who said: "I am delighted to attend this evening's Vanity Fair Party to support the launch of this exciting collaboration to find Europe's next Rising Star. I feel very passionate about supporting the next generation of talent and it's fantastic to see a project that shows such support for this."
The luxury photobooth will be appearing in bars, clubs and events across Europe from September 2014 to February 2015. Visit www.johnniewalker.com for more information.
The JOHNNIE WALKER word and associated logos are trademarks.
Please drink responsibly. For further information, please visit www.drinkaware.co.uk  
About JOHNNIE WALKER® GOLD LABEL RESERVE™
JOHNNIE WALKER® GOLD LABEL RESERVE™ is an indulgent, luxurious and multi-layered blend with a smooth balance of sweet fruits and creaminess that evolves into deeper honeyed tones before finishing in lingering waves of wood, fruit and light, sweet West-coast smoke.  
When John Walker first established the family business in 1820 he began a lineage of blending expertise that continues unbroken to this day. Carefully honed skills have been handed down from generation to generation, with the result that today's JOHNNIE WALKER® GOLD LABEL RESERVE™ is testament to almost two centuries of blending excellence.  
JOHNNIE WALKER® GOLD LABEL RESERVE™ has been personally crafted by the JOHNNIE WALKER® Master Blender as a celebration of his art. He has handpicked prized casks from selected reserves – each matured to perfection – to create a bold blend of intense flavours which is every bit as luxurious and indulgent as its name suggests.
Contributor
freuds
fabienne.wilson@freuds.com