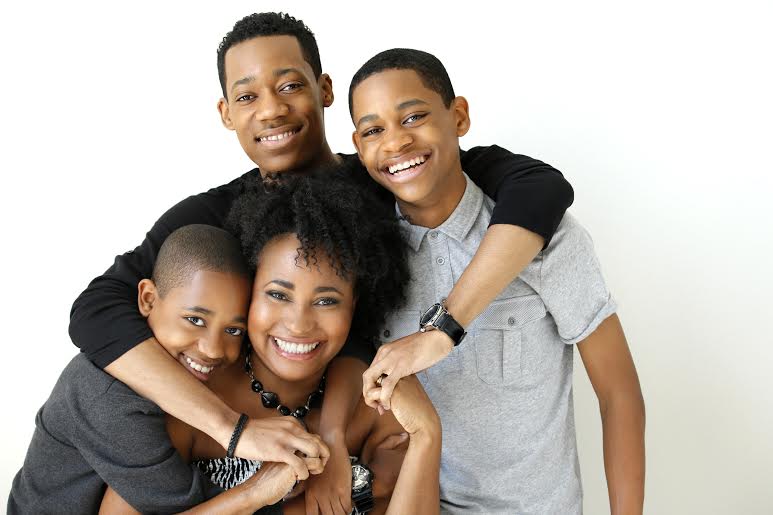 Excerpt from My Child Is Going To Be Rich and Famous: How to Successfully Balance Family, Parenting and Entertainment Angela J. Williams © 2015
In this book, I will be sharing stories and insight in a candid, comical, and passionate manner, as if we were out to lunch and speaking one on one. I will give you answers, advice, resources and suggestions. My goal was to write the book I wished was available when we started on our journey over 18 years ago. I will be talking to you as if the tables were turned and I wanted this information from you. It doesn't matter what your child's gift, goal or talent is; the information I am sharing is relevant and applicable. Be it sports, music, arts, science, technology, academics, stocks, baking, fashion, cosmetology, or the debate team - the advice is still palatable. I invite you to break off the pieces of information that work best for you or that seem helpful to you, and use it as a guide for your specific situation. My experiences over the last 18+ years have presented a wealth of knowledge gathered in the areas of television, movies, print, and commercials. I will be addressing everything from casting, business, management and production to studio sets, including exclusive interviews with agents and other industry insiders.
Many parents have questions about managers, producers, studio teachers, Coogan (trust) Accounts, interacting with stage parents, child work permits, understanding work hours, education/school options, balancing family life and similar issues. Instead of having a FAQ section in this book, I decided to share my answers to these questions via specific scenarios, personal examples and professional situations. Over the years, I have found that parents are most concerned about a handful of specific issues: proper parenting, marriage, pitfalls, success stories, failures, sibling issues, money matters, prayer, communication, leeches, sick kids on set, taxes and extended family drama.
I write this book for parents who have already made mistakes, parents who want fame for their children, parents who are considering the possibilities of fame, parents who are reluctantly skeptical and everyone in between. I purpose to be an integral, ethical and honest person. So, while sharing with you, I will not speak negatively against any specific person, groups, networks, studios, systems, structures or the like because your experience may be different from mine, and I don't want to influence your judgment one way or another. Nevertheless, I will be specific enough so that if you find yourself in a particular or similar situation, you will be able to reference sections of this book for assistance. I will make general statements and comments but still be vague enough so that you can make up your own unbiased opinion. I will give you no gossip, no shortcuts to fame, or manipulative insider tricks of the entertainment trade, because there aren't any.
The entertainment industry embraces all types of creative folks who experience both negative and positive dimensions along the way. Some of them didn't know what to expect or how to navigate within the system and are left with many regrets and scars. If folks are not careful, this industry has a way of changing them or their mindsets for the worse. I have often heard people say, "If I only knew then, what I know now, my choices would have been different." If more people were aware of the realities ahead of time, I'm convinced they would be better prepared. As a result, my goal is to catch as many parents and others as I can before they head in the wrong direction. If I can help one family, one child, performer or one parent, then this book was worth all of the time, energy, sacrifice and life experience that it took to write it. So, if you are ready, get your copy, and when you do, I welcome you to take a metaphoric seat and turn the page.
Bio
Angela is an ordained minister, gospel/R&B singer and songwriter by calling, a personal business manager by experience, a writer, producer and author by profession, and life coach/spiritual parent by purpose. She is also a devoted wife of 28 years and mom to three young men – Tyler James Williams (23), Tyrel Jackson Williams (18) and Tylen Jacob Williams (13) – who also happen to be wildly talented performers with extensive histories in the entertainment world. As the executive overseer of her sons' ever-evolving careers and business endeavors for nearly two decades, and the academic facilitator of their home schooling education, she is uniquely qualified to guide other parents, siblings and family members embarking on a similar journey. Angela is a member of Women in Film Los Angeles, Film Independent and the Advisory Committee for The Actors Fund's Looking Ahead Program. She holds a Bachelors degree in Business Management and a Masters degree in Psychology. Angela and her family are bi-coastal, living in New York and California.