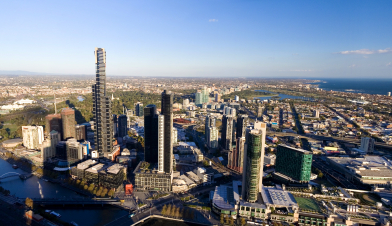 General Melbourne property purchase advise with Accrue Property.
Melbourne is becoming an attractive City  in which to raise a family. Migrants are coming from overseas and surprisingly, from the outer suburbs to take up residence near work and social amenities.
Older generations commuted from afar to work in the City on trains and in their own car to pay for a quarter acre block of land in places like Frankston, Dandenong and Watsonia. That option is largely impractical now as the outer suburbs are almost beyond sensible commuting distance having regard to congested transport infrastructure.
Single people, young couples, retirees and in many cases families, have discovered the lifestyle that living in the city offers. Office workers do not have to catch a train for an hour or drive through multiple sets of lights to get to home as there are all sorts of living space options closer to the city.
The three hours of commuting time that is saved every day can be turned into paid work, time on the beach, live shows and endless dining options.
The suburban dream for many is unattractive. They want to live close to work in the inner suburbs in low maintenance, private, secure communities that are close to public transport.
Property continues to be a preferred investment option but location and lifestyle determine what people buy. It is easy to go online to the property for sale websites but they seldom offer the insider news and local knowledge that property purchasing agents like
Accrue Property
can share with their clients.
Buying in closer to the CBD can offer many benefits and can be easier if people look for assistance from property professionals who know what locations are in greater demand and what new property is being created by property builders.
No matter what suburb you are looking at, getting local advice is a sensible option. Buying a property is expensive so get help with the homework before making a property purchase decision.
Notwithstanding the many benefits that buying near the CBD can offer this does not mean all good properties reside near the CBD. Professionals like Accrue Property expose their clients to all areas of Melbourne and all types of properties for those who are looking to get into the market for the first time or for those who are looking to get into the market for their second, third or even their fourth time.
About Accrue Property
Accrue Property Consultants will advise on:
* Different types of property acquisitions"
* How to accrue real estate that could be under market value  or obtain terms that the general public may hard to secure.
* The difference between good and bad residential property
* How to mitigate certain risks that could arise when acquiring a property
Independent Finance Consultants will advise on:
* How to find cash flow you didn't know you had
* Just how little it can cost to buy a property
* How to correctly structure a property purchase
* Your capacity to afford real estate