Written by

Enrico Bonadio Senior Lecturer in Law at City University London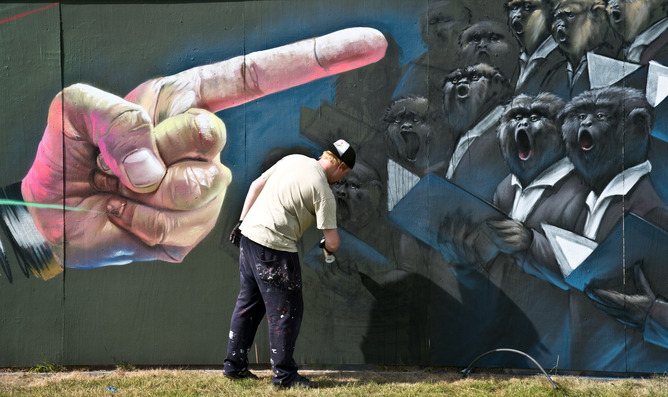 Graffiti is sometimes considered a lesser art as it is either produced illegally or just displayed on the streets and therefore outside the official art gallery circuit. Yet graffiti, and street art more generally, can be as creative and original as anything you'll find in an traditional venue; it can also be very commercially valuable. It's time our copyright laws caught up with this reality.
A legal row between Miami-based street artist Ahol Sniffs Glue ("Ahol" – or David Anasagasti to his mother) and the clothing retailer American Eagle Outfitters is the latest instance of a growing number of spats. The artist recently sued for copyright infringement in a US federal court after American Eagle began using his work in their promotional material.
Ahol is known for his signature "droopy eyes", variants of which appear all over Miami. Earlier this year, when looking to support its spring collection advertising with an eye-catching urban touch, American Eagle started using Ahol's artwork. Droopy eyes popped up on its web adverts, billboards and in-store displays worldwide as well as on Instagram, YouTube and in storefronts across the world. At an opening in Colombia, the store even allegedly hired local street artists to recreate Ahol's original, complete with American Eagle logo.
One of the images the multinational company used on its billboards depicts a male model wearing American Eagle clothes while standing in front of a legal mural by Ahol named Ocean Grown, after a gallery that commissioned and hosts the work. In the most brazen touch of all, the model carries a spray paint can.
Clearly the advertising is not just looking to appropriate the visual effect of the nice background; it's attempting to grab some of street art's illicit cool by implying the model had painted the work himself.
Artists vs advertisers
American Eagle is hardly the first big company to exploit graffiti and street art without authorisation. In 2011 Fiat used a mural painted by a legendary group of Bronx-based graffiti artists know as Tats Cru in its Fiat 500 ads, which saw Jennifer Lopez cruising around "her world" past numerous photogenic graffitied walls. Tats Cru protested and the dispute was later settled.
That same year, the clothing company Urban Outfitters used an image by street artist Cali Killa for a t-shirt graphic without his permission and, in similar fashion, at the 2008 Olympic games in Beijing, the Spanish synchronised swimming team used suits featuring a character with a backwards baseball hat, copied from a legal artwork painted in 2001 by German street artist Cantwo.
In 2007, photographer Peter Rosenstein published a book entitled "Tattooed Walls" containing a decade's worth of his photos of New York graffiti. His argument that the murals were in public space and thus fall under the fair use doctrine didn't go down well with many of the city's street artists, including Tats Cru, who sought a settlement from Rosenstein.
Copyrighting the walls
All these cases show that graffiti artworks can be easily targeted and reproduced for commercial profit. What marketing and communication experts from these companies may think is: "these murals are placed on the streets, are also often illegal and therefore can be freely reproduced". That is wrong.
Paintings on walls are no different from other artistic works – and they therefore satisfy the requirements for copyright protection, including originality. This it particularly true of legal graffiti works such as the ones created by Ahol in Miami and (mis)appropriated by American Eagle. It would make no sense to deny copyright protection to works that have been legally commissioned.
But still, even illegal graffiti deserves copyright protection. Possible wrongdoings committed by street artists (trespass, vandalism and so on) concern the process through which the works are done: painting on a wall or train, for instance, without the authorisation of the property owner.
Yet the process by which an artwork is created should be neutral in copyright terms. Other works that are created illegally are indeed protected by copyright in many jurisdictions – paparazzi pictures that violate privacy laws, for instance.
It has also been argued by some art experts and copyright commentators that as graffiti and street artists are anti-establishment and are often driven by non-economic purposes – wanting to leave a mark on the city; to gain respect for their artistic skill or their "tag" – they would not be interested in copyright protection.
But this is unconvincing. The anti-establishment nature of this kind of art does not mean that street artists aren't annoyed by others commercially exploiting their work. Actually, when their artworks are copied for commercial purposes, they can be really annoyed and also start legal action for copyright infringement (as the present case regarding Ahol's work confirms).
Street artists thus might find in copyright law an ally, a friend that can help them in giving added value to their works and reacting to "art stealers" and (why not?) making money out of their job, and their passion.