Any business owner or marketer is going to tell you that the thing they want the most is more customers to their website. No matter what you do, if your SEO is not right then you are going to suffer the consequences and you will not get much traffic to your website no matter what you do. SEO techniques and their effectiveness are constantly changing along with Google's algorithms, so it is important to either keep up on those techniques and adjust your site accordingly or hire someone to do it for you.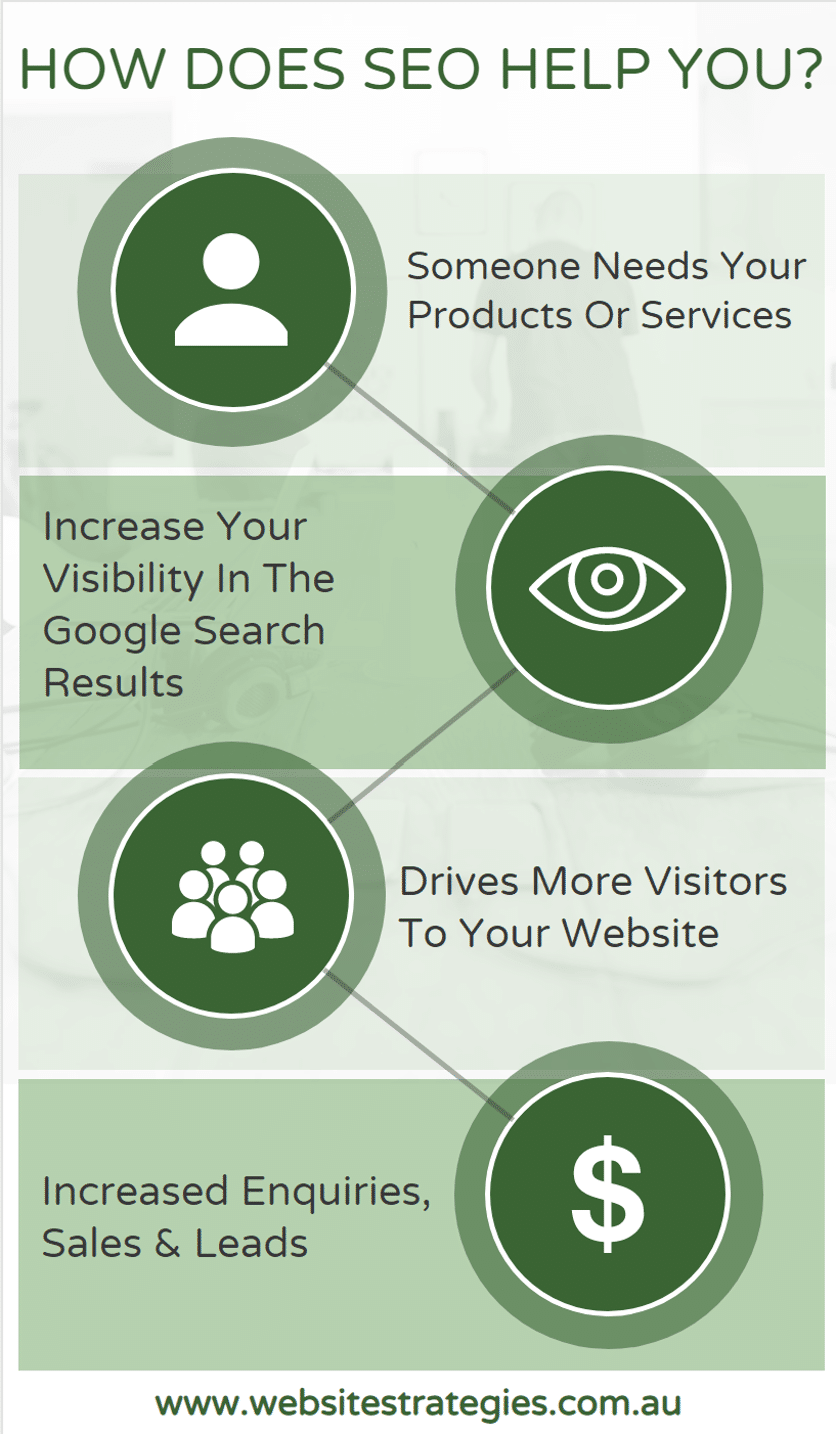 As Google becomes more powerful it is also becoming better at understanding webpages and analyzing them. Google's main purpose is to help people connect with what they are searching for in the most targeted way possible. In other words, if you are selling wool socks and someone is searching for coffee mugs, there is no way that your web site should come up in a search for wool socks.
Many business owners rely on the organic traffic that they receive from Google – it is their lifeline. Many of the results that come up in the SERPS are ads, images, videos and other distracting items which push the organic listings further down the page and increase the need for online businesses to invest in paid advertising just to come up on a page.
The best way to combat this is to improve SEO, have a faster website and a superior webpage. It is important to keep an eye on the competition and be better than them. So how does SEO help to drive traffic to a website? Here are some of the key points and how they help where SEO is concerned.
How is your website performing in a search? You can look at a site called Keyword Rank Checker which will help you to find the rank of your page based on a search for the keywords that you use in your content.
Is your webpage giving users a good experience? Google wants to provide the very best/top results to its users. If they do not deliver the best results, then users will probably just use a different search engine.
Long Tail Keywords. These are the main words or phrases used on your website. Long tail keywords are more specific than one-word keywords. These are much more likely to direct targeted traffic to your website that is more likely to be interested in the content contained on your site and/or products that you are trying to sell.
Length of Content. Creating pages on your site is important and it should have a decent amount of readable content. Although it is very simple to create short amounts of content, they do not offer very much information to visitors to your website. Always aim for quality content over longer content. Offer something to your visitors that will provide them with the information that they are looking for.
Update Content Regularly. Search engines are looking for content that is updated on a regular basis. Plenty of websites are built and published and the pages are never changed and that is fine if you are satisfied with that content. A blog connected to your website can provide the fresh content that is updated regularly with fresh content will show the search engines that you actually maintain your site and this will be another trigger for them to send visitors to your website. If your site is not maintained, it will eventually disappear from the SERPs.
Internal Links. If your website is like most, it should have related content. One way to improve your SEO (and traffic) is by linking content together, referencing content pieces to one another where it makes sense. This will help to reduce your bounce rate and keep visitors on your website for longer.
Make Posts Easy to Read. If you are thinking about doing any keyword stuffing, do not do it. That is an old and outdated technique that will get your website punished. What you need to do is optimize your content and make it readable. How do you optimize your posts to increase readability? Write great content and make sure it is formatted well, free of errors and checked for spelling and grammar. Keep your paragraphs shorter with a maximum of 3 or 4 sentences. Never separate ideas from each other or your point will be lost because you have fragmented your idea.
Mix up the length of sentences. It can be difficult to read long sentences on a mobile device or a computer so use them sparingly. Add in sub-headers to increase the time people spend reading your content. Most people spend just over 30 seconds reading content online. That time can be boosted with sub-headers, but they must be informative points.
Use bullet points. When you need to convey a lot of data including ideas, examples, facts and stats it will be much easier to read if it is broken up. If you have more than three items, use bullet points. An over abundance of text is overwhelming, so break it up with white space and images. Images can be tagged with long tailed keywords which also help with SEO and driving traffic to your site.
Websites are judged (similarly to people) by the company that they keep. It is ranked based on the amount of unique domain names which link back to your webpage. This is an indication of site owners referencing your content in the content they are posting. These off-page signals help to drive traffic to your site, another SEO technique that is often overlooked.
Guest Blogging
This is an SEO technique that has been growing in popularity over the last decade. It is a good way to attract a new audience and bring some traffic to your website with awareness. If you can create content for a website other than your own, do it. If you can add your own website link, do that too.
A combination of different techniques is advised to improve traffic to your site. SEO is always changing and the more you work on it, the better.
Image from WebsiteStrategies