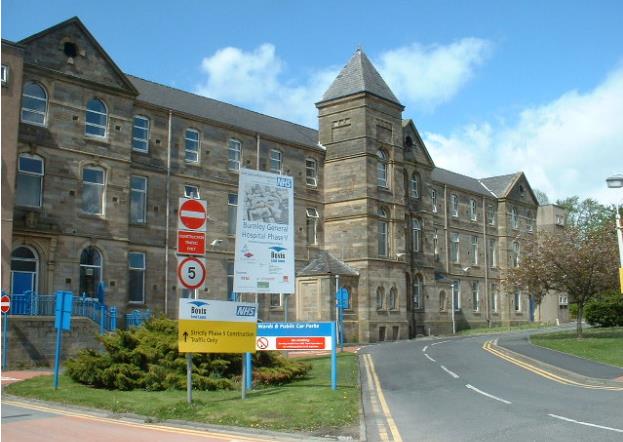 With the debacle that is Brexit fast approaching, it's time to think about the major impacts it has on the infrastructure of, not just the UK, but the world in general. Now, with the fact that a no deal Brexit has such a wide-ranging impact on Britain's ability to trade, we have to go to the most important public services and see if these can be sustained if a no deal Brexit occurs. The hospitals and the National Health Service in the UK is a healthcare organization that is a publicly owned entity. And with the reality of a no deal Brexit occurring, what is going to happen to this?


The Risk To Staff
With the statistic that 63,000 NHS staff in England are EU nationals, this equates to 5.6% of all of the staff. Likewise, 12.7% of NHS staff state that they are not British. As such, this can have a detrimental impact on staffing problems across the board. And as 12.7% of NHS staff is classed as "not British", this throws up so many concerns to the sustainability of the NHS as a business. The one solution has been dished out already, where NHS hospitals are paying for new visas so they can stay in the UK after Brexit. The UCLH, which has 9 hospitals in central London, is already facing a bill of more than £100,000 from this. The staff shortages are expected to worsen, and as the template to keep this 12.7% on board, this means that more cash has to be found in which to keep people across the board. But in addition to this, the cost of recruiting foreign staff will result in £150 million a year. If movement ends due to Brexit, with the additional nursing vacancies that are around now, approximately 8,000 nursing vacancies in London alone, this is going to have a major impact on the workforce, not just in London, but across the UK.


The Numerous Ailments
From a human perspective, we have to look at the ailments that can be caused as a result of Brexit. It can be somewhat flippant to state that there will be a crisis in health due to a no deal Brexit. But, we have to think about the major concern from the NHS's perspective, which boil down to two things, postponed or canceled operations and a shortage of medicine. This is already ongoing. The NHS is already stockpiling, but there are still likely to be shortages because of unprecedented distribution challenges. Because there's a shortage of medicine, this has a knock on effect in having operations postponed. And as the shortages could become a reality, especially now as pharmacies have been providing patients essential medications with alternatives, we have to see how this impacts the general public. For people that suffer from depression or illnesses like epilepsy, the right medication has been an ongoing search. To find the right medication for them has been years of trial and error. And specifically for those with epilepsy that have unique ailments associated with it, there can only be one type of medication that works for them. Having a replacement medication is not going to help. This could even hinder their ailments more. And while the NHS is already stockpiling, we have to look at what happened before when operations have been canceled. It's a very common issue, especially in the midwinter, where operations are canceled because of struggles with the accident and emergency department. While the sickest are prioritized, this still doesn't bode well for those who are classed as having a more minor ailment. And theories have been speculated that access via the Anglo-French border can cause disruption for up to 6 months. The European Commission has already stated that if there is to be a no deal, it will impose full third country controls on goods and people going into the EU from Britain. And while stockpiling is the NHS attempting to minimize anxieties, with 6 months being projected as a rough time frame to resolve these issues, we will see major problems as a result.


Supply Problems
The supply chain is going to have a major impact, not just with the stockpiling medication and prioritizing only the sickest patients, it would appear that there will be a lack of supplies for general hospital routines. Not just in terms of operations, but food. While care homes and hospitals the storing food, as a result, it's anticipated that if problems continue after 16 weeks, there will be a lot of issues for vulnerable people who have specific needs, and as such, require a specialist food. Suppliers like Apetito are concerned that the UK trading under the World Trade Organization terms with the European Union could result in the cost of ingredients increase. As the UK imports approximately a quarter of all food from the European Union, this may have a direct impact on the ability to get essential ingredients, but also provide a thorough baseline of health. Other companies, like Bidfood, have been investing in extra space so they can provide to the 1,000 hospitals they work with. The future, however, looks bleak.


Increased Spend
We're already seeing increased spend in terms of the stockpiling. And it's not just the fact that these medicines have to be stored so the public can get their medication, but the costs of firms to stockpile a 6 week supply of drugs is causing additional anxieties. And the vote leave campaign prioritized its claim that as Britain send the EU £350 million per week; this could be used to fund the NHS. And while the prime minister has said this is coming true, the divorce bill, at £39 billion means there is very little to cover the cost of what Theresa May has said will be an NHS budget increase of £20 billion by the year 2023. The crisis that the NHS finds itself in is how they can keep this ticking over. When it comes to the costs involved in the medical supplies themselves, we have to give consideration to the various subcomponents. For example, micromachining laser equipment used on medical supplies like catheters, the big issues won't be the fact that Britain doesn't have enough money to cover the bills in general, but when we think about the impact of outsourced components that are essential, the options are either to spend more money on getting these, and minimizing their spending in other ways, or make more use of companies within the UK. So many suppliers, from car manufacturers to food businesses are already leaving the UK. As such, this will result in increased spends to import the materials through the EU into Britain, but also, the backlog at the Anglo-French border will mean that the NHS will spend more money for a very delayed service.


From the perspective of the United Kingdom, a lot of people are absolutely sick of Brexit talk. It's a very divisive topic, and the one issue that appears to unite people is the impact on the health service. As a pioneering commodity, the NHS has been reduced to a shadow of its former self. And now with the complex nature of trades and tariffs being implemented, and also the idea that taxes may have to go up for the British public to keep their beloved NHS, the difficulty in keeping the NHS a solid entity and not turning it over to privatization to keep it going means that it becomes a service like in America or numerous other countries where healthcare has to be paid for. From the perspective of native Britons, free healthcare is something that needs to be fought for. But from the perspective of the outside, paid healthcare is the norm, but because this is such concerns about this no deal causing calamity on every aspect of infrastructure and public service, not just hospitals, but schools, as well as local businesses, panic is surely setting in?


We have to think about the moral and emotional implications of a no deal Brexit, and while there are so many concerns relating to the trade, and increased costs, when we look at an essential entity like a hospital that people rely on, the fact that the NHS has already been stretched to breaking point may highlight how difficult it's going to be as soon as Brexit happens. People that rely on medication for them to survive every day will find their emotional capabilities being stretched. And as a result, will illnesses increase? The emotional implications of a no deal Brexit on the general public of the United Kingdom may have an immediate negative impact, and while the stockpiling is already taking place, will Britain slip into Third World Country status? This might be a bit overdramatic, but if you seek the opinion of those that voted to remain, it was for a very good reason. The fact that Britain is functioning in the EU and benefiting from EU funding was not lost. Now, the carpet has been ripped out from underneath, and the hospitals and the NHS, in general, are going to be stretched to their capabilities.