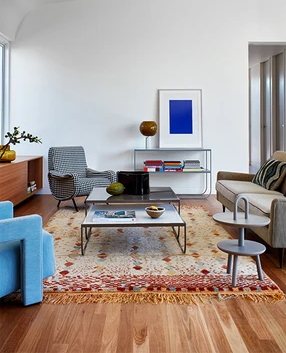 An excellent rug can be compared to a good ending for a movie. It is the thing that makes everything come together. Sometimes, rugs are the only things that make the room more vibrant. In the world of interior design, vintage rugs have been around for decades. It is a multibillion-dollar business that just never gets old. The global carpets and rugs market is projected to reach $107.9 billion by 2023, according to Zion Market Research.
What is largely unknown is how a rug makes any room burst with character. For some rooms, it is the only thing that can make you like them. For most people, rugs are just for living rooms, because that is where guests will see it. Unfortunately, that is not the point. Those rugs are essential for you, as you are the one who stays in the house all the time. It is you who sees the rugs often and be inspired by them.
Bedroom
If your house has hardwood or tiled floors, rugs will be perfect for sound absorption. Bedrooms are naturally private, and the best way to keep everything you do in there a secret is to add a layer on the floor that blot out the sound. Bedrooms also tend to be dark, and adding a rug will add texture to the room. Adding texture will prevent the room from being flat and boring.
Kitchen
The kitchen is usually hazardous for textiles, because of crumbs, food scraps, grease, and wine spills. Yet, it is one of the rooms where people like to go barefoot. Adding a rug creates a luxurious feeling when somebody is barefoot. It can also add colour to a neutral-toned kitchen. For some reason, most kitchens are just white. Give your eyes a break and add some colour while you are cooking.
Bathroom
This is yet another room where people like going barefoot. Plus, bathrooms tend to be sterile spaces that are just plain boring. Of course, most people do not go to the bathrooms because of the view. However, it will not hurt to add a little colour and pattern. The added warmth will probably make the bathroom your favourite, looking forward.
Stairs and Hallways
People are so used to ignoring the stairs, that they are missing out on something important – stair treads. These rugs not only make it safer because it is less slippery than wood or concrete but also add colour and beauty to it. While you are at it, add a rug that has the same pattern as your stair treads in the hallways to establish a cohesive look.
Attic
Rugs are not usually put in the attic as part of the decoration. Most of the time, they are out there to be stored until they gather dust or get eaten by insects. If your attic is an enclosed space, it would be a good idea to put rugs there that would overshadow the storeroom vibe that we sometimes get when we visit it. If your attic has a skylight or glass windows, it is perfect for coloured rugs or carpets.
Not all rooms are created equal. Like everything else in life, some rooms are better viewed than others. If living rooms have enjoyed having vintage rugs for many years, it is about time the other rooms got their fair share too. A home brimming with vibrance and energy is something that everyone deserves. In life, you need all the help you can get.
Author Bio: Emily Stuart is a farmer of words in the field of creativity. She is an experienced independent content writer with a demonstrated history of working in the writing and editing industry.  She is a multi-niche content chef who loves cooking new things.